On this page, you will find information about the climate and the best time to visit Ontario. We created climate tables and charts for the location of Toronto. These contain details about temperatures, precipitation and more.
Furthermore, we analyzed all climate data and provide a recommendation about which months are best to visit Ontario for your holiday.
Climate Overview

-8 °C
to
27 °C

1.81
–
3.31 in
(9 – 15 Days of Rain)
Show temperatures in degree
Geographical location
Table of Contents


Ontario is a province in southeastern Canada and is home to around 13 million inhabitants. With Canada's largest city (Toronto) and the country's capital (Ottawa), Ontario is one of the country's most important regions both politically and economically.
The province borders Québec to the east and Manitoba to the west and five US states to the south: Minnesota, Ohio, Pennsylvania, Michigan and New York.
Between Ontario and the United States there are several waters, including rivers and lakes. The region is divided into three different types of landscape: Half of the province is occupied by the so-called Canadian Shield, a rather barren but mineral-rich region. Second zone is the lowland of Hudson Bay in the northeast with numerous swamps and forests.
The third zone and main region of Ontario is the fertile valley in the south, which is home to about 75 percent of Ontario's population. Ontario has five national parks and shares the popular Niagara Falls on the state border with the state of New York. Niagara Falls is the name of the sister towns on both sides of the waterfalls.
Climate in Ontario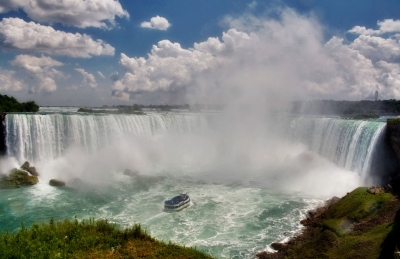 In general, the seasons in Ontario are very distinct. Southern and southeastern Ontario has a temperate climate with humid summers and cold winters. In the east and in the centre of the province the climate is more continental than in the south, the summers here are quite short and warm, the winters rather long and cold.
Winters are longest and coldest in northern Ontario, and summer time is comparatively short. The climate is described here as subpolar. Compared to the south, there is less precipitation in the north. However, there is usually snow from
October
to
May
.
In general, there is regular rainfall throughout the year in Ontario, but most rain falls in summer. In the provincial capital Toronto and the Niagara Falls about 80 miles away, it is pleasantly warm from
June
to mid-
September
with daytime temperatures of
25 °C
to
27 °C
.
Best Time to Visit Ontario: Overview
Temperatures

Temp.

up to

18 °C

Perfect

Perf.

climate in

Toronto

Perfect

Perf.

climate in

Toronto

Perfect

Perf.

climate in

Toronto

Perfect

Perf.

climate in

Toronto

Temperatures

Temp.

up to

15 °C
When to go to Ontario?
Depending on your personal preferences, there are various recommendations for the best travel time for the province of Ontario. Holidaymakers who like the Indian Summer with its colourful vegetation and mild temperatures should arrive in late autumn. Wintertime is less recommended for city trips because of the sometimes enormous cold and heavy rainfall.
A phenomenon in winter is the so-called Lake Effect with its enormous thunderstorms and large snowfalls, during which cold sea air meets the stored warmth of the lakes undiminished. In the north of the province there is usually even ground frost and snow from
November
to
April
.
The high season in Ontario and the capital Toronto is between June and September in warm and rather humid summers. Niagara Falls can be visited from April to October, when the world-famous attraction is regularly extremely crowded and overcrowded in high summer. The fringe months in early summer and the transition to autumn can therefore be a good alternative.
Climate Chart Ontario
Toronto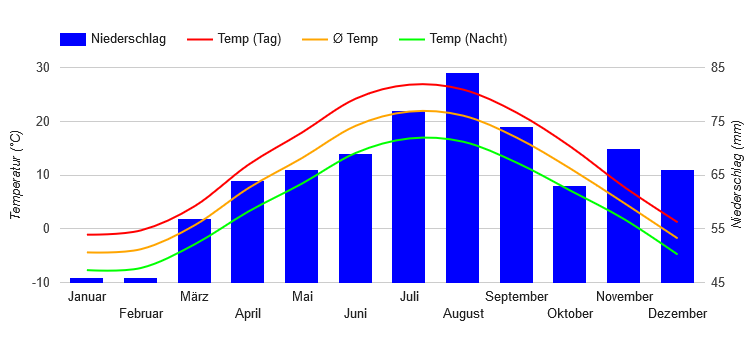 Show temperatures in degree
Source of Data: German Weather Service (Offenbach) and Wikipedia
Climate Table Ontario
In the following, you will find the climate table for Ontario, containing information about Temperatures, Precipitation, and Hours of Sunshine.
Temperatures, Precipitation, Sunshine in Toronto (Ontario)
| | Jan | Feb | Mar | Apr | May | Jun | Jul | Aug | Sep | Oct | Nov | Dec |
| --- | --- | --- | --- | --- | --- | --- | --- | --- | --- | --- | --- | --- |
| Day Temperature | -1° | -0° | 4° | 12° | 18° | 24° | 27° | 26° | 22° | 15° | 8° | 1° |
| Night Temperature | -8° | -7° | -3° | 3° | 8° | 14° | 17° | 16° | 12° | 7° | 2° | -5° |
| Precipitation (inch) | 1.81 | 1.81 | 2.24 | 2.52 | 2.6 | 2.72 | 3.03 | 3.31 | 2.91 | 2.48 | 2.76 | 2.6 |
| Rainy days | 15 | 12 | 12 | 12 | 12 | 9 | 9 | 9 | 9 | 9 | 13 | 13 |
| Hours of Sunshine | 3 | 4 | 5 | 6 | 7 | 9 | 9 | 8 | 7 | 5 | 3 | 3 |
Show temperatures in degree

Temperatures

The annual average temperature in Toronto is

8.9 °C

.

For comparison: London

11 °C

, NYC

12 °C

, LA

17.9 °C

Warmest month:

July (

21.8 °C

)

Coldest month:

January (

-4.4 °C

)

Precipitation

Overall annual precipitation:

30.79

inch

on

134 rainy days

For comparison: London

24.06 in

, NYC

41.57 in

, LA

12.01 in

There is no rainy season (months with more than

6.9 in

of precipitation).

Months that have possible snowfall: January, February, March, April, November, and December

Sunshine

As our climate table shows,

July

is the sunniest month with an average of

9.1 hours of sunshine per day

. Over the year, there are

5.6 hours of sunshine

per day on average. For comparison: London has 4.1, NYC has 7 and LA has 8.9 hours of sunshine per day on average.
Highlights and Attractions
The most popular places in Ontario are the provincial capital Toronto, the Niagara Falls and the state capital Ottawa. Special attractions in Ottawa are the Parliament Hill, the Rideau Canal and the Canadian War Museum.
In Toronto, the Ripley's Aquarium Of Canada, the delicacies of St. Lawrence Market, High Park, the Steam Whistle Brewery and the view from the CN Tower are some of the attractions.
Other attractions in Ontario include the Shaw Festival Theatre, the Konzelmann Estate Winery on Lake Ontario, a visit to Sugarbush Hill Maple Farm in Huntsville and Algonquin Provincial Park.
Popular Activities
Toronto: Niagara Falls Day Trip
Tours
Discover Niagara Falls with a local guide on the best timed day trip from Toronto. Capture amazing photos, and enjoy free time to explore. Upgrade to include the seasonal attraction Voyage to the Falls boat tour or the Skylon Tower.
Toronto: Niagara Falls Day Tour with Wine Tasting
Tours
Enjoy a day tour to Niagara Falls from Toronto. Visit Niagara-on-the-Lake, try local wines, and view attractions such as the Floral Clock and Whirlpool Rapids.
Toronto: Hop-On Hop-Off Sightseeing Bus Ticket
Bus & Minivan Tours
Hop on board an open-top double-decker bus for an easy, convenient, and fun way to explore Toronto. Enjoy taking in the city sights at your own pace. In summer months, enjoy a complimentary harbor cruise.
More attractions
Toronto: Harbor and Islands Sightseeing Cruise
|
Royal Ontario Museum: General Admission Ticket
|
From Toronto: Small Group Day Trip to Niagara Falls
|
Toronto: Private Tour with a Local
|
Toronto Islands: Morning or Twilight 3.5-Hour Bike Tour
|
Toronto: Heart of Downtown 3.5-Hour Bike Tour
|
Toronto: Small Group City Sightseeing Day Tour
|
Current Weather and Forecast
Current Weather in Toronto (Station Seaton Village)

broken clouds,
-9.3 °C
Clouds: 66 % Wind: 13 mph WSW
Air Pressure: 1018 hPa Humidity: 71 %
Last updated: 13th Mar 2022, 01:06 pm
The next days …
14th Mar 2022
15th Mar 2022
16th Mar 2022
17th Mar 2022
18th Mar 2022
19th Mar 2022

-2 °C

to

5 °C

-0 °C

to

2 °C

1 °C

to

4 °C

3 °C

to

11 °C

4 °C

to

7 °C

4 °C

to

7 °C

-2 °C

to

5 °C

-0 °C

to

2 °C

1 °C

to

4 °C

3 °C

to

11 °C

4 °C

to

7 °C

4 °C

to

7 °C

Clouds: 94 %
Clouds: 100 %
Clouds: 100 %
Clouds: 100 %
Clouds: 100 %
Clouds: 99 %
No Precipitation

0.01 in

of rain
No Precipitation

0.02 in

of rain

0.41 in

of rain

0.06 in

of rain
Weather information provided by OpenWeatherMap. (CC BY-SA)
Show temperatures in degree
Canada: Regions
Ontario is part of the holiday destination Canada. We analyzed the climate for additional regions, in order to provide you with information about the best time to visit and the expected holiday weather:
Share your Experience and Win
We want to know: how was the weather during your Ontario holiday?
You can win a travel coupon of 1000 $. The price will be raffled among all submissions.

Destinations in the Vicinity …