It is no secret that the high tourist season is during the summer months and therefore high prices are to be expected in many places. But there are not only some insider tips for a fantastic holiday in July, but also worthwhile classics and thanks to the high temperatures, many destinations in Europe are also ideally suited.
This is also reflected in our TOP4 list of the most popular destinations for a holiday in July: in addition to the Moroccan trend destination Agadir, Tenerife (Canary Islands), the beautiful Menorca (Balearic Islands) and the Greek island of Crete are among the top destinations.
TOP 4: Most popular Destinations for Travel in July 2022
Show temperatures in degree
Our travel editorial team has many more recommendations, especially true to the motto: Why travel far away when the good is often so close. Consequently, several destinations in Greece, Spain and Italy are among the absolute top destinations in July. Cyprus and Malta are also becoming increasingly popular due to their great price-performance ratio. The Indonesian island of Bali, the paradisiacal Seychelles and the spice island Zanzibar off the coast of Tanzania are the main destinations. The coastal region of Diani Beach in Kenya with its snow-white dream beaches and great hotel resorts also deserves a recommendation.
Our Recommendation: Additional Destinations for Holiday in July
---
---
---
---
---
---
---
---
---
---
---
---
---
---
---
---
Holidays in European countries
July's weather is still warm in most European countries. Compared to many destinations, holidays in Europe are still relatively inexpensive, but offer significantly higher air and water temperatures at the best travel season.
Greece with its countless islands lures with average day temperatures of over 30 °C and refreshing water, which is about 25 °C warm. In addition, July is one of the months with the lowest rainfall in Greece. Very similar climatic conditions can be found in Spain, e.g. on the well-known holiday islands Mallorca. This is not only popular with young party holidaymakers, but is increasingly establishing itself as a "serious" destination with great scenery and culinary highlights such as the many tapas bars.
Still faster to reach is the Côte d'Azur in France. With average daytime temperatures below 30 °C and about 23 °C warm water, the south of France is a perfect destination for July with very little rainfall.
Other holiday destinations in Europe whose best travel time is in July are Italy, Croatia, Holland and Bulgaria ( Sunny Beach and Golden Sands).
Destinations for July in Asia
Many Asian tourist hotspots such as Dubai have extremely high temperatures in July, making them among the best destinations for midsummer. The Turkish Aegean or the coastal town Marmaris is recommended for the July vacation. Here, too, you must be prepared for average daytime temperatures of 35 °C, but can refresh yourself in the water at a pleasant 24 °C. With an average of 14 hours of sunshine per day you have enough time to enjoy the sweet life.
In addition, we would like to recommend a few more unusual destinations for July. How about a holiday in the Malaysian capital Kuala Lumpur? With average daytime temperatures just over 30 °C you can visit the famous Petronas Towers, get to know the street cuisine or visit the Batu Caves with the Hindu temples.
You can connect your stay in Kuala Lumpur with a visit to the neighboring metropolis Singapore. Under similar climatic conditions you can visit the world-famous Marina Bay Sands Hotel, admire the skyline from the Singapore Flyer or make a day trip to the Universal Studios on the pleasure island Sentosa.
How about exploring the Land of the Rising Sun on your next July vacation? Japan's capital Tokyo reaches average daily temperatures of just under 30 °C in July. There are also some beautiful beaches where you can enjoy yourself at a water temperature of 23 °C. There are also many places of interest, such as a number of temples and the Tokyo Tower.
Russia is certainly not at the top of everyone's list of popular destinations. However, the country offers an incredible variety of landscapes, sights and people due to its unbelievable size. We would like to recommend a visit to the capital Moscow. With average daytime temperatures of just under 25 °C, July is just the right month to get to know the Kremlin, Red Square and Co.
Where to go in Africa?
It's gonna be very warm in July in North Africa. One of the most popular destinations is Hurghada in Egypt. At high summer air temperatures and water temperatures of 30 °C, bathing is naturally at the top of the TODO list. There are also organized diving and snorkeling trips to observe the wildlife. Those who do not necessarily have it with the water might get their money's worth on a desert safari.
If you don't want it to be that hot, Djerba in Tunisia might be the right choice for you. The daytime temperatures reach below 30 °C on average, the water is with 24 °C clearly more refreshing than in Egypt. In addition, July has almost no precipitation in Djerba. Twelve hours of sunshine a day provide enough time for further activities such as visiting one of the oldest synagogues in the world or the crocodile farm "Djerba Explorer Park".
Another recommendation for the African winter is Tanzania. Here the average day temperatures are around 25 °C - 28 °C, and the month of July has very little precipitation. Best conditions for a tour to Kilimanjaro, a visit to Ngorongoro Crater or a safari.
We would like to conclude the list of Africa recommendations with the island Madagascar. Depending on the region, day temperatures average 20 to 30 °C with very low precipitation values. Here especially animal lovers get their money's worth. Lemurs are Madagascar's national symbols and can be observed in the Lemur Park in Antananarivo, for example.
Holidays in July in America
In South America, July is the winter season. It is not as cold there as you might know it from Europe or the US East Coast, but it is not necessarily the best travel time for South American destinations though. We would like to recommend the Brazilian metropolis Rio de Janeiro. At a pleasant daytime temperature of 25 °C you can explore the Sugar Loaf, the Copacabana and the statue of Christ. Also the visit Peru in July with 20 °C - 30 °C offers good conditions to get to know the rainforest or the famous Macchu Pichu.
In the Caribbean, July falls in the rainy season on many of the islands and is not the preferred travel season. An exception is the small island Bonaire, here is to be counted also in July only with manageable precipitation.
July is the best time to travel to some destinations within the United States of America. It gets really warm in summer in New York City with average daytime temperatures of just under 30 °C. It is about cooler in California at this time, perfect for a beach holiday, a visit to the prison island Alcatraz or the Golden Gate Bridge.
You can also spend a nice summer holiday on Hawaii, with day temperatures of 30 °C and low rainfall. If you want to get to know the national parks Alaskas, July should also be your preferred travel month. Temperatures between 5 °C and 20 °C are significantly friendlier than in the freezing cold winter months.
You should also visit the friendly neighbors north of the USA during the summer months. No matter if Yukon, British Columbia, Ontario, Quebec, Newfoundland, the Rocky Mountains, Vancouver, Calgary, Toronto or Montreal: The best travel time for Canada is definitely July.
Cruises in July
In recent years, cruises have experienced a real boom and are enjoying increasing popularity. On a boat trip you enjoy the amenities of a top-class hotel and wake up every morning in a new and exciting destination. You experience the variety of a round trip, but don't have to do without anything: The service of a high-class hotel resort with a wide range of entertainment, numerous restaurants and bars are always with you on a cruise!

We show you the following recommendations for water holidays in regions that offer fantastic climatic conditions in July.
Weather for travelling:

22 °C

29 °C

3.46 in
Weather for travelling:

16 °C

22 °C

3.9 in
Weather for travelling:

24 °C

33 °C

0.43 in
Where our Visitors go in July
We have asked our website visitors to rate the travel weather of their last holiday. In the following overview you will find the most popular destinations of our visitors in July. Ratings are from 5 stars (excellent) down to 0 stars (catastrophic).
| | Ø Rating | Visit Count | Age of Visitors | |
| --- | --- | --- | --- | --- |
| Sunny Beach Bulgaria | 5 | 4 Visits | 23 - 66 years old (Ø 45 years) | |
| Crete | 5 | 4 Visits | 37 - 70 years old (Ø 47 years) | |
| Croatia | 5 | 4 Visits | 30 - 49 years old (Ø 38 years) | |
| Cos | 5 | 3 Visits | 50 - 63 years old (Ø 55 years) | |
| Italy | 5 | 3 Visits | 18 - 76 years old (Ø 50 years) | |
So far,
87
visitors have rated their July vacation and on average awarded
4.6
out of
5
stars.
Share your Experience and Win!
Rate the
weather of your last holiday destination
and
win 1000 $
for your next dream trip with a little luck!

The data you provide will be stored in accordance with our privacy policy.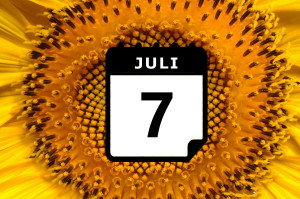 Best Travel Destinations for every Month
Travel Destinations for January
Travel Destinations for February
Travel Destinations for March
Travel Destinations for April
Travel Destinations for May
Travel Destinations for June
Travel Destinations for July
Travel Destinations for August
Travel Destinations for September
Travel Destinations for October
Travel Destinations for November
Travel Destinations for December
Destinations on other Continents
Europe
Africa
South America
North America
Asia
Oceania