It is not only the annual Easter holidays that make the holiday in April one of the most popular travel seasons of the year. It is also a good idea to take time out from everyday work after the first quarter for general holiday planning. In Europe it is getting warmer and therefore ideal for active holidaymakers, but which destinations are suitable for a real beach holiday in April?
Our TOP4 list shows the most popular destinations in April: The Indonesian dream island Bali, the Dominican Republic, the dazzling emirate Dubai and the insider tip El Gouna in Egypt are particularly popular.
TOP 4: Most popular Destinations for Travel in April 2022
Show temperatures in degree
Especially in the United Arab Emirates and Salalah (Oman) you can find very good offers despite the best travel time. European destinations such as the Canary Islands are good for strolling and active travel in April, but usually not yet ideal for swimming. Basically, destinations in the Caribbean, the Orient and Egypt are highly sought after, as the following recommendations of our travel specialists clearly show. Cancun and Playa del Carmen in Mexico also offer ideal conditions in April and deserve a closer look:
Our Recommendation: Additional Destinations for Holiday in April
---
---
---
---
---
---
---
---
---
---
---
---
---
---
---
---
Holiday destinations in Asia
Wasn't as cold in Europe in April as in winter, but if you want it to be really warm, you still have to travel a little further. Package holidays to Asia are relatively popular in April.
In addition to the warm United Arab Emirates all year round, Oman also offers the opportunity to spend very warm and dry holidays. Depending on the region, the average day temperatures here are between 30 °C and 35 °C, so that it is already extremely hot here. If you don't mind, you will find perfect conditions for a sunny holiday in Oman.
This April will also be very warm in Thailand. Most parts of the country also have average day temperatures between 30 °C and 35 °C with moderate precipitation compared to the summer months. If you don't mind the heat, you will find a perfect, hot destination in Thailand (e.g. Phuket) in April.
Other hot destinations in Asia are Laos, Cambodia and Vietnam. In Laos and Cambodia the daytime temperatures are around 35 °C, in Vietnam there are also regions that are somewhat less warm at 25 °C - 30 °C daytime temperature. In all three countries, April marks the end of the dry season, so take the last opportunity to visit these countries.
In Indonesia you will find the best conditions for your holiday in Bali in April. Average day temperatures of just over 30 °C, water temperatures of just under 30 °C and the beginning of the dry season invite you to swim in Bali.
It is significantly cooler in Turkey, which is also closer to home. The bathing resorts of the Turkish Riviera (e.g. Belek, Side, Antalya) achieve average day temperatures of 20 °C.
At 17 °C, the water is still too cold for longer bathing, but is at least suitable for short refreshments. The same applies to the popular coastal town of Marmaris in the Turkish Aegean.
Where to travel in Africa?
There are some very interesting holiday destinations in Africa for April. A very popular destination is Egypt, where you will find good holiday conditions in spring. In Hurghada, for example, the average daytime temperatures are just under 30 °C, and the water is also pleasantly warm at 23 °C and ideal for bathing.
Almost 11 hours of sunshine per day and almost no precipitation attract numerous tourists to the largest Egyptian tourist centre on the Red Sea.
In Morocco it is not quite as warm with average daytime temperatures between 19 °C and 25 °C and water temperatures of around 17 °C. A similar climate prevails in Tunisia, also on Djerba the best travel season has not yet begun in April.
Further south it gets much warmer, in Senegal for example day temperatures of 40 °C on average are possible (kaolac). But there are also much more pleasant regions here, in Dakar the average daytime temperature is 25 °C and the water has also reached over 20 °C.
In Central Africa it is the rainy season in April in many countries, so we have to go a little further south to find more good holiday destinations. We find good weather for our holidays e.g. in Malawi, where the average daytime temperatures are over 25 °C with very little rainfall. Those who want to spend a beach holiday at the sea will find paradisiacal conditions in Mozambique with about 30 °C a day and water temperatures of 25 °C - 30 °C. Both destinations are also well suited for combinations with safari experiences.
The best time to travel is also in Madagascar in April. The rainy season is now over and the day temperatures are between 25 °C and above 30 °C, depending on the region. Also the water has almost 30 °C and is therefore cosy and warm. Depending on the region, one enjoys an average of 8 - 10 hours of sunshine per day.
South Africa can also be a good choice for an April vacation. In Cape Town the average day temperatures are 23 °C, the water is still a bit cool for a longer bath at 18 °C, but it is certainly suitable for a short cooling down.
In Durban it is a little warmer, the day temperatures are above 25 °C and the water also has a pleasant bathing temperature of 23 °C. In the Kruger National Park now slowly the dry season begins.
By the way, the islands of the Seychelles with water temperatures of almost 30 °C in April are also good to visit all year round. Although heavy rain showers are to be expected, on average 7 - 8 hours of sunshine per day are still reached on Mahé, Praslin and La Digue.
Destinations in America
In the South American autumn there are still some nice warm holiday destinations. In Montevideo, the capital of Uruguay, the daytime temperatures are at a pleasant 22 °C and the water at 19 °C is barely suitable for swimming. In Brazil, southern regions such as Porto Allegre are highly recommended in April. April is the period with the lowest rainfall and both water and day temperatures are around 25 °C.
Good climatic conditions also await you in Peru, where it is still very pleasant in the capital Lima at day temperatures of 25 °C and water temperatures of 20 °C for a bathing holiday. For the more northern countries: optimal travel weather on the Caribbean coast of Colombia and Venezuela with day temperatures of over 30 °C, little precipitation and warm water.
Similar temperatures are found in Guyana and Suriname, where more precipitation is to be expected. It is very wet in French Guyana, which is not suitable for holidays in April.
In Panama, April marks the end of the dry season and is therefore a recommended month for travel. It is hot and dry in Nicaragua, as it is in Honduras. It is also warm and dry in El Salvador. Average daytime temperatures below 30 °C are expected in Guatemala and Belize, which also makes these destinations good destinations in April due to low rainfall.
April is certainly the best travel season in Mexico as well, it is quite dry in most parts of the country and the average day temperatures are between 25 °C and 35 °C, depending on the region. Especially the tourist strongholds on the Riviera Maya like Cancun attract with paradisiacal bathing weather.
A little more at operating temperature in April will also come the United States of America. In Florida, the month is absolutely the best travel time: average day temperatures up to 30 °C, water temperatures up to 26 °C and lots of sunshine (up to 11 hours a day on the Florida Keys) make the state a perfect destination for a summer beach holiday.
However, other regions of the USA are now also becoming particularly important. For example, how about a trip to America's gamblers' paradise, Las Vegas? In the summer months it gets extremely hot there, but in April the daytime temperatures of 25 °C are exactly right.
It's dry in the desert all year anyway. Also the nearby Grand Canyon invites to a sightseeing tour in similar conditions.
Cruises in April
In recent years, cruises have experienced a real boom and are enjoying increasing popularity. On a boat trip you enjoy the amenities of a top-class hotel and wake up every morning in a new and exciting destination. You experience the variety of a round trip, but don't have to do without anything: The service of a high-class hotel resort with a wide range of entertainment, numerous restaurants and bars are always with you on a cruise!

We show you the following recommendations for water holidays in regions that offer fantastic climatic conditions in April.
Weather for travelling:

28 °C

30 °C

2.28 in
Weather for travelling:

27 °C

35 °C

0.51 in
Weather for travelling:

25 °C

28 °C

1.77 in
Where our Visitors go in April
We have asked our website visitors to rate the travel weather of their last holiday. In the following overview you will find the most popular destinations of our visitors in April. Ratings are from 5 stars (excellent) down to 0 stars (catastrophic).
| | Ø Rating | Visit Count | Age of Visitors | |
| --- | --- | --- | --- | --- |
| El Gouna | 4.3 | 4 Visits | 41 - 69 years old (Ø 52 years) | |
| Oman | 5 | 3 Visits | 20 - 58 years old (Ø 41 years) | |
| Tel Aviv | 5 | 3 Visits | 20 - 53 years old (Ø 41 years) | |
| Hurghada | 4.7 | 3 Visits | 51 - 72 years old (Ø 59 years) | |
| Playa del Carmen | 4 | 3 Visits | 31 - 62 years old (Ø 48 years) | |
So far,
101
visitors have rated their April vacation and on average awarded
4.2
out of
5
stars.
Share your Experience and Win!
Rate the
weather of your last holiday destination
and
win 1000 $
for your next dream trip with a little luck!

The data you provide will be stored in accordance with our privacy policy.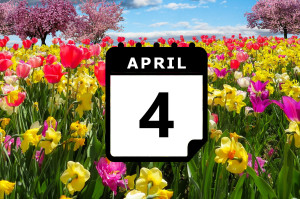 Best Travel Destinations for every Month
Travel Destinations for January
Travel Destinations for February
Travel Destinations for March
Travel Destinations for April
Travel Destinations for May
Travel Destinations for June
Travel Destinations for July
Travel Destinations for August
Travel Destinations for September
Travel Destinations for October
Travel Destinations for November
Travel Destinations for December
Destinations on other Continents
Europe
Africa
South America
North America
Asia
Oceania