On this page, you will find information about the climate and the best time to visit Hurghada. We created climate tables and charts for the location of Hurghada. These contain details about temperatures, precipitation and more.
Furthermore, we analyzed all climate data and provide a recommendation about which months are best to visit Hurghada for your holiday.
Climate Overview

9 °C
to
35 °C

21 °C
to
30 °C

0
–
0.31 in
(0 – 3 Days of Rain)
Show temperatures in degree
Geographical location
Table of Contents


Egypt is located in eastern Africa and borders on Israel, Saudi Arabia, Sudan and Libya to the west. Hurghada is located in the east of the country on the Red Sea and is an important tourist centre.
Every year, more than one million visitors come to the seaside resort, which itself has only about 155,000 inhabitants and covers a total area of about
19 miles
along the coast. Hurghada extends into the adjacent desert landscape, where exciting tours can be undertaken.
The holiday paradise offers the best conditions for a relaxing beach holiday and is popular with singles, couples and families alike. Thanks to spectacular reefs and rocks, intact coral formations and a very varied fish abundance, Hurghada is one of the best dive sites in the world, especially for divers.
Various (charter) airlines operate direct flights to Hurghada International Airport during the high season.
Climate in Hurghada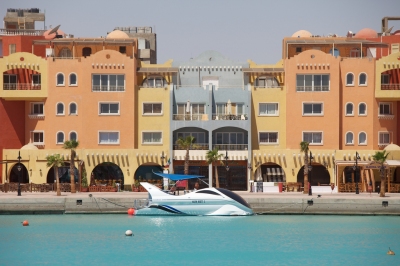 In Hurghada there is a subtropical desert climate, which manifests itself in very hot and dry summer months. In the hottest summer months of
July
and
August
, temperatures rise to an average of
35 °C
in the shade, peaks above
40 °C
are not uncommon. As a rule, there is no precipitation at all during this period.
Typical for a desert climate are the cooling nights, which provide a pleasant atmosphere in the evening. Night temperatures can drop to a mild
20 °C
in the summer months, which is quite refreshing compared to daytime temperatures. The transition months of
April
,
May
,
October
and
November
offer moderate temperatures between
24 °C
to
26 °C
.
The few winter months are comparatively mild and also dry. In winter Hurghada gets a little cooler and the temperatures drop to about
20 °C
during the day and about
9 °C
to
11 °C
during the night. Isolated precipitation occurs in the months of
December
to
March
. However, these are very short, rare showers, the statistically recorded maximum
0.31 in
per month would be called "rare, isolated droplets".
Best Time to Visit Hurghada: Overview
Temperatures

Temp.

up to

19 °C

Temperatures

Temp.

up to

21 °C

Temperatures

Temp.

up to

24 °C

Perfect

Perf.

climate in Hurghada

Perfect

Perf.

climate in Hurghada

Perfect

Perf.

climate in Hurghada

Main Season

Main Season

Perfect

Perf.

climate in Hurghada

Perfect

Perf.

climate in Hurghada

Perfect

Perf.

climate in

Hurghada

Temperatures

Temp.

up to

21 °C
When to go to Hurghada?
A bathing holiday in Egypt is possible almost all year round due to the high temperatures. The best time to travel in Hurghada is between April and
June
and between
September
and November. Vacationers expect warm, sunny weather during these periods, but the temperatures are not unbearably hot. The water temperatures in Hurghada of up to
29 °C
create true bathing fun and also ideal conditions for intensive dives.
In the months of July and August it gets sometimes unpleasantly hot and it is the absolute peak season in the hotels and on the beaches. Of course, this travel season is also possible without hesitation, especially if you have no problems with high temperatures or are dependent on the summer holidays as a family. However, this is not the best travel time in the region.
Fares for flights and hotels are falling significantly, especially off the two months of July and August, and the beaches are now noticeably emptier and couples in particular enjoy the relaxing atmosphere on the Red Sea. Also in the winter months a journey to Hurghada is possible, at this time sometimes real bargains lure. Only at night it gets fresher with about
10 °C
, during the day it reaches
20 °C
even in the coldest months.
Climate Chart Hurghada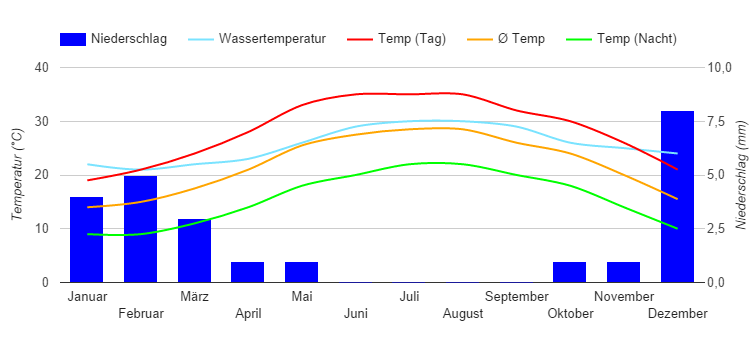 Show temperatures in degree
Source of Data: German Weather Service (Offenbach) and Wikipedia
Climate Table Hurghada
In the following, you will find the climate table for Hurghada, containing information about Temperatures, Precipitation, Water Temperatures, and Hours of Sunshine.
Temperatures, Precipitation, Sunshine
| | Jan | Feb | Mar | Apr | May | Jun | Jul | Aug | Sep | Oct | Nov | Dec |
| --- | --- | --- | --- | --- | --- | --- | --- | --- | --- | --- | --- | --- |
| Day Temperature | 19° | 21° | 24° | 28° | 33° | 35° | 35° | 35° | 32° | 30° | 26° | 21° |
| Night Temperature | 9° | 9° | 11° | 14° | 18° | 20° | 22° | 22° | 20° | 18° | 14° | 10° |
| Water Temperature | 22° | 21° | 22° | 23° | 26° | 29° | 30° | 30° | 29° | 26° | 25° | 24° |
| Precipitation (inch) | 0.16 | 0.2 | 0.12 | 0.04 | 0.04 | 0 | 0 | 0 | 0 | 0.04 | 0.04 | 0.31 |
| Rainy days | 3 | 2 | 2 | 1 | 1 | 0 | 0 | 0 | 0 | 1 | 1 | 3 |
| Hours of Sunshine | 8 | 9 | 9 | 11 | 11 | 13 | 13 | 12 | 11 | 10 | 9 | 8 |
Show temperatures in degree

Temperatures

The annual average temperature is

21.9 °C

.

For comparison: London

11 °C

, NYC

12 °C

, LA

17.9 °C

Warmest month:

July (

28.5 °C

)

Coldest month:

January (

14 °C

)

The maximum water temperature is

30 °C

. You can take a bath at these temperatures.

Months with water temperature of at least

21 °C

(adequate for beach vacation):

all months

Precipitation

Overall annual precipitation:

0.94

inch

on

14 rainy days

For comparison: London

24.06 in

, NYC

41.57 in

, LA

12.01 in

There is no rainy season (months with more than

6.9 in

of precipitation).

You cannot expect snow in any month.

Sunshine

As our climate table shows,

June

is the sunniest month with an average of

12.8 hours of sunshine per day

. Over the year, there are

10.2 hours of sunshine

per day on average. For comparison: London has 4.1, NYC has 7 and LA has 8.9 hours of sunshine per day on average.
Highlights and Attractions
Hurghada is known for its extraordinary diving spots in the Red Sea. Countless diving centres offer good training and guided tours even for advanced divers. For those who are not too keen on diving but still want to discover the fascinating underwater world, Mahmya Beach offers ideal conditions for impressive snorkeling tours.
The kilometre-long beach also offers beautiful opportunities to relax in the sun afterwards. Further highlights and attractions of Hurghada are the Makadi Water World, the magnificent New Marina and excursions to the paradisiacal Giftun Islands. Mosques are not open to"unbelieving" tourists in the region, but the St. Anthony Monastery above the cave of the same name is a curious peculiarity.
More information about the best things to do: Egypt
Popular Activities
9-Hour Dolphin Snorkeling Tour from Hurghada
Snorkeling
Get up close to dolphins on this fantastic 9-hour snorkel trip from Hurghada. Enjoy a boat cruise to areas in the open sea where dolphins can be found. Admire the colorful coral reefs, and enjoy swimming or snorkeling with dolphins.
From Hurghada: 3-Hour Desert Safari by Quad Bike
Quad & ATV Tours
Enjoy riding a quad bike and exploring the desert on this 3-hour tour from Hurghada. Experience a thrilling ride through the sand dunes to a Bedouin village, where you can enjoy black tea and a ride on a camel.
Day Trip to Valley of the Kings, Luxor
Day Trips
Visit the monuments of Luxor on a day's excursion. Take the chance to visit the capital of the Pharaohs and its impressive architectural legacy: the Karnak Temple, Valley of the Kings, Colossi of Memnon, and Temple of Hatshepsut.
More attractions
Giftun Island Snorkeling Day Trip from Hurghada
|
Hurghada: 6-Hour Dive Trip with Two Dive Sites
|
Desert Quad Bike Safari in Hurghada to Bedouin Village
|
Cairo and Giza Full-Day Highlights Tour from Hurghada
|
Hurghada: Full-Day Trip to Cairo and Giza Highlights
|
From Hurghada Trip to Luxor and Valley of the Kings
|
Super Giftun Island National Park Full-day Snorkeling Trip
|
Current Weather and Forecast
Current Weather in Hurghada (Station Al Ghardaqah)

clear sky,
13 °C
Clouds: 0 % Wind: 2 mph SW
Air Pressure: 1017 hPa Humidity: 54 %
Last updated: 21st Jan 2019, 02:00 am
The next days …
21st Jan 2019
22nd Jan 2019
23rd Jan 2019
24th Jan 2019
25th Jan 2019
26th Jan 2019

4 °C

to

20 °C

3 °C

to

22 °C

4 °C

to

22 °C

22 °C

to

22 °C

22 °C

to

23 °C

22 °C

to

23 °C

4 °C

to

20 °C

3 °C

to

22 °C

4 °C

to

22 °C

22 °C

to

22 °C

22 °C

to

23 °C

22 °C

to

23 °C

Clouds: 48 %
Clouds: 0 %
Clouds: 8 %
Clouds: 64 %
Clouds: 4 %
Clouds: 10 %
No Precipitation
No Precipitation
No Precipitation

0.13 in

of rain
No Precipitation

0.1 in

of rain
Weather information provided by OpenWeatherMap. (CC BY-SA)
Show temperatures in degree
Egypt: Regions
Hurghada is part of the holiday destination Egypt. We analyzed the climate for additional regions, in order to provide you with information about the best time to visit and the expected holiday weather:
Share your Experience and Win
We want to know: how was the weather during your Hurghada holiday?
You can win a travel coupon of 1000 $. The price will be raffled among all submissions.

Destinations in the Vicinity …