On this page, you will find information about the climate and the best time to visit Cape Town. We created climate tables and charts for the location of Cape Town. These contain details about temperatures, precipitation and more.
Furthermore, we analyzed all climate data and provide a recommendation about which months are best to visit Cape Town for your holiday.
Climate Overview

7 °C
to
26 °C

14 °C
to
19 °C

0.55
–
3.66 in
(3 – 10 Days of Rain)
Show temperatures in degree
General and Geography
Table of Contents


Cape Town is the second largest city in South Africa and one of the most popular travel metropolises in the world. According to current statistics, the metropolitan region on the Western Cape is home to around 3.9 million people.
As the first city founded during the Dutch colonial period, Cape Town is still known today as Mother City, the mother city of the rainbow nation.
Cape Town became world-famous mainly for Table Mountain, which became the landmark of the whole of South Africa. Together with the neighbouring elevations of Lion's Head and Signal Hill and Devil's Peak, the city skyline is dominated by the Table Mountain massif.
In many places it is said that Cape Town is the only city on two oceans. In reality, however, Cape Town extends exclusively along the Atlantic Ocean. The confluence of the Indian Ocean and the Atlantic Ocean only occurs about
130 miles
below Cape Agulhas.
Climate in Cape Town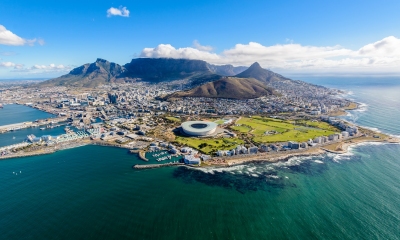 The climate in Cape Town and the provinces of the Cape is largely Mediterranean with a typically humid winter. The seasons are exactly the opposite to ours in Europe. The Atlantic Ocean has a great influence on the climate, so that there are comparatively small temperature fluctuations throughout the year.
The cooler rainy season in winter usually begins at the end of
April
and usually lasts until mid-
September
with runners. Afterwards the cape region shines particularly colourfully, the landscapes really blossom.
October
is already quite dry, but often shows strong and quite cool storms.
In
November
, the South African spring goes into the summer, the days are now much friendlier, sunnier and warmer. From
December
to
February
it is midsummer in Cape Town, and
March
is still pleasantly warm. The vineyards now glow in the most beautiful autumn colours and look forward to the slow onset of moisture from the end of April.
Best Time to Visit Cape Town: Overview
Hot and Dry

Hot and Dry

Perfect climate in
Cape Town

Perf.

climate

usually Pleasant

Late Autumn

a little bit cool and wet

Winter in Cape Town

Winter in South Africa

cool and wet

Winter in Cape Town

Winter in South Africa

cool and wet

Winter in Cape Town

Winter in South Africa

cool and wet

Still chilly

Perfect climate

Hot and Dry
When is the best time to travel to Cape Town?
The more intensively you deal with the topic of the best travel season in Cape Town, the more you will come across sometimes contradictory information. This is mainly due to the fact that many suppliers like to market Cape Town as an ideal year-round destination in order to sell it better for combinations with other parts of the country.
In fact, you can travel to Cape Town all year round – but this information applies to almost every city in the world, doesn't it? However, the winter in the Cape region is not only quite cool, but also extremely humid. It is comparatively windless, but regularly there is unpleasant drizzle or even downpour.
We therefore recommend the period from November to the end of March as the best travel season for Cape Town. December,
January
and February are particularly hot, but at the same time also the driest months and therefore the absolute peak season. This drought usually makes Cape Town's weather very bearable even during periods of heat.
The transitional months of October and April are also a good travel season for Cape Town. The time before and after the African Christmas holidays in the Cape region between mid-December and mid-January is particularly beautiful. Our favorites are mainly February and March as well as October.
Climate Chart Cape Town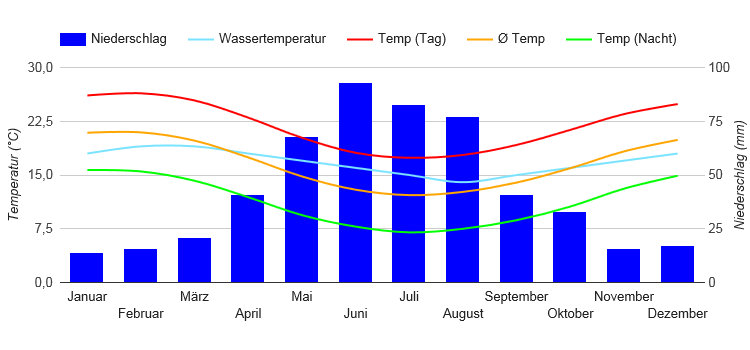 Show temperatures in degree
Source of Data: German Weather Service (Offenbach) and Wikipedia
Climate Table Cape Town
In the following, you will find the climate table for Cape Town, containing information about Temperatures, Precipitation, Water Temperatures, and Hours of Sunshine.
Temperatures, Precipitation, Sunshine
| | Jan | Feb | Mar | Apr | May | Jun | Jul | Aug | Sep | Oct | Nov | Dec |
| --- | --- | --- | --- | --- | --- | --- | --- | --- | --- | --- | --- | --- |
| Day Temperature | 26° | 26° | 25° | 23° | 20° | 18° | 17° | 18° | 19° | 21° | 24° | 25° |
| Night Temperature | 16° | 16° | 14° | 12° | 9° | 8° | 7° | 8° | 9° | 11° | 13° | 15° |
| Water Temperature | 18° | 19° | 19° | 18° | 17° | 16° | 15° | 14° | 15° | 16° | 17° | 18° |
| Precipitation (inch) | 0.55 | 0.63 | 0.83 | 1.61 | 2.68 | 3.66 | 3.27 | 3.03 | 1.61 | 1.3 | 0.63 | 0.67 |
| Rainy days | 3 | 3 | 3 | 6 | 8 | 10 | 9 | 9 | 7 | 5 | 3 | 3 |
| Hours of Sunshine | 11 | 11 | 9 | 8 | 7 | 6 | 6 | 7 | 8 | 9 | 10 | 11 |
Show temperatures in degree

Temperatures

The annual average temperature is

16.7 °C

.

For comparison: London

11 °C

, NYC

12 °C

, LA

17.9 °C

Warmest month:

February (

21 °C

)

Coldest month:

July (

12.2 °C

)

The maximum water temperature is

19 °C

. Comfortable bathing is possible at water temperatures of about

21 °C

.

Months with water temperature of at least

17 °C

(Limited bathing is possible):

January, February, March, April, May, November, and December

Precipitation

Overall annual precipitation:

20.47

inch

on

69 rainy days

For comparison: London

24.06 in

, NYC

41.57 in

, LA

12.01 in

There is no rainy season (months with more than

6.9 in

of precipitation).

You cannot expect snow in any month.

Sunshine

As our climate table shows,

January

is the sunniest month with an average of

10.9 hours of sunshine per day

. Over the year, there are

8.5 hours of sunshine

per day on average. For comparison: London has 4.1, NYC has 7 and LA has 8.9 hours of sunshine per day on average.
Highlights & Sights
Cape Town is rich in attractions and sights, which can be completed either on your own or in guided tours. A visit to Table Mountain and the world-famous Victoria & Alfred Waterfront is a must. A trip to Robben Island, the prison island of Nelson Mandela, is also a must.
The colourful houses in the Bo-Kaap district are always a popular photo motif. A tour along the peninsula to the Cape of Good Hope lures you by rental car. Meanwhile, there is beach life at the Clifton Beaches, Bloubergstrand or Camps Bay. The delicacies of the Old Biscuit Mill are not to be missed either.
Popular Activities
Cape Town City Sightseeing Hop-On Hop-Off Tour
Bus & Minivan Tours
Discover the many attractions Cape Town has to offer on a double-decker sightseeing bus tour. Choose a Classic (1-day) or Premium (2-day ticket), and hop-on and off the bus whenever you like. Travel on the 4 tour routes, and enjoy multilingual commentary.
Cape Point and Penguin Explorer Full-Day Tour from Cape Town
Tours
Enjoy a day excursion from Cape Town to Cape Point and the Cape of Good Hope. Visit the penguins at Boulders Beach and even spot whales in season.
Table Mountain Cable Car Ticket & Hop-On Hop-Off Bus Combo
Bus & Minivan Tours
See the best of Cape Town with this combined Table Mountain return cable car ticket, Cape Town hop-on hop-off bus ticket and, free walking tour. Use the bus to be dropped at the door of the Cableway station.
More attractions
Robben Island: Ferry Ticket and Tour with 1-Way Hotel Pickup
|
Cape Peninsula and Penguin Colony Full Day Shared Tour
|
Township and Robben Island Combination Tour
|
Cape Town: Waterfront and Sunset Champagne Cruise
|
Cape Peninsula: Full-Day Small Group Tour with Penguins
|
Two Oceans Aquarium: Skip-the-Line Entrance ticket
|
Cape Town: Full-Day Shared Wine Tasting Tour
|
Current Weather and Forecast
Current Weather in Cape Town (Station De Waterkant)

light rain,
17 °C
Clouds: 75 % Wind: 6 mph NNO
Air Pressure: 1008 hPa Humidity: 88 %
Last updated: 13th Mar 2022, 04:34 am
The next days …
6th Mar 2022
7th Mar 2022
8th Mar 2022
9th Mar 2022
10th Mar 2022
11th Mar 2022

20 °C

to

25 °C

20 °C

to

23 °C

19 °C

to

25 °C

21 °C

to

25 °C

20 °C

to

26 °C

22 °C

to

29 °C

20 °C

to

25 °C

20 °C

to

23 °C

19 °C

to

25 °C

21 °C

to

25 °C

20 °C

to

26 °C

22 °C

to

29 °C

Clouds: 3 %
Clouds: 87 %
Clouds: 12 %
Clouds: 77 %
Clouds: 32 %
Clouds: 0 %
No Precipitation
No Precipitation
No Precipitation
No Precipitation
No Precipitation
No Precipitation
Weather information provided by OpenWeatherMap. (CC BY-SA)
Show temperatures in degree
South Africa: Regions
Cape Town is part of the holiday destination South Africa. We analyzed the climate for additional regions, in order to provide you with information about the best time to visit and the expected holiday weather:
Share your Experience and Win
We want to know: how was the weather during your Cape Town holiday?
You can win a travel coupon of 1000 $. The price will be raffled among all submissions.

Cape Town: The Mother City
Destinations in the Vicinity …