On this page, you will find information about the climate and the best time to visit Johannesburg. We created climate tables and charts for the location of Johannesburg. These contain details about temperatures, precipitation and more.
Furthermore, we analyzed all climate data and provide a recommendation about which months are best to visit Johannesburg for your holiday.
Climate Overview

4 °C
to
26 °C

0.16
–
4.92 in
(1 – 12 Days of Rain)
Show temperatures in degree
General & Geography
Table of Contents


Johannesburg is South Africa's largest city with around one million inhabitants and is home to more than 4.5 million people in the metropolitan region.
However, the capital of South Africa is Pretoria, about
34 miles
to the north. Nevertheless, Johannesburg (nicknamed
Joburg
, more rarely
Jozi
) is something like the secret capital of the republic.
The average altitude is 1753 metres above sea level, Johannesburg is inland and has no access to an ocean or a major river. The distance from Johannesburg to Kruger National Park in the east of the country is about
310 miles
.
Often one hears only of the negative aspects in connection with the huge city: Chaotic traffic, appalling poverty and an exceptionally high crime rate. But Johannesburg has long since blossomed out in many districts and also offers interesting attractions for tourists.
Above all Sandton and Rosebank are used by many vacationers for some overnight accomodation at the beginning or end of a journey. In any case, with OR Tambo International Airport, Joburg is the continent's busiest hub and thus also the gateway to South Africa for most foreign visitors.
There are countless international flight connections to Johannesburg.
Climate in Johannesburg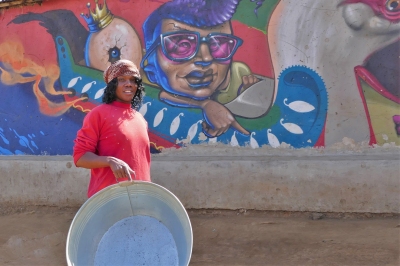 Johannesburg in South Africa is located in the southern hemisphere, so that the seasons are generally exactly opposite to those in Europe. The South African winter is therefore between
June
and
August
, while the South African midsummer falls between
November
and
February
.
Despite the altitude on the central plateau of the so-called Highveld, the climate in Johannesburg and the surrounding area is quite mild all year round and also very friendly with 8 to 10 hours of sunshine. Nevertheless, especially in the South African summer between mid-
October
and the end of
March
, increased precipitation is to be expected.
The potential rainy season is thus largely identical to the wetter
travel season in Kruger National Park
. In Johannesburg, however, temperatures are more moderate: although values above
30 °C
can occur between
September
and March during hot spells, these are rare exceptions.
As a rule, the Johannesburg metropolitan region records day temperatures of about
25 °C
and night temperatures of about
14 °C
between October and March. In winter, daytime temperatures of around
17 °C
are expected in
July
and August and an average of
4 °C
at night. Frost is rare, but occasionally occurs between the end of
May
and September.
Best Time to Visit Johannesburg: Overview
Suitable

time to travel

time

warm, a little bit wet

Suitable

time to travel

time

warm, a little bit wet

Suitable

time to travel

time

warm, a little bit wet

Perfect

Perf.

climate in

Johannesburg

Perfect

Perf.

climate in

Johannesburg

Perfect

Perf.

climate in

Johannesburg

Perfect

Perf.

climate in

Johannesburg

Perfect

Perf.

climate in

Johannesburg

Suitable

time to travel

time

warm, a little bit wet

Suitable

time to travel

time

warm, a little bit wet
When is the best time to travel to Johannesburg?
Johannesburg is generally good to visit all year round, as it is of course not a beach holiday destination and very few visitors will stay in the city for two weeks. In this respect, further route planning in South Africa is very important when choosing the best travel time.
Many tourists combine Johannesburg with a safari in the north-eastern reservations in the Kruger National Park, Pilanesberg National Park,
140 miles
to the north-west, or the Madikwe Reserve on the Botswana border. The rainy season in summer is only conditionally suitable for such a trip.
This is less due to the partly high temperatures than to the effects of the rainfalls on the vegetation and thus the observation possibilities of the animals: They disappear now from the few water points, since there are sufficient drinking possibilities everywhere. In addition, the dense bush now offers much better coverage.
But even if you don't go on safari, we can only recommend the wetter summer in Johannesburg with restrictions. The best time to travel is without a doubt the dry season between
April
and October, although the significantly cooler months of June and July (perfect for safaris!) have been somewhat excluded by us.
Climate Chart Johannesburg
Show temperatures in degree
Source of Data: German Weather Service (Offenbach) and Wikipedia
Climate Table Johannesburg
In the following, you will find the climate table for Johannesburg, containing information about Temperatures, Precipitation, and Hours of Sunshine.
Temperatures, Precipitation, Sunshine
| | Jan | Feb | Mar | Apr | May | Jun | Jul | Aug | Sep | Oct | Nov | Dec |
| --- | --- | --- | --- | --- | --- | --- | --- | --- | --- | --- | --- | --- |
| Day Temperature | 26° | 25° | 24° | 21° | 19° | 16° | 17° | 19° | 23° | 24° | 24° | 25° |
| Night Temperature | 15° | 14° | 13° | 10° | 7° | 4° | 4° | 6° | 9° | 11° | 13° | 14° |
| Precipitation (inch) | 4.92 | 3.54 | 3.58 | 2.13 | 0.51 | 0.35 | 0.16 | 0.24 | 1.06 | 2.83 | 4.61 | 4.13 |
| Rainy days | 12 | 8 | 8 | 7 | 2 | 1 | 1 | 1 | 3 | 7 | 11 | 11 |
| Hours of Sunshine | 8 | 8 | 8 | 8 | 9 | 9 | 9 | 9 | 9 | 9 | 8 | 9 |
Show temperatures in degree

Temperatures

The annual average temperature is

16 °C

.

For comparison: London

11 °C

, NYC

12 °C

, LA

17.9 °C

Warmest month:

January (

20.2 °C

)

Coldest month:

June (

10.1 °C

)

Precipitation

Overall annual precipitation:

28.07

inch

on

72 rainy days

For comparison: London

24.06 in

, NYC

41.57 in

, LA

12.01 in

There is no rainy season (months with more than

6.9 in

of precipitation).

Months that have possible snowfall: June

Sunshine

As our climate table shows,

September

is the sunniest month with an average of

9.4 hours of sunshine per day

. Over the year, there are

8.6 hours of sunshine

per day on average. For comparison: London has 4.1, NYC has 7 and LA has 8.9 hours of sunshine per day on average.
Sights in Johannesburg
Johannesburg is not a classical beauty and still has to struggle with the challenges of a constantly growing metropolis of millions, where the gap between rich and poor seems unstoppable. Nevertheless, the city also has more and more to offer to tourists. We are happy to reveal some of our favourites:
A stay in Joburg would not be complete without visiting one of its outstanding (and incredibly inexpensive) steakhouses – especially
The Grillhouse Rosebank
at the Hyatt Hotel and
Trumps Grillhouse and Butchery
at beautiful Nelson Mandela Square in Sandton.
Every Saturday the Neighbourgoods Market in Braamfontein lures with countless delicacies, African live music and a lot of joie de vivre. On Sundays we recommend a stroll through the great designer and souvenir stands at the
Market on Main
or the popular
Rosebank Sunday Market
.
A visit to the Apartheid Museum and Constitution Hill is a must to learn more about the rainbow nation's past. A tour through the townships of SoWeTo is also an eye-opener if you fall back on a competent and experienced guide.
We strongly advise against visiting Lion Park (now
Lion and Safari Park
) near Johannesburg. Interaction with caged lions may provide'great photos', but it is pure animal cruelty. The babies are separated from their mothers, older animals are sold to hunting concessions. If you like seeing lions, you should go on a real safari!
Popular Activities
From Johannesburg: Pilanesberg Nature Reserve Game Safari
Safaris & wildlife activities
Visit Pilanesberg Game Reserve from Johannesburg for a full-day safari. Join a ranger in an open vehicle and see lions, giraffes, cheetahs, hippos, crocodiles, and more with insightful commentary.
1 or 2 Day Johannesburg Hop-On, Hop-Off Tour
Hop-on Hop-off tours
Tour Johannesburg at your own pace on board a double-decker tourist bus and see the best sights the city has to offer from a preferential point of view.
Johannesburg and Soweto Apartheid Full Day Tour
Tours
Explore the heart of bustling Johannesburg, the third largest city in Africa. Visit various Soweto areas where the history of Apartheid began in 1948. Learn about and understand the country's difficult past with a local, knowledgeable guide.
More attractions
Johannesburg and Soweto: Half Day Tour
|
From Johannesburg: Lion & Safari Park Half-Day Tour
|
Jo'berg in 1 Day: Soweto, Apartheid Museum & City Tour
|
Johannesburg Hop-On Hop-Off Bus Ticket and Soweto Tour
|
Cradle of Humankind: Shared Half-Day Tour
|
Soweto: Guided Bicycle Tour with Lunch
|
Johannesburg: Soweto Apartheid & Township Tour with Lunch
|
Current Weather and Forecast
Current Weather in Johannesburg

broken clouds,
20.2 °C
Clouds: 72 % Wind: 3 mph N
Air Pressure: 1014 hPa Humidity: 64 %
Last updated: 4th Feb 2023, 06:50 pm
The next days …
5th Feb 2023
6th Feb 2023
7th Feb 2023
8th Feb 2023
9th Feb 2023
10th Feb 2023

15 °C

to

25 °C

15 °C

to

27 °C

16 °C

to

25 °C

14 °C

to

16 °C

14 °C

to

18 °C

14 °C

to

18 °C

15 °C

to

25 °C

15 °C

to

27 °C

16 °C

to

25 °C

14 °C

to

16 °C

14 °C

to

18 °C

14 °C

to

18 °C

Clouds: 28 %
Clouds: 11 %
Clouds: 69 %
Clouds: 100 %
Clouds: 98 %
Clouds: 100 %

0.06 in

of rain

0.01 in

of rain

0.23 in

of rain

0.43 in

of rain

1.28 in

of rain

0.88 in

of rain
Weather information provided by OpenWeatherMap. (CC BY-SA)
Show temperatures in degree
South Africa: Regions
Johannesburg is part of the holiday destination South Africa. We analyzed the climate for additional regions, in order to provide you with information about the best time to visit and the expected holiday weather:
Share your Experience and Win
We want to know: how was the weather during your Johannesburg holiday?
You can win a travel coupon of 1000 $. The price will be raffled among all submissions.

Destinations in the Vicinity …