Traditionally, most of the holidays of the year in Germany are in the month of May, so bridge days often provide ideal conditions for a trip abroad. Many destinations are now awakening from their Sleeping Beauty sleep and in Europe, too, with rising temperatures, interesting opportunities are opening up.
In addition to Playa del Carmen in Mexico and the Indonesian island of Bali, Ras Al Khaimah and the European Mediterranean island of Cyprus also make it into our TOP4 of the most popular destinations for a holiday in May:
TOP 4: Most popular Destinations for Travel in May 2022
Show temperatures in degree
The other recommendations of our editors clearly show that especially long-haul destinations for a holiday in May are particularly in demand. Such a journey does not have to devour a fortune, among the price-performance winners also favorable Destinationen rank like the again rising Egypt or the exciting island Sri Lanka. But the good can also be quite close: The Greek Islands are very pleasant to visit in May and the Canary Islands are also very suitable for a trip.
Our Recommendation: Additional Destinations for Holiday in May
---
---
---
---
---
---
---
---
---
---
---
---
---
---
---
---
Vacation in Europe
In the southern regions of Europe, the temperatures are already warm in summer. It is warmest in Cyprus and southern Spain, where day temperatures of 30 °C are not uncommon. But also in the Canary Islands, Greece, Malta, Mallorca and parts of Italy the temperature rises regularly to 25 °C during the day, so that you no longer have to travel so far to get pure sunshine.
Asia in May
In Asia, many countries are warm and very hot in May. For Turkey's relatively easy to reach tourist spots, the main season is now beginning, and May is one of the best months for travel in both Istanbul and the Turkish Riviera. You can expect average day temperatures of about 25 °C, the water temperature rises above the 20 °C mark for the first time in the year. With 8-10 hours of sunshine per day and little rainfall, May is the perfect month for Turkish holiday destinations.
A probably rather unusual destination is Israel. However, this is also very easy to reach with a distance of about 1900 miles from Germany and it offers excellent climatic conditions for a side trip in May. The Mediterranean coastal towns of Tel Aviv and Haifa offer similar climatic conditions to Turkey at the time: average day temperatures of 25 °C, almost no precipitation, water temperatures of over 20 °C and about 12 hours of sunshine per day. Furthermore, there are many historical places in Israel for culture lovers to marvel at; people afflicted by skin diseases swear by a visit to the "Dead Sea" with its extremely high salt content.
There are also some interesting destinations further east for the May vacation. For some of the Indonesian islands, the month is the best time to travel. The island of Bali, popular with honeymooners, is at this time even warmer than the Asian destinations mentioned above. Here you can look forward to average day temperatures of over 30 °C. At 28 °C, the water is also the perfect temperature to splash and bathe in. After all, the sun shines for about 7 hours a day on average and compared to the other months less rain falls in May on Bali.
A similar climate prevails on the Indonesian Gili Islands, with 8 - 9 hours of sunshine per day, which is slightly sunnier than in Bali. Also on Lombok the month is the best time to travel, with otherwise similar climatic conditions as on Bali and the Gili Islands the sun shines there with about 6 hours per day a little less.
Destinations in Africa
Tunisia and Morocco offer basically good climatic conditions in May, where average day temperatures of about 20 °C - 15 °C are reached. In addition, there is little rainfall. However, the water temperatures do not yet reach 20 °C, so for a bathing holiday you may want to switch to other destinations in May.
It is warmer in Egypt, for example, the day temperatures in Hurghada rise to an average above 30 °C and the water temperature is perfect for bathing at 26 °C as well. As with the other Egyptian hotspots, May has almost no precipitation in Hurghada.
Cruises in May
In recent years, cruises have experienced a real boom and are enjoying increasing popularity. On a boat trip you enjoy the amenities of a top-class hotel and wake up every morning in a new and exciting destination. You experience the variety of a round trip, but don't have to do without anything: The service of a high-class hotel resort with a wide range of entertainment, numerous restaurants and bars are always with you on a cruise!

We show you the following recommendations for water holidays in regions that offer fantastic climatic conditions in May.
Weather for travelling:

13 °C

21 °C

3.43 in
Weather for travelling:

28 °C

31 °C

3.62 in
Weather for travelling:

9 °C

16 °C

2.56 in
Where our Visitors go in May
We have asked our website visitors to rate the travel weather of their last holiday. In the following overview you will find the most popular destinations of our visitors in May. Ratings are from 5 stars (excellent) down to 0 stars (catastrophic).
| | Ø Rating | Visit Count | Age of Visitors | |
| --- | --- | --- | --- | --- |
| Florida | 4.8 | 5 Visits | 30 - 66 years old (Ø 48 years) | |
| Crete | 4.4 | 5 Visits | 17 - 78 years old (Ø 45 years) | |
| Tenerife | 4.2 | 5 Visits | 33 - 59 years old (Ø 48 years) | |
| El Gouna | 4.8 | 4 Visits | 49 - 64 years old (Ø 56 years) | |
| Ireland | 4.3 | 4 Visits | 28 - 59 years old (Ø 49 years) | |
So far,
110
visitors have rated their May vacation and on average awarded
4.4
out of
5
stars.
Share your Experience and Win!
Rate the
weather of your last holiday destination
and
win 1000 $
for your next dream trip with a little luck!

The data you provide will be stored in accordance with our privacy policy.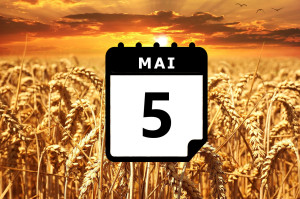 Best Travel Destinations for every Month
Travel Destinations for January
Travel Destinations for February
Travel Destinations for March
Travel Destinations for April
Travel Destinations for May
Travel Destinations for June
Travel Destinations for July
Travel Destinations for August
Travel Destinations for September
Travel Destinations for October
Travel Destinations for November
Travel Destinations for December
Destinations on other Continents
Europe
Africa
South America
North America
Asia
Oceania