No doubt: The high summer is absolute peak travel time and a vacation in August is therefore also quite expensive in many regions. Nevertheless, the selection of suitable destinations is almost endless and Europe in particular is becoming an absolute hotspot. This is also reflected in our TOP4 list of the most popular destinations for an August holiday:
The Mediterranean island of Malta, the Greek Rhodes and the Spanish Costa Brava are particularly popular. In long-haul destinations, the paradisiacal Seychelles take a top position in the Indian Ocean:
TOP 4: Most popular Destinations for Travel in August 2022
Show temperatures in degree
A look at the following recommendations from our travel experts also clearly shows that European destinations are absolutely in trend in August. Whether Greek islands such as Crete, the Portuguese Algarve or the entire spectrum of Spain from the mainland to the Canary Islands and the Balearic Islands, all possibilities are open. This does not apply to all long-term destinations, as there are climatic restrictions (rainy season, hurricane risk), especially in Southeast Asia and large parts of the Caribbean. Recommended destinations on the long-distance route are now, for example, the island of Curaçao or the dreamlike Mauritius:
Our Recommendation: Additional Destinations for Holiday in August
---
---
---
---
---
---
---
---
---
---
---
---
---
---
---
---
August vacation in Europe
August is of course one of the warmest months in all European countries. Therefore you can also visit the northern countries of Europe this month without letting the freezing cold spoil your holiday fun. In Island, the island of fire and ice, you can see volcanoes and glaciers at an average mild 13 °C during the day.
In Norway there are even average day temperatures of 20 °C in some areas. In Oslo you can take a boat trip along the fjords, visit numerous museums or visit the Norwegian National Opera. Other Nordic destinations with mild climate in August and impressive nature are Ireland, Sweden and Finland.
If you want a cheap, warm summer holiday within Europe instead, you will of course find perfect travel conditions in the southern countries. Temperatures during the day from an average of 25 °C to over 30 °C and water temperatures of over 20 °C provide perfect bathing fun, e.g. in Italy, Croatia, Corsica, Ibiza, Mallorca, Gibraltar and Lanzarote.
Travel to Asia or Oceania in August
There are some good weather destinations in Asia in August. For example, how about a visit from Tel Aviv to Israel? With water temperatures of almost 30 °C and daytime temperatures just above that, you can spend great days on the beach or learn something about the biblical history of Israel through various excursions.
Similar climatic conditions make August holidays in the various tourist regions of Turkey tasty. City trips to Istanbul are possible in August as well as great days at the sea at the Turkish Riviera or in Marmaris.
You like it a little more Far Eastern? This is also no problem in August. For example, the month is the best travel time for the spectacular city-state Singapore.
With air and water temperatures around
30 °C
you can visit the famous Singapore Zoo, experience action at Universal Studios or marvel at the Singapore Flower Dome.
Do you want to escape the hustle and bustle of the big city? On the Indonesian Gili Islands, for example, motorized vehicles are unusual, where people prefer to travel by horse-drawn carriage. With water temperatures of 27 °C and air temperatures of around 30 °C during the day, you can either relax in one of the beach clubs or take a dive and admire the underwater world of the islands. August is also the best travel season on the Indonesian island Bali, which is even better developed for tourism. Bali is particularly popular with honeymooners, but also offers other travelers many interesting sights, such as temples, volcanoes and huge rice terraces.
But it can be even more exotic. In Papua New Guinea you can expect temperatures of about 30 °C, warm water and lots of sunshine in August. For example, you can discover exciting hiking trails such as the Kokoda Trail. Besides the Port Moresby Nature Park there are also many interesting museums where culture lovers will certainly get their money's worth.
Holiday in Africa
August is also very warm in the tourism-oriented countries of North Africa. In the almost rain-free Tunisia you can either relax by the sea at 25 °C water temperature or visit some of the many sights. For example the National Museum of Bardo, the impressive Ez-Zitouna Mosque in Tunis or the harbour of El-Kantaoui. You can take a camel ride through the desert in Morocco or snorkel with dolphins in Hurghada under equally great climatic conditions.
It's not quite as warm in Kenya in Central Africa. At a pleasant 25 °C a day you can take part in a safari, visit the Nairobi National Park or relax at Diani Beach. In neighbouring Uganda you can participate in trekkings to the famous mountain gorillas under similar climatic conditions.
Where to go in America?
Visit the Colombian capital Bogota in August. For example, at mild 18 °C during the day you can watch graffiti and street art on a bike tour, visit the famous museums or take part in a skydiving adventure.
With approx. 30 °C per day it is much warmer in Ecuador. Here you benefit from refreshing water at a temperature of 22 °C and almost no precipitation during your stay. Or visit the Salar de Uyuni in the south Bolivia, the largest salt pan in the world.
The fantastic South American country Brazil is so big that for every month of the year there is at least one region that counts as the best travel season there. August, for example, is perfect for a visit to the spectacular Iguazú Waterfalls on the border with Argentina. Or book a beach holiday in the coastal region around Salvador.
A holiday in the Caribbean is an absolute dream for many people. During the summer months, however, the rainy season prevails on many of the islands and thus the month does not necessarily count as the very best travel season. Exceptions are the islands Curaçao with only 5 days of rainfall and the island Bonaire with 3 days of rainfall. It's warm enough in the Caribbean all year anyway.
If you want to take a vacation in the USA, you can use California, New York, Hawaii and Chicago in August. The impressive nature Alaskas is best known in August at two-digit day temperatures.
Finally, we can recommend a visit to Canada in August. The country is so big and diverse, whether you want to explore Rocky Mountains or Niagara Falls on a day trip from Toronto: in summer you will find the best climatic conditions.
Cruises in August
In recent years, cruises have experienced a real boom and are enjoying increasing popularity. On a boat trip you enjoy the amenities of a top-class hotel and wake up every morning in a new and exciting destination. You experience the variety of a round trip, but don't have to do without anything: The service of a high-class hotel resort with a wide range of entertainment, numerous restaurants and bars are always with you on a cruise!

We show you the following recommendations for water holidays in regions that offer fantastic climatic conditions in August.
Weather for travelling:

23 °C

28 °C

3.5 in
Weather for travelling:

16 °C

21 °C

4.84 in
Weather for travelling:

25 °C

33 °C

0.63 in
Where our Visitors go in August
We have asked our website visitors to rate the travel weather of their last holiday. In the following overview you will find the most popular destinations of our visitors in August. Ratings are from 5 stars (excellent) down to 0 stars (catastrophic).
| | Ø Rating | Visit Count | Age of Visitors | |
| --- | --- | --- | --- | --- |
| Sunny Beach Bulgaria | 5 | 3 Visits | 36 - 68 years old (Ø 54 years) | |
| Lake Garda | 5 | 3 Visits | 22 - 46 years old (Ø 35 years) | |
| Baltic Sea | 4.7 | 3 Visits | 58 - 64 years old (Ø 61 years) | |
| Italy | 4.7 | 3 Visits | 27 - 52 years old (Ø 39 years) | |
| Punta Cana | 4.7 | 3 Visits | 26 - 53 years old (Ø 44 years) | |
So far,
86
visitors have rated their August vacation and on average awarded
4.5
out of
5
stars.
Share your Experience and Win!
Rate the
weather of your last holiday destination
and
win 1000 $
for your next dream trip with a little luck!

The data you provide will be stored in accordance with our privacy policy.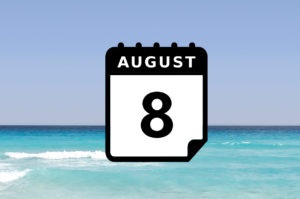 Best Travel Destinations for every Month
Travel Destinations for January
Travel Destinations for February
Travel Destinations for March
Travel Destinations for April
Travel Destinations for May
Travel Destinations for June
Travel Destinations for July
Travel Destinations for August
Travel Destinations for September
Travel Destinations for October
Travel Destinations for November
Travel Destinations for December
Destinations on other Continents
Europe
Africa
South America
North America
Asia
Oceania