On this page, you will find information about the climate and the best time to visit Sharm El Sheikh. We created climate tables and charts for the location of Sharm El Sheikh. These contain details about temperatures, precipitation and more.
Furthermore, we analyzed all climate data and provide a recommendation about which months are best to visit Sharm El Sheikh for your holiday.
Climate Overview

13 °C
to
38 °C

22 °C
to
29 °C

0
–
0.2 in
(0 – 1 Days of Rain)
Show temperatures in degree
Geographical location
Table of Contents


The Egyptian city Sharm el-Sheikh (German spelling also Sharm el-Sheikh) lies in the governorate of South Sinai and is its administrative seat.
The town extends at the southern end of the Sinai Peninsula from the Strait of Tiran to the Gulf of Sues. The "City of Peace" is divided into Sharm El Maya, the old town with the traditional market and the holiday resorts Ras Nasrani, Nabq and Naama Bay.
Sharm el Sheikh owns Egypt's second largest airport, which is mainly served by charter airlines during the holiday season. Until 1967 Sharm el Sheikh was a small fishing village.
The population grew mainly due to tourism. Today, many of the approximately 73,000 inhabitants are immigrants from other parts of the country. Situated on the Red Sea, Sharm el Sheikh's coastline is characterised by fine sandy beaches and extensive coral reefs.
These are located, for example, in Ras Mohammed National Park, a narrow coastal strip at the southernmost point of the Sinai Peninsula. The Nabq nature reserve is home to the northernmost mangrove forest in the world. The Sharm el Sheikh hinterland is a rocky desert landscape with no significant settlements.
Climate in Sharm el Sheikh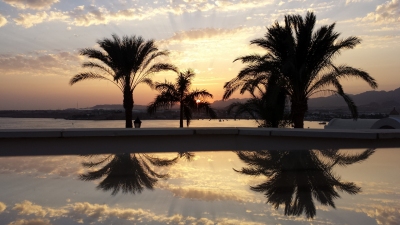 Sharm el Sheikh, like the rest of the country, has a dry desert climate with very low annual rainfall. The sun shines between 8 and 13 hours a day. In the summer months
April
to
September
average temperatures of
32 °C
and water temperatures of
26 °C
prevail.
The highest values are reached in
July
and
August
. The mercury climbs above
40 °C
, while the wind from the sea makes you feel lower temperatures. From
October
to
March
it is on average 7° colder, at night the thermometer sinks to lowest values of 10° C. There's almost no rain at all.
Best Time to Visit Sharm El Sheikh: Overview
Temperatures

Temp.

up to

22 °C

Temperatures

Temp.

up to

23 °C

Temperatures

Temp.

up to

26 °C

Perfect

Perf.

climate in

Sharm El Sheikh

Perfect

Perf.

climate in

Sharm El Sheikh

Perfect

Perf.

climate in

Sharm El Sheikh

Hauptsaison

jedoch sehr heiß

jed. sehr heiß

Hauptsaison

jedoch sehr heiß

jed. sehr heiß

Perfect

Perf.

climate in

Sharm El Sheikh

Perfect

Perf.

climate in

Sharm El Sheikh

Temperatures

Temp.

up to

27 °C

Temperatures

Temp.

up to

23 °C
When is the best travel time for Sharm el Sheikh?
Due to its constant climate Sharm el Sheikh can be visited all year round. The water is warm enough for bathing in all seasons. If you want to get a bargain, you should travel to Sharm el Sheikh in spring between March and
May
. In the low season, the town has fewer holidaymakers than in the summer months of
June
to August.
The best travel time for divers is between September and
November
, when water temperatures are high enough to dive without a wetsuit. In addition, the best visibility conditions under water prevail at this time. In the hinterland the temperatures are felt to be warmer than on the coast. Visitors wishing to tour the desert or Mount Sinai should consider the cooler months of
January
and
February
.
All in all we can recommend April to October as the best travel season for Sharm el Sheikh and exclude the two high season months July and August in the sense that the heat in high summer can be enormous and that you therefore have to pay attention to sufficient rest and hydration. But logical – after all, it's a holiday!
Climate Chart Sharm El Sheikh
Show temperatures in degree
Source of Data: German Weather Service (Offenbach) and Wikipedia
Climate Table Sharm El Sheikh
In the following, you will find the climate table for Sharm El Sheikh, containing information about Temperatures, Precipitation, Water Temperatures, and Hours of Sunshine.
Temperatures, Precipitation, Sunshine
| | Jan | Feb | Mar | Apr | May | Jun | Jul | Aug | Sep | Oct | Nov | Dec |
| --- | --- | --- | --- | --- | --- | --- | --- | --- | --- | --- | --- | --- |
| Day Temperature | 22° | 23° | 26° | 31° | 34° | 37° | 38° | 37° | 35° | 32° | 27° | 23° |
| Night Temperature | 13° | 14° | 17° | 21° | 25° | 26° | 27° | 28° | 26° | 23° | 19° | 15° |
| Water Temperature | 23° | 22° | 23° | 23° | 25° | 27° | 28° | 29° | 28° | 27° | 26° | 24° |
| Precipitation (inch) | 0.08 | 0.16 | 0.16 | 0 | 0 | 0 | 0 | 0 | 0 | 0 | 0.16 | 0.2 |
| Rainy days | 1 | 1 | 1 | 0 | 0 | 0 | 0 | 0 | 0 | 0 | 1 | 1 |
| Hours of Sunshine | 10 | 10 | 11 | 12 | 13 | 13 | 13 | 13 | 12 | 11 | 10 | 10 |
Show temperatures in degree

Temperatures

The annual average temperature is

25.8 °C

.

For comparison: London

11 °C

, NYC

12 °C

, LA

17.9 °C

Warmest month:

July (

32.5 °C

)

Coldest month:

January (

17.5 °C

)

The maximum water temperature is

29 °C

. You can take a bath at these temperatures.

Months with water temperature of at least

21 °C

(adequate for beach vacation):

all months

Precipitation

Overall annual precipitation:

0.75

inch

on

5 rainy days

For comparison: London

24.06 in

, NYC

41.57 in

, LA

12.01 in

There is no rainy season (months with more than

6.9 in

of precipitation).

You cannot expect snow in any month.

Sunshine

As our climate table shows,

May

is the sunniest month with an average of

13 hours of sunshine per day

. Over the year, there are

11.4 hours of sunshine

per day on average. For comparison: London has 4.1, NYC has 7 and LA has 8.9 hours of sunshine per day on average.
Sights & Attractions
Sharm el Sheikh is especially known for its diving areas. In Ras Mohamed National Park alone there are six underwater areas with their very own charm. The plankton-rich water attracts over 1000 species of fish, including sharks, moray eels and barracudas. Those who do not want to go into the water can marvel at the fascinating coral gardens during a trip with the glass bottom boat or the submarine. A popular destination for a boat trip is the island of Tiran. Visitors cannot go ashore because Tiran is a military spear territory. However, the coral reefs off the coast are perfect for diving and snorkeling. In addition to colourful schools of fish, there are also larger marine animals such as eagle rays, Napoleon wrasse, sharks and sea turtles.
Also on land Sharm el Sheikh has natural beauties to offer. The desert may seem hostile to life, but Bedouins have lived here for centuries. Visitors experience their hospitality on a desert safari. After dinner by candlelight in a traditional Bedouin tent, we go on to observe the stars. The Milky Way shines far away from disturbing lights in a splendour of which one can only dream in the city. However, the most popular excursion destination in the vicinity of Sharm el Sheikh is the Katharinenkloster monastery, where monks have lived since the 6th century. The collection of old folios and relics is second to none. If you want to see a particularly beautiful sight, you can start in the early morning hours and watch the sunrise on the summit of Mount Sinai.
More information about the best things to do: Egypt
Popular Activities
Sharm : Quad Bike Safari Adventure with Transfers
Desert Safaris
Experience the Sinai Desert from a different perspective on a quad bike tour from Sharm El Sheikh. Escape the Red Sea resort town and head for the arid outskirts. Take a break at a Bedouin camp with tea and time to cool down!
Cairo Day Tour from Sharm El Sheikh by Air
Day Trips
Enjoy a tour to Cairo from Sharm El Sheikh by air to discover some of this historic city's most amazing sights and landmarks. Visit the iconic Great Pyramids and Great Sphinx, explore the Egyptian Museum, and visit the impressive Khan El Khalili Bazaar.
From Sharm: Introduction to Scuba Diving with Lunch
Diving
Enjoy your chance to try this fantastic sport that is well within budget. With an experienced diver, you will dive down and check out the coral reef and marine life from close quarters.
More attractions
Sharm: Tiran Island Snorkeling Day Trip with Lunch
|
Sharm el-Sheikh: Evening Desert Tour with Bedouin Dinner
|
Sharm el-Sheikh: Panoramic Submarine Adventure
|
Sharm el-Sheikh: Snorkel & Camel Safari at Blue Hole
|
Quad Runner Bike Adventure: Sharm el Sheikh
|
Cairo: Day Tour from Sharm el Sheikh
|
Sharm: Overnight Moses Mountain Climb & Sunrise Breakfast
|
Current Weather and Forecast
Current Weather in Sharm El Sheikh (Station Naama)

clear sky,
17 °C
Clouds: 0 % Wind: 7 mph NNW
Air Pressure: 1016 hPa Humidity: 77 %
Last updated: 21st Jan 2019, 02:00 am
The next days …
21st Jan 2019
22nd Jan 2019
23rd Jan 2019
24th Jan 2019
25th Jan 2019
26th Jan 2019

6 °C

to

19 °C

3 °C

to

21 °C

7 °C

to

20 °C

17 °C

to

23 °C

18 °C

to

24 °C

19 °C

to

25 °C

6 °C

to

19 °C

3 °C

to

21 °C

7 °C

to

20 °C

17 °C

to

23 °C

18 °C

to

24 °C

19 °C

to

25 °C

Clouds: 68 %
Clouds: 0 %
Clouds: 48 %
Clouds: 90 %
Clouds: 9 %
Clouds: 0 %
No Precipitation
No Precipitation
No Precipitation

0.14 in

of rain
No Precipitation

0.04 in

of rain
Weather information provided by OpenWeatherMap. (CC BY-SA)
Show temperatures in degree
Egypt: Regions
Sharm El Sheikh is part of the holiday destination Egypt. We analyzed the climate for additional regions, in order to provide you with information about the best time to visit and the expected holiday weather:
Share your Experience and Win
We want to know: how was the weather during your Sharm El Sheikh holiday?
You can win a travel coupon of 1000 $. The price will be raffled among all submissions.

Destinations in the Vicinity …