On this page, you will find information about the climate and the best time to visit Marrakech. We created climate tables and charts for the location of Marrakech. These contain details about temperatures, precipitation and more.
Furthermore, we analyzed all climate data and provide a recommendation about which months are best to visit Marrakech for your holiday.
Climate Overview

6 °C
to
37 °C

0.04
–
1.61 in
(0 – 4 Days of Rain)
Show temperatures in degree
General & Geography
Table of Contents


Marrakech is an important city in the African state of Morocco. It's the fourth largest city in the country.
Marrakesh is the capital of the economic region Tensift-El Haouz and the most important of all former imperial cities. Berbers lived in this town during the Neolithic period. Abu Bakr ibn Umar, the chief and cousin of the king of the Almoravids Yusuf ibn Tashfin, founded Marrakech in 1062.
The Almoravids built many schools and mosques in the city. Marrakech has the name "Red City" because much of it consists of red sandstone. The metropolis quickly grew in size and became a cultural, religious and commercial center for sub-Saharan Africa. One of the parts of the city, Jemaa el-Fna, is the busiest part of Africa. The mayor of Marrakech, Fatima Zahra Mansouri, is the second mayor of Morocco.
The Moroccan currency is the dirham. The Moroccan Dirham is a restricted currency, which means it cannot be taken out of the country and is also not available abroad (with a few exceptions). However, the Moroccan currency is fairly stable and unaffected by large exchange rate fluctuations.
Marrakech has an international airport, which is served by numerous cities in Europe.
Climate in Marrakech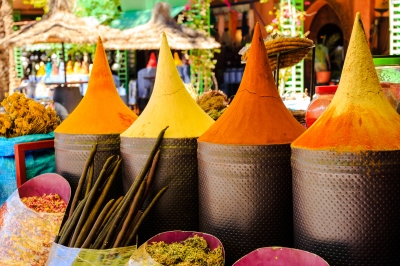 In the southern interior of the lowlands, the Moroccan metropolis has an average winter temperature of
18 °C
and a summer temperature of
37 °C
. The hottest months of the year are
July
,
August
and
September
. Since the air in the region is very dry, the temperatures are usually perceived as well bearable.
However, Marrakech and the lowlands of Morocco can become oppressively hot in summer, often in the midday sun even above
38 °C
, when the desert winds blow from the Sahara (known as the Schirokko or Chergui). It's sunny most of the year. Winters are mild, but bring some wetter rainy days with them.
Spring brings a breath of fresh air to the Red City. The surrounding valleys show a multitude of bright flowers. Sunshine prevails and the average daily highs are between
23 °C
to
27 °C
. Rain showers can be a factor in
April
and
May
, so pack an umbrella to be on the safe side.
In summer you should make sure you have sufficient breaks in the shade and a good water supply. Despite the high temperatures, summer is considered the main season in Marrakech. In
October
it then cools down slowly, whereby the daily values still remain far above the
25 °C
mark.
Best Time to Visit Marrakech: Overview
Good

time to travel

time

für Marrakesch

Good

time to travel

time

für Marrakesch

Perfect

Perf.

climate in

Marrakesch

Perfect

Perf.

climate in

Marrakesch

Perfect

Perf.

climate in

Marrakesch

Good

time to travel

time

, aber zunehmend heißer

Very hot, City-Touren daher anstrengend

Very hot, City-Touren daher anstrengend

Noch recht heiß, aber beliebte time to travel

Perfect

Perf.

climate in

Marrakesch

Perfect

Perf.

climate in

Marrakesch

Good

time to travel

time

für Marrakesch
When is the best time to travel to Marrakech?
The best time to visit Marrakech is from
March
to May and between September and
November
. These months are known for friendly summer weather without extreme heat and popular for affordable hotel rates. Avoid visiting in the brutally hot midsummer when temperatures regularly exceed
38 °C
.
Winter in Marrakech is still a good time to travel despite occasional rainfall and lower temperatures. Even in the coolest month of
January
, daytime temperatures still reach a pleasant
18 °C
. This is no weather for relaxing days at the hotel pool, but it is very suitable for exploring the highlights of the city.
Climate Chart Marrakech
Show temperatures in degree
Source of Data: German Weather Service (Offenbach) and Wikipedia
Climate Table Marrakech
In the following, you will find the climate table for Marrakech, containing information about Temperatures, Precipitation, and Hours of Sunshine.
Temperatures, Precipitation, Sunshine
| | Jan | Feb | Mar | Apr | May | Jun | Jul | Aug | Sep | Oct | Nov | Dec |
| --- | --- | --- | --- | --- | --- | --- | --- | --- | --- | --- | --- | --- |
| Day Temperature | 18° | 20° | 22° | 24° | 28° | 31° | 37° | 37° | 33° | 28° | 22° | 19° |
| Night Temperature | 6° | 8° | 9° | 11° | 14° | 16° | 20° | 20° | 18° | 15° | 10° | 7° |
| Precipitation (inch) | 1.26 | 1.5 | 1.5 | 1.54 | 0.94 | 0.2 | 0.04 | 0.12 | 0.24 | 0.94 | 1.61 | 1.22 |
| Rainy days | 4 | 4 | 4 | 4 | 2 | 1 | 0 | 0 | 2 | 3 | 4 | 4 |
| Hours of Sunshine | 7 | 7 | 8 | 9 | 9 | 11 | 11 | 10 | 9 | 8 | 7 | 7 |
Show temperatures in degree

Temperatures

The annual average temperature is

19.7 °C

.

For comparison: London

11 °C

, NYC

12 °C

, LA

17.9 °C

Warmest month:

July (

28.5 °C

)

Coldest month:

January (

12 °C

)

Precipitation

Overall annual precipitation:

11.1

inch

on

32 rainy days

For comparison: London

24.06 in

, NYC

41.57 in

, LA

12.01 in

There is no rainy season (months with more than

6.9 in

of precipitation).

You cannot expect snow in any month.

Sunshine

As our climate table shows,

June

is the sunniest month with an average of

11 hours of sunshine per day

. Over the year, there are

8.6 hours of sunshine

per day on average. For comparison: London has 4.1, NYC has 7 and LA has 8.9 hours of sunshine per day on average.
Sights & Attractions
Marrakech is famous for its parks, especially the Menara olive grove and the 405 hectare Agdal Gardens. An irrigation system built under the Almoravids is still used to irrigate the city's green areas. The city is a trading center for the High Atlas and the Sahara trade. It is connected by railway and road to Safi and Casablanca.
A visit in a hammam (local bath house) should not be missing with a vacation in the Moroccan metropolis. There are a number of bathhouses in Marrakech and a typical price for tourists is between 50 and 100 Dirham. The most famous sights in Marrakech are of course the souks, i.e. the markets with fabrics, spices, souvenirs and handicrafts.
On the world-famous market place of Marrakech, the Jemaa al Fna, the probably craziest spectacle of Africa takes place every day. Here you will meet jugglers, snake charmers, magicians, solo entertainers and artists. In the evening there are barbecue stands and lots of entertainment. UNESCO honoured these special features with an entry as a masterpiece of the oral and immaterial heritage of mankind.
More information about the best things to do: Morocco
Popular Activities
Atlas Mountains Day Trip with Camel Ride
Walking Tours
Escape the bustle of Marrakech and head for the breathtaking, high Atlas Mountains and the village of Imlil. Your local guide will ensure that you have an amazing experience brimming with traditional Berber culture and unforgettable views.
Ouzoud Waterfalls Full-Day Tour from Marrakech
Walking Tours
See picturesque Berber villages and the dramatic Ouzoud Falls on a full-day sightseeing tour from Marrakech. Dive into the inviting waters of the Al Abid River for a swim in wild nature. Meet the local monkeys of the Grand Atlas and more.
Marrakech to Atlas Mountains & 4 Valleys Day Trip
Meet the Locals
Head for the breathtaking Atlas Mountains and visit the 4 valleys that make the region famous: Ourika Valley, Asni Valley, Sidi Fares Valley and Oukaimeden Valley. You'll also experience traditional Berber culture along the way!
More attractions
Marrakech to Merzouga 3-Day Desert Safari
|
Marrakech Rock Desert and Palm Grove Camel Ride with Tea
|
Day Trip to Essaouira from Marrakech
|
Camel Ride Around Marrakech With Tea Break
|
Berber Villages & 3 Valleys Atlas Mountains Day Trip
|
From Marrakech: 2-Day Zagora Sahara Desert Tour
|
Ourika Valley & Atlas Day Tour from Marrakech
|
Current Weather and Forecast
Current Weather in Marrakech (Station Marrakech-Medina)

broken clouds,
11 °C
Clouds: 75 % Wind: 7 mph NO
Air Pressure: 1022 hPa Humidity: 76 %
Last updated: 21st Jan 2019, 02:30 am
The next days …
21st Jan 2019
22nd Jan 2019
23rd Jan 2019
24th Jan 2019
25th Jan 2019
26th Jan 2019

2 °C

to

13 °C

-2 °C

to

13 °C

-3 °C

to

15 °C

-2 °C

to

12 °C

5 °C

to

10 °C

-2 °C

to

10 °C

2 °C

to

13 °C

-2 °C

to

13 °C

-3 °C

to

15 °C

-2 °C

to

12 °C

5 °C

to

10 °C

-2 °C

to

10 °C

Clouds: 0 %
Clouds: 0 %
Clouds: 0 %
Clouds: 47 %
Clouds: 65 %
Clouds: 0 %

0.06 in

of rain
No Precipitation
No Precipitation
No Precipitation

0.05 in

of rain
No Precipitation
Weather information provided by OpenWeatherMap. (CC BY-SA)
Show temperatures in degree
Morocco: Regions
Marrakech is part of the holiday destination Morocco. We analyzed the climate for additional regions, in order to provide you with information about the best time to visit and the expected holiday weather:
Share your Experience and Win
We want to know: how was the weather during your Marrakech holiday?
You can win a travel coupon of 1000 $. The price will be raffled among all submissions.

Sightseeing & Highlights in Marrakech
Destinations in the Vicinity …