On this page, you will find information about the climate and the best time to visit Barbados. We created climate tables and charts for the location of Bridgetown. These contain details about temperatures, precipitation and more.
Furthermore, we analyzed all climate data and provide a recommendation about which months are best to visit Barbados for your holiday.
Climate Overview

23 °C
to
31 °C

27 °C
to
29 °C

1.46
–
7.28 in
(8 – 16 Days of Rain)
Show temperatures in degree
Geographical location
Table of Contents


Barbados lies in the Atlantic Ocean on the eastern edge of the Caribbean, the island is one of the so-called Lesser Antilles. Barbados was discovered in 1536 by the Portuguese Pedro Campos, shortly afterwards many locals were enslaved by Spanish conquerors and shipped to other islands.
Until it was taken over by England in 1625, Barbados was considered completely uninhabited for a time. The British soon flourished in agriculture, producing cane sugar, syrup and rum. The slave trade also reached a new peak at this time.
It was not until 30
November
1966 that Barbados gained independence and is a member of the Commonwealth of Nations, along with countries such as Australia, the United Kingdom, Jamaica, Canada and island states such as St. Lucia and Jamaica. The official head of state is therefore Queen Elizabeth II, who is represented by a governor general in Barbados.
The capital of the island is Bridgetown, with a total of 280,000 inhabitants living on an area of about
270 square miles
. Barbados is comparatively flat, with St. Vincent and the Grenadines as well as Saint Lucia and Martinique as its closest neighbours.
Climate in Barbados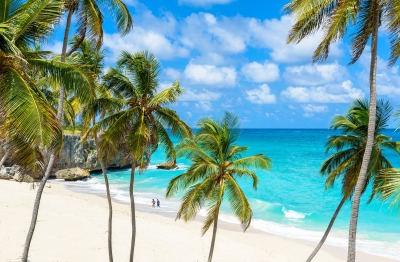 Barbados (Lesser Antilles) belongs to the "islands above the wind", so that the tropical climate brings only small temperature fluctuations with itself and is somewhat wetter by the northeast trade wind than the "islands under the wind". When planning your trip, you should therefore pay particular attention to the rainy and dry seasons. Basically it is very warm the whole year round, the daily values usually lie between
29 °C
to
31 °C
in the shade.
Even at night it never gets cooler
23 °C
. From the end of
May
to the end of
October
it is the rainy season in Barbados, although this is not days of uninterrupted rainfall. Rather, the rain usually falls very briefly and vigorously, but on average about 8 hours of sunshine are still reached daily.
Hurricanes in Barbados are rare exceptions, but possible in principle. The Atlantic hurricane season is usually from
June
to November, with the greatest risk in
September
and October. The dry season on Barbados is very pronounced from
December
to May, the weather is now usually constant summery and very pleasant.
Best Time to Visit Barbados: Overview
Perfect

Perf.

climate in

Barbados

Perfect

Perf.

climate in

Barbados

Perfect

Perf.

climate in

Barbados

Perfect

Perf.

climate in

Barbados

Perfect

Perf.

climate in

Barbados

suitable with smears

suitable with smears

suitable with smears

suitable with smears

suitable with smears

suitable with smears

rainiest month

driest month

Perfect

Perf.

climate in

Barbados
When is the best time to travel in Barbados?
The Lesser Antilles are to be described with small restrictions as a year-round goal. Experienced Caribbean vacationers appreciate the rainy season on Barbados as the prices are now very low and the island is visited by only very few tourists.
Basically, the weather is also suitable for a holiday from June to October, as the rain showers are usually only short and hurricanes occur very rarely anyway due to the location. Specifically, there have been exactly 9 hurricanes in the area of Barbados since records began in 1886, i.e. about every 15 years.
But if you want to be on the safe side, you should put your holiday in the dry season. We recommend the months December to May as the best travel season on Barbados, our absolute favorites are
February
and
March
.
Climate Chart Barbados
Bridgetown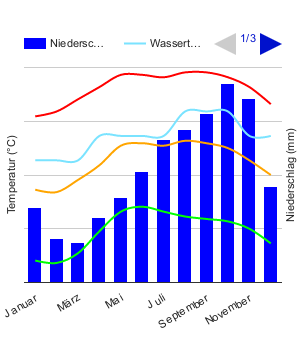 Show temperatures in degree
Source of Data: German Weather Service (Offenbach) and Wikipedia
Climate Table Barbados
In the following, you will find the climate table for Barbados, containing information about Temperatures, Precipitation, Water Temperatures, and Hours of Sunshine.
Temperatures, Precipitation, Sunshine in Bridgetown (Barbados)
| | Jan | Feb | Mar | Apr | May | Jun | Jul | Aug | Sep | Oct | Nov | Dec |
| --- | --- | --- | --- | --- | --- | --- | --- | --- | --- | --- | --- | --- |
| Day Temperature | 29° | 29° | 30° | 30° | 31° | 31° | 30° | 31° | 31° | 30° | 30° | 29° |
| Night Temperature | 23° | 23° | 23° | 24° | 25° | 25° | 25° | 25° | 25° | 25° | 24° | 24° |
| Water Temperature | 27° | 27° | 27° | 28° | 28° | 28° | 28° | 29° | 29° | 29° | 28° | 28° |
| Precipitation (inch) | 2.76 | 1.63 | 1.47 | 2.39 | 3.11 | 4.06 | 5.23 | 5.59 | 6.2 | 7.29 | 6.76 | 3.53 |
| Rainy days | 11 | 8 | 8 | 8 | 8 | 11 | 15 | 15 | 14 | 16 | 14 | 12 |
| Hours of Sunshine | 8 | 9 | 9 | 9 | 9 | 8 | 8 | 9 | 8 | 8 | 8 | 8 |
Show temperatures in degree

Temperatures

The annual average temperature in Bridgetown is

27 °C

.

For comparison: London

11 °C

, NYC

12 °C

, LA

17.9 °C

Warmest month:

August (

27.8 °C

)

Coldest month:

February (

25.7 °C

)

The maximum water temperature in Bridgetown is

29 °C

. You can take a bath at these temperatures.

Months with water temperature of at least

21 °C

(adequate for beach vacation):

all months

Precipitation

Overall annual precipitation:

50.01

inch

on

140 rainy days

For comparison: London

24.06 in

, NYC

41.57 in

, LA

12.01 in

Rainy season (months with more than

6.9 in

of precipitation):

October

Overall precipitation in the rainy season:

7.29 in

You cannot expect snow in any month in Bridgetown.

Sunshine

As our climate table shows,

February

is the sunniest month with an average of

8.8 hours of sunshine per day

. Over the year, there are

8.2 hours of sunshine

per day on average. For comparison: London has 4.1, NYC has 7 and LA has 8.9 hours of sunshine per day on average.
Sights and Highlights
At the top of the list of highlights are of course the most beautiful beaches in Barbados, above all the popular Carlisle Bay near the harbour and the beautiful sandy beaches of Accra Beach, Sandy Beach, Miami Beach, Crane Beach, Bottom Bay and Harrismith Beach. Legendary, colourful and worth seeing is also Oistin's fish market (especially on Fridays).
The best sights in Barbados include the idyllic Hunte's Gardens, the historic St. Nicholas Abbey and a visit to the capital Bridgetown. Our personal recommendation for trips is a catamaran tour including snorkel stops and swimming with wild turtles.
Exclusive providers such as
Calabaza Sailing
are definitely preferable to fully-packed "party boats", even if quality has its price, of course. A tour to the stalactite cave
Harrison's Cave
is in our opinion not worth the money. Aircraft fans can view one of the last original copies of the famous supersonic aircraft at the popular
Concorde Experience
.
More information about the best things to do: Barbados
Popular Activities
Exotic Barbados Island Tour
Tours
A full day island tour with a delicious lunch and a tour of a plantation. Learn all about Barbados history, culture, and pop trivia while exploring stunning scenic views.
Barbados: Tour of Harrison's Cave & Hunte's Gardens
Tours
See the beauty of Barbados from below and above. Be captivated by the limestone caves and the tropical magical gardens.
The Development of a City – Bridgetown: A Walking Tour
Tours
Take a unique walking tour to the sites of Bridgetown. This tour gives a sample of the character of Bridgetown with the use of audio equipment and a knowledgeable tour guide.
More attractions
Oistins Fish Fry Experience from Bridgetown, Barbados
|
Bridgetown: Carlisle Bay Clear Kayak Shipwreck Tour
|
Barbados: Rum Distillery Tour and Mount Gay Visitor Center
|
Barbados: Northern Cliffs and Canefields Hike and eBike Tour
|
Historic Garrison and its Museum – a Military Story
|
Barbados: eBike Cycling Tour
|
Bridgetown: Atlantic Coast Train Line Hike and Bike Tour
|
Current Weather and Forecast
Current Weather in Bridgetown (Station Deacons)

few clouds,
25.2 °C
Clouds: 20 % Wind: 23 mph O
Air Pressure: 1013 hPa Humidity: 73 %
Last updated: 13th Mar 2022, 12:50 am
The next days …
6th Mar 2022
7th Mar 2022
8th Mar 2022
9th Mar 2022
10th Mar 2022
11th Mar 2022

25 °C

to

26 °C

25 °C

to

26 °C

25 °C

to

27 °C

25 °C

to

27 °C

25 °C

to

27 °C

25 °C

to

27 °C

25 °C

to

26 °C

25 °C

to

26 °C

25 °C

to

27 °C

25 °C

to

27 °C

25 °C

to

27 °C

25 °C

to

27 °C

Clouds: 77 %
Clouds: 27 %
Clouds: 30 %
Clouds: 73 %
Clouds: 92 %
Clouds: 99 %

0.07 in

of rain

0.01 in

of rain

0.03 in

of rain

0.02 in

of rain

0.03 in

of rain

0.01 in

of rain
Weather information provided by OpenWeatherMap. (CC BY-SA)
Show temperatures in degree
Caribbean: Regions
Barbados is part of the holiday destination Caribbean. We analyzed the climate for additional regions, in order to provide you with information about the best time to visit and the expected holiday weather:
Share your Experience and Win
We want to know: how was the weather during your Barbados holiday?
You can win a travel coupon of 1000 $. The price will be raffled among all submissions.

Caribbean Paradise Barbados
Destinations in the Vicinity …