On this page, you will find information about the climate and the best time to visit Aruba. We created climate tables and charts for the location of Oranjestad. These contain details about temperatures, precipitation and more.
Furthermore, we analyzed all climate data and provide a recommendation about which months are best to visit Aruba for your holiday.
Climate Overview

25 °C
to
33 °C

26 °C
to
29 °C

0.35
–
3.7 in
(2 – 11 Days of Rain)
Show temperatures in degree
Geographical location
Table of Contents


Aruba in the Caribbean is the smallest of the so-called ABC Islands (Aruba, Bonaire, Curaçao) and is also part of the Netherlands Antilles. Only
16 miles
north of the Venezuelan coast, Aruba is politically an equal part of the Kingdom of the Netherlands.
The island therefore has internal autonomy, its own government and currency. The Aruba-Florin (AWG), also called
Aruba-Gulden
, replaced the former
Antilles-Gulden
in 1979 and is fixed at a fixed exchange rate of 1.79 AWG for 1 US Dollar.
Large parts of Aruba are very flat and have a sandy or stony surface. The most striking mountain on Aruba is the volcanic Hooiberg, which at 165 metres is the second highest mountain on the island after Jamanota. The island is about
19 miles
long and
6 miles
wide at its widest point, about 110,000 inhabitants live in Aruba.
The capital is Oranjestad, which is home to a popular cruise port and the Queen Beatrix International Airport. The south and southwest of Aruba is protected and is considered a true holiday paradise with its long, white sandy beaches. The north coast of the island is rather rough and shows strong currents.
Climate on Aruba (ABC Islands)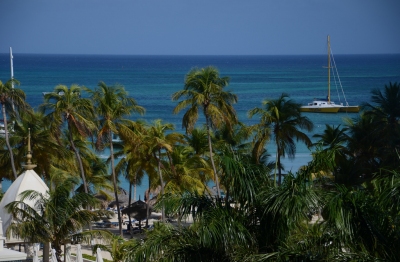 The climate of the Antilles Islands under the wind (Aruba, Bonaire, Curaçao, Isla Margarita) is characterized by the special geographical position in the protected area off the coast of Venezuela and the immediate proximity of the equator. In contrast to many other islands in the Caribbean, the north-east trade wind therefore has comparatively little influence on the weather in Aruba.
It therefore remains very dry during the course of the year, with regular rainfall only occurring between
October
and
December
.
But even in this travel season the rain remains very low. No wonder Aruba is famous for the divi-divi tree and various cactus species. Aruba is not in the endangered area of influence of hurricanes, so the risk of tropical cyclones is extremely low. The Aruba climate is rather characterized by constant, sunny weather (7 to 10 hours of sunshine) and is therefore suitable for a holiday all year round.
Best Time to Visit Aruba: Overview
Perfect

Perf.

climate in

Aruba

Perfect

Perf.

climate in

Aruba

Perfect

Perf.

climate in

Aruba

Perfect

Perf.

climate in

Aruba

Perfect

Perf.

climate in

Aruba

Pleasant

Pleasant

climate in

Aruba

warm, light showers

warm, light showers

warm, light showers

warm, light showers

warm, light showers

warm, light showers
When is the best time to travel on Aruba?
As already described, the Aruba climate (ABC Islands) in the Antilles captivates by its constancy and predictability, bad weather is an absolute exception on the Caribbean island. Temperatures are between
30 °C
to
33 °C
during the day and
25 °C
(night) even after sunset.
A steady light breeze makes the climate very bearable and there is no real rainy season on Aruba. From mid-
September
to early December, showers can be short, but these small refreshments are a welcome change and not at all comparable to the rainy season in other regions of the Caribbean (e.g. the Greater Antilles).
For our travel experts, however, the best time to travel on Aruba is from mid-December to early
May
, as the temperatures are still slightly lower, especially at night, and sunshine prevails almost exclusively. Virtually no rain falls at all in
March
and
April
, but at this time numerous cruise ships also dock in the port. Despite the recommendation for the best time to travel on Aruba we can make it short: the ABC Islands are a real year-round destination!
Climate Chart Aruba
Oranjestad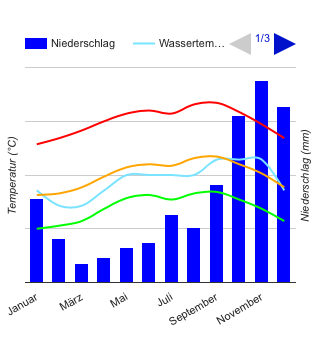 Show temperatures in degree
Source of Data: German Weather Service (Offenbach) and Wikipedia
Climate Table Aruba
In the following, you will find the climate table for Aruba, containing information about Temperatures, Precipitation, and Water Temperatures.
Temperatures, Precipitation in Oranjestad (Aruba)
| | Jan | Feb | Mar | Apr | May | Jun | Jul | Aug | Sep | Oct | Nov | Dec |
| --- | --- | --- | --- | --- | --- | --- | --- | --- | --- | --- | --- | --- |
| Day Temperature | 30° | 30° | 31° | 32° | 32° | 32° | 32° | 33° | 33° | 32° | 31° | 30° |
| Night Temperature | 25° | 25° | 25° | 26° | 27° | 27° | 26° | 27° | 27° | 26° | 26° | 25° |
| Water Temperature | 27° | 26° | 26° | 27° | 28° | 28° | 28° | 28° | 29° | 29° | 29° | 27° |
| Precipitation (inch) | 1.55 | 0.81 | 0.34 | 0.46 | 0.64 | 0.74 | 1.25 | 1.02 | 1.79 | 3.06 | 3.7 | 3.22 |
| Rainy days | 8 | 5 | 2 | 2 | 2 | 3 | 5 | 4 | 4 | 7 | 11 | 11 |
Show temperatures in degree

Temperatures

The annual average temperature in Oranjestad is

28.1 °C

.

For comparison: London

11 °C

, NYC

12 °C

, LA

17.9 °C

Warmest month:

September (

29.2 °C

)

Coldest month:

January (

26.7 °C

)

The maximum water temperature in Oranjestad is

29 °C

. You can take a bath at these temperatures.

Months with water temperature of at least

21 °C

(adequate for beach vacation):

all months

Precipitation

Overall annual precipitation:

18.57

inch

on

64 rainy days

For comparison: London

24.06 in

, NYC

41.57 in

, LA

12.01 in

There is no rainy season (months with more than

6.9 in

of precipitation).

You cannot expect snow in any month in Oranjestad.
Sights & Beaches in Aruba
The carnival on Aruba has a long tradition and is also a thrilling spectacle for tourists, where the many peoples of the island turn peacefully and colorfully into a large party community. Aruba also has a lot to offer, one of the most important sights is of course the capital Oranjestad with its exciting mix of historical buildings as well as hip cafés, restaurants and boutiques.
Besides various water sports (surfing, diving, snorkelling), Aruba naturally focuses on the most beautiful beaches of the Caribbean. The fine white sand on Eagle Beach and Palm Beach, the popular Arashi Beach, the beautiful Malmok Beach, Druif Beach, Baby Beach, Roger's Beach and Mangel Halto.
More information about the best things to do: Aruba
Popular Activities
From Oranjestad: Full-Day Island Jeep Safari Tour
Tours
Join a fun-filled adventure touring the highlights of Aruba and traveling to places only accessible by 4-wheel drive. Enjoy seamless transportation and swim or snorkel in the famous Natural Pool.
Reina Beatrix Airport: Round-Trip Shared Transfer
Activities
Avoid the hassle of waiting in a long line for a taxi and head from Reina Beatrix Airport to your accommodation. Uniformed staff will welcome you at the airport and bring you to any resort on the island.
3-Hour Aruba Highlights Guided Tour
Tours
Get to grips with the culture and history of Aruba in just 3 hours by visiting some of the most important landmarks. Led by an expert guide, travel by an air-conditioned minibus to see the Natural Bridge, Aloe Vera factory, and Casibari Rock formation.
More attractions
Aruba Arikok National Park & Beach Horse Riding Private Tour
|
Discover the Island of Aruba: 4-Hour Bus Tour & Snorkel
|
2-Hour Horseback Riding Tour in Aruba
|
Aruba: Sinatra Dinner Shows each Thursday Evening
|
Aruba: Seaworld Explorer Semi-Submarine Tour
|
Aruba: Natural Cave Pool ATV Tour
|
Noord: Afternoon Sailing Trip with Snorkeling and Open Bar
|
Current Weather and Forecast
Current Weather in Oranjestad (Station Sabana Berde)

few clouds,
28 °C
Clouds: 20 % Wind: 18 mph O
Air Pressure: 1011 hPa Humidity: 69 %
Last updated: 12th Mar 2022, 11:54 pm
The next days …
6th Mar 2022
7th Mar 2022
8th Mar 2022
9th Mar 2022
10th Mar 2022
11th Mar 2022

26 °C

to

26 °C

26 °C

to

26 °C

25 °C

to

26 °C

26 °C

to

26 °C

26 °C

to

26 °C

26 °C

to

26 °C

26 °C

to

26 °C

26 °C

to

26 °C

25 °C

to

26 °C

26 °C

to

26 °C

26 °C

to

26 °C

26 °C

to

26 °C

Clouds: 80 %
Clouds: 0 %
Clouds: 8 %
Clouds: 0 %
Clouds: 0 %
Clouds: 100 %

0.04 in

of rain

0.14 in

of rain

0.15 in

of rain

0.13 in

of rain

0.06 in

of rain

0.05 in

of rain
Weather information provided by OpenWeatherMap. (CC BY-SA)
Show temperatures in degree
Caribbean: Regions
Aruba is part of the holiday destination Caribbean. We analyzed the climate for additional regions, in order to provide you with information about the best time to visit and the expected holiday weather:
Share your Experience and Win
We want to know: how was the weather during your Aruba holiday?
You can win a travel coupon of 1000 $. The price will be raffled among all submissions.

Destinations in the Vicinity …