On this page, you will find information about the climate and the best time to visit Chicago. We created climate tables and charts for the location of Chicago. These contain details about temperatures, precipitation and more.
Furthermore, we analyzed all climate data and provide a recommendation about which months are best to visit Chicago for your holiday.
Climate Overview

-11 °C
to
29 °C

1.38
–
4.21 in
(6 – 10 Days of Rain)
Show temperatures in degree
Geographical location
Table of Contents


Chicago is located in the northeast of the state of Illinois. About 2.7 million inhabitants live within the city limits on an area of about
380 square miles
. Chicago is also a metropolitan region with a total area of over
17000 square miles
and almost 10 million inhabitants.
This results in a population density of 4,615 inhabitants per square kilometre and thus roughly corresponds to the level of Munich (4,600 inhabitants per km²), the statistically most densely populated city in Germany.
Chicago is located on the southern shore of Lake Michigan and is the third largest city in the United States. North of the metropolis lies Milwaukee. Chicago is divided into nine community areas, which are divided into 77 districts. Chicago is an important economic center and transportation hub in the United States. Logistics are mainly handled by rail, air and sea.
Climate in Chicago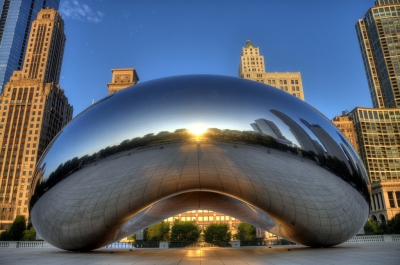 Chicago has a continental climate, with hot summers and cold winters. The average temperature is -6.
2 °C
in
January
, whereby extreme cold periods with values of -10 to –
18 °C
are not unusual. In return, the day temperatures from
June
to
August
are almost always above
27 °C
and easily exceed
30 °C
on hot days.
Chicago has a statistical maximum of 10 rainy days per month, the rainy month is usually
April
. In the warm months of June,
July
and August the weather is fantastic with up to 10.5 hours of sunshine daily. The highest temperature in Chicago was
41 °C
in 1934.
During the North American cold spell in 1985, a minus record of –
33 °C
was set. This shows the extremes that the continental climate in Chicago (Illinois) can reach. The city on Lake Michigan has around 30 beaches on its shores, which are popular destinations for locals and tourists from all over the world, especially in summer.
Best Time to Visit Chicago: Overview
Winter

often very cold

Winter

often very cold

Suitable

time to travel

time

Perfect

Perf.

climate in

Chicago

Perfect

Perf.

climate in

Chicago

Perfect

Perf.

climate in

Chicago

Perfect

Perf.

climate in

Chicago

Perfect

Perf.

climate in

Chicago

Suitable

time to travel

time

Winter

often very cold
When to go to Chicago?
The humidity in Chicago is quite high all year round, which makes the cold winters and spring months seem even harder. Basically a cosmopolitan city like Chicago is of course open all year round, but the temperatures from
November
to April can be a real challenge for vacationers.
From
May
it gets noticeably warmer, the summer months are hot and in autumn Chicago still remains sunny and mild. Accordingly, the best time to travel to Chicago in Illinois is from mid-May to the end of
September
.
October
can also be a wonderful time to travel to the city on Lake Michigan in warmer years.
You must have heard of the nickname "Windy City" as Chicago's nickname. Many travel guides associate this term with the strong wind that often whistles through the skyscrapers of the skyline. However, historians attribute the term "Windy City" more to the windy activities of certain smuggling gangs that were once very common in Chicago. Other sources said that the inhabitants of Cincinnati gave Chicago this somewhat derogatory epithet.
No matter whether it is a small rivalry between Ohio and Illinois or "Windy City" has a completely different origin: The fact is that Chicago is not significantly windier than other coastal cities in the USA according to official weather records and measurements.
Climate Chart Chicago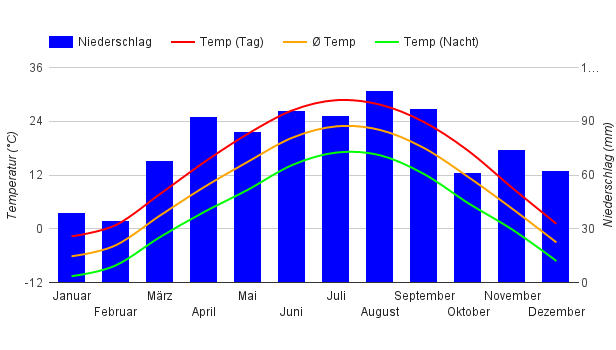 Show temperatures in degree
Source of Data: German Weather Service (Offenbach) and Wikipedia
Climate Table Chicago
In the following, you will find the climate table for Chicago, containing information about Temperatures, Precipitation, and Hours of Sunshine.
Temperatures, Precipitation, Sunshine
| | Jan | Feb | Mar | Apr | May | Jun | Jul | Aug | Sep | Oct | Nov | Dec |
| --- | --- | --- | --- | --- | --- | --- | --- | --- | --- | --- | --- | --- |
| Day Temperature | -2° | 1° | 8° | 15° | 21° | 26° | 29° | 28° | 24° | 17° | 9° | 1° |
| Night Temperature | -11° | -8° | -2° | 4° | 9° | 14° | 17° | 16° | 12° | 6° | -0° | -7° |
| Precipitation (inch) | 1.53 | 1.36 | 2.69 | 3.64 | 3.32 | 3.78 | 3.66 | 4.22 | 3.82 | 2.41 | 2.92 | 2.47 |
| Rainy days | 7 | 6 | 9 | 10 | 9 | 8 | 8 | 8 | 8 | 7 | 8 | 8 |
| Hours of Sunshine | 4 | 5 | 6 | 7 | 9 | 10 | 10 | 9 | 8 | 6 | 4 | 3 |
Show temperatures in degree

Temperatures

The annual average temperature is

9.5 °C

.

For comparison: London

11 °C

, NYC

12 °C

, LA

17.9 °C

Warmest month:

July (

22.9 °C

)

Coldest month:

January (

-6.2 °C

)

Precipitation

Overall annual precipitation:

35.82

inch

on

96 rainy days

For comparison: London

24.06 in

, NYC

41.57 in

, LA

12.01 in

There is no rainy season (months with more than

6.9 in

of precipitation).

Months that have possible snowfall: January, February, March, April, November, and December

Sunshine

As our climate table shows,

June

is the sunniest month with an average of

10.4 hours of sunshine per day

. Over the year, there are

6.9 hours of sunshine

per day on average. For comparison: London has 4.1, NYC has 7 and LA has 8.9 hours of sunshine per day on average.
Highlights and Attractions
Basically, Chicago itself already offers a number of great sights, especially in the cultural field, the metropolis is a pioneer. The city is known for its distinctive theatre culture, the Goodman Theatre is not only the focus of the region at Chicago Theatre Week. Important museums such as the Astronomy Museum and the Adler Planetarium as well as the Museum of Science and Industry offer interesting impressions even in bad weather.
Architecturally there are many buildings from the Bauhaus style to admire, not least fascinating are the Lake Point Tower and the Willis Tower as the tallest building in Chicago. The Skydeck Chicago observation deck (in Willis Tower) offers a fascinating panoramic view of the city, Lake Michigan and the surrounding area. Also impressive is the Blcik of the Ferris wheel at the popular Navy Pier.
The Millenium Park with the famous Cloud Gate is another attraction of the city. This highly polished sculpture is also called "The Big Bean" because of its shape and is probably the most popular photo motif in Chicago. Near Lake Michigan, the impressive Buckingham Fountain, one of the city's landmarks, also attracts visitors with great water shows and lighting effects.
Popular Activities
Chicago River Architecture Cruise: Skip-the-Ticket-Office
Sightseeing Tours
Cruise along the Chicago River on a 75-minute tour, and discover hidden architectural gems among the city's renowned landmarks. Led by a docent providing live narration, the tour passes more than 40 structures, and sails under historic bridges.
Chicago: 90-Minute Mob and Crime Bus Tour
Tours
Experience the darker side of the Windy City on a 90-minute Chicago Crime Tour that introduces you to the history of Chicago's criminals and gangsters. Escape into the city's underworld while learning about characters like Al Capone and John Dillinger.
Chicago Classic Lake Tour: 40-Minute Sightseeing Cruise
Sightseeing Tours
See the sights of Chicago from Lake Michigan on this 40-minute Classic Lake Tour. Admire the stunning views of the Chicago skyline and see many of the city's iconic landmarks. Learn about Chicago's history and its architecture during the cruise.
More attractions
Chicago: Gangsters and Ghosts 2-Hour Walking Tour
|
Chicago: Hop-on Hop-off Open Top Bus Tour
|
Go Chicago Pass: Save up to 55% on Top Attractions
|
Chicago Welcome Tour: Private Tour with a Local
|
360 Chicago Observation Deck: 2-Visit Sun & Stars Pass
|
Bikes, Bites & Brews: Chicago Biking Tour
|
Chicago City Mini Bus Tour with Optional Architecture Cruise
|
Current Weather and Forecast
Current Weather in Chicago

light snow,
-3.3 °C
Clouds: 100 % Wind: 7 mph NNO
Air Pressure: 1020 hPa Humidity: 83 %
Last updated: 27th Jan 2021, 04:00 am
The next days …
27th Jan 2021
28th Jan 2021
29th Jan 2021
30th Jan 2021
31st Jan 2021
1st Feb 2021

-8 °C

to

-2 °C

-12 °C

to

-6 °C

-10 °C

to

-1 °C

-2 °C

to

0 °C

-1 °C

to

0 °C

-4 °C

to

-0 °C

-8 °C

to

-2 °C

-12 °C

to

-6 °C

-10 °C

to

-1 °C

-2 °C

to

0 °C

-1 °C

to

0 °C

-4 °C

to

-0 °C

Clouds: 100 %
Clouds: 51 %
Clouds: 48 %
Clouds: 100 %
Clouds: 100 %
Clouds: 95 %

0.12 in

of snow
No Precipitation
No Precipitation

0.32 in

of snow

0.27 in

of snow

0.15 in

of snow
Weather information provided by OpenWeatherMap. (CC BY-SA)
Show temperatures in degree
USA: Regions
Chicago is part of the holiday destination USA. We analyzed the climate for additional regions, in order to provide you with information about the best time to visit and the expected holiday weather:
Share your Experience and Win
We want to know: how was the weather during your Chicago holiday?
You can win a travel coupon of 1000 $. The price will be raffled among all submissions.

Destinations in the Vicinity …