On this page, you will find information about the climate and the best time to visit Miami. We created climate tables and charts for the location of Miami Beach. These contain details about temperatures, precipitation and more.
Furthermore, we analyzed all climate data and provide a recommendation about which months are best to visit Miami for your holiday.
Climate Overview

15 °C
to
32 °C

22 °C
to
31 °C

1.85
–
9.33 in
(5 – 15 Days of Rain)
Show temperatures in degree
General and Geography
Table of Contents


Miami is a city in the south of Sunshine State Florida. The rather busy business city Miami is to be distinguished from the touristically much more interesting neighboring city Miami Beach.
Miami Beach is located on an elongated island on the Atlantic Ocean and borders on the towns of Bal Harbour, Surfside and the larger metropolis of Miami. The transitions between the two urban areas are fluid in some places.
Since the 1980s, the South Beach area has become more and more the flagship of Miami Beach, with a variety of high-class hotels and clubs as well as the most important attractions.
At the beach of the same name, tourists come across the"rich and beautiful", not least the popular television series Miami Vice contributed significantly to the somewhat diva-like image of South Beach.
The world-famous Art Deco quarter is one of the most photographed districts in the USA. The north of Miami Beach, on the other hand, is mainly a residential area and less interesting for tourists.
You can travel to Miami Beach either directly via Miami's major airport or via one of the many other airports in Florida, for example Fort Lauderdale, which is only
19 miles
to the north.
Climate in Miami (Beach)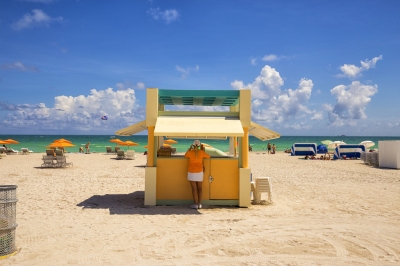 The climate in Miami can be described as a tropical monsoon climate characterized by year-round warm temperatures. The Gulf Stream has a moderating effect in the region and generally prevents periods of extreme heat or unusual cold.
The same difference applies statistically between the coldest month of
January
(
24 °C
during the day,
15 °C
at night) and the hottest month of
July
(day:
32 °C
, night:
24 °C
). This constancy ensures that no four classical seasons are distinguished.
In general, Miami and Miami Beach distinguish between two climate phases. Winter is warm and dry (dry season), while the summer months are hot and humid (rainy season). Statistically speaking, the average summer rainfall is 4 out of 10 days – usually short.
Nevertheless, especially between
May
and
October
, there can be monsoon-like pouring rain that floods entire streets. In general, the humidity is very high in summer and is felt as oppressive on some days. The rainy season in Miami largely coincides with the annual hurricane season in the Atlantic Ocean.
Officially, the hurricane season in the Atlantic lasts from the beginning of
June
to the end of
November
, with the highest risk of tropical hurricanes, especially in the second half of
August
and in
September
. Direct hits are extremely rare, anyway the locals and hoteliers are usually well prepared.
Best Time to Visit Miami: Overview
perfect, but fresh

Perf. climate, but fresh

perfect, but fresh

Perf. climate, but fresh

Perfect

Perf.

climate in

Miami Beach

Perfect

Perf.

climate in

Miami Beach

Beginning of

Rainy Season

Rainy Season

heavy rains and thunderstorms possible

rain and thunderstorms possible

wettest month of the year

heaviest rainfalls of the year

changing weather, high humidity

changing weather with high humidity

higher risk of Hurricane (yet main season)

risk of Hurricane

Hurricane Season, still wet

Hurricane Season

Suitable time to travel

Suitable time

getting drier, lower risk of Hurricane

yet changing weather

Perfect

Perf.

climate in

Miami Beach

perfect, but fresh

Perf. climate, but fresh
When is the best time to travel to Miami Beach?
Despite the rather humid summer months, the entire period from
March
to the end of August is considered the absolute peak season in Miami and the entire state of Florida. Both foreign tourists and Americans are no more deterred by possible rain than by the theoretical danger of a hurricane.
In fact, Miami Beach reaches an average of 10 hours of sunshine in summer and even on days with heavy rainfall, the rain rarely lasts longer than one hour. Subsequently, the sky often clears up again, the temperatures at this time during the day beyond the
30 °C
mark anyway.
However, for a trip to Miami or Miami Beach we recommend November to
April
as the best time to travel. Also the first half of May is still very well suited as a travel season for Florida. The more moderate temperatures and lower humidity from autumn to spring are usually perceived as more pleasant.
Climate Chart Miami
Miami Beach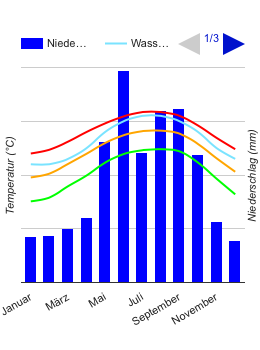 Show temperatures in degree
Source of Data: German Weather Service (Offenbach) and Wikipedia
Climate Table Miami
In the following, you will find the climate table for Miami, containing information about Temperatures, Precipitation, Water Temperatures, and Hours of Sunshine.
Temperatures, Precipitation, Sunshine
| | Jan | Feb | Mar | Apr | May | Jun | Jul | Aug | Sep | Oct | Nov | Dec |
| --- | --- | --- | --- | --- | --- | --- | --- | --- | --- | --- | --- | --- |
| Day Temperature | 24° | 25° | 26° | 28° | 30° | 31° | 32° | 32° | 31° | 29° | 27° | 25° |
| Night Temperature | 15° | 16° | 18° | 20° | 22° | 24° | 25° | 25° | 24° | 22° | 19° | 16° |
| Water Temperature | 22° | 22° | 23° | 25° | 28° | 30° | 31° | 31° | 30° | 28° | 25° | 23° |
| Precipitation (inch) | 2.01 | 2.08 | 2.39 | 2.85 | 6.21 | 9.33 | 5.7 | 7.58 | 7.63 | 5.64 | 2.66 | 1.83 |
| Rainy days | 5 | 5 | 5 | 5 | 9 | 14 | 13 | 15 | 14 | 11 | 7 | 5 |
| Hours of Sunshine | 7 | 8 | 9 | 10 | 10 | 10 | 10 | 9 | 9 | 8 | 7 | 7 |
Show temperatures in degree

Temperatures

The annual average temperature is

24.4 °C

.

For comparison: London

11 °C

, NYC

12 °C

, LA

17.9 °C

Warmest month:

August (

28.3 °C

)

Coldest month:

January (

19.6 °C

)

The maximum water temperature is

31 °C

. You can take a bath at these temperatures.

Months with water temperature of at least

21 °C

(adequate for beach vacation):

all months

Precipitation

Overall annual precipitation:

55.91

inch

on

108 rainy days

For comparison: London

24.06 in

, NYC

41.57 in

, LA

12.01 in

Rainy season (months with more than

6.9 in

of precipitation):

June, August, and September

Overall precipitation in the rainy season:

24.54 in

You cannot expect snow in any month.

Sunshine

As our climate table shows,

July

is the sunniest month with an average of

10 hours of sunshine per day

. Over the year, there are

8.6 hours of sunshine

per day on average. For comparison: London has 4.1, NYC has 7 and LA has 8.9 hours of sunshine per day on average.
Sights and Highlights
While in Miami Beach you don't necessarily need a rental car just because of the parking situation, it is all the more advisable to combine the popular region with other highlights in the Sunshine State. Whether the theme parks of Orlando, the colourful Key West or the mystical Everglades – Florida will inspire you!
In Miami and Miami Beach, in addition to the Art Deco Quarter, Ocean Drive and the famous beach, the beautiful
Vizcaya Museum and Gardens
, a shopping tour in Dolphin Mall, the street art of Wynwood Art Walk and a visit to the Miami Seaquarium, Coconut Grove and Little Havana are some of the attractions.
More information about the best things to do: Miami
Popular Activities
Miami & Key West: One-Way Transfer by Motor Coach Bus
Nature & Panorama
Travel in comfort between Miami and Key West on a one-way on a double decker coach bus. Relax with air-conditioned climate control, reclining seats, a restroom on-board, and complementary Wi-Fi.
Miami: Everglades Airboat Ride, Wildlife Show & Bus Transfer
Tours
Enjoy an airboat ride and wildlife show at Everglades Holiday Park, with skip-the-ticket-line entry. See alligators, turtles, and birds in their natural habitat on a guided tour from Miami.
Miami: City Cruise to Millionaire's Homes & Venetian Islands
Tours
Bask in the Florida sun and take in the gorgeous views of the Miami skyline on a cruise along Biscayne Bay. See the homes of famous stars, the Venetian Islands, and South Beach.
More attractions
Miami Combo: Panoramic Bus Tour, Bay Cruise, & Everglades
|
Miami: The Original Millionaire's Row Cruise
|
Miami: Sightseeing Speedboat Tour
|
Miami: Sunset Cruise through Biscayne Bay and South Beach
|
Miami: Duck Tour of Miami and South Beach
|
Wynwood Art District 1-Hour Street Art Tour by Golf Buggy
|
From Miami: Key West Bus Tour
|
Current Weather and Forecast
Current Weather in Miami Beach

few clouds,
23.1 °C
Clouds: 20 % Wind: 15 mph O
Air Pressure: 1024 hPa Humidity: 66 %
Last updated: 7th Feb 2023, 03:30 pm
The next days …
8th Feb 2023
9th Feb 2023
10th Feb 2023
11th Feb 2023
12th Feb 2023
13th Feb 2023

23 °C

to

25 °C

24 °C

to

25 °C

24 °C

to

25 °C

18 °C

to

27 °C

14 °C

to

20 °C

20 °C

to

23 °C

23 °C

to

25 °C

24 °C

to

25 °C

24 °C

to

25 °C

18 °C

to

27 °C

14 °C

to

20 °C

20 °C

to

23 °C

Clouds: 65 %
Clouds: 76 %
Clouds: 2 %
Clouds: 40 %
Clouds: 0 %
Clouds: 3 %
No Precipitation

0.01 in

of rain
No Precipitation

0.43 in

of rain
No Precipitation

0 in

of rain
Weather information provided by OpenWeatherMap. (CC BY-SA)
Show temperatures in degree
USA: Regions
Miami is part of the holiday destination USA. We analyzed the climate for additional regions, in order to provide you with information about the best time to visit and the expected holiday weather:
Share your Experience and Win
We want to know: how was the weather during your Miami holiday?
You can win a travel coupon of 1000 $. The price will be raffled among all submissions.

Destinations in the Vicinity …