On this page, you will find information about the climate and the best time to visit Cancun. We created climate tables and charts for the location of Cancun. These contain details about temperatures, precipitation and more.
Furthermore, we analyzed all climate data and provide a recommendation about which months are best to visit Cancun for your holiday.
Climate Overview

20 °C
to
35 °C

26 °C
to
29 °C

1.61
–
10.71 in
(4 – 16 Days of Rain)
Show temperatures in degree
Geographical location
Table of Contents


In the southeast of Mexico, the city of Cancun is located directly on the coast. The city is located in the aisle between the Gulf of Mexico and the Caribbean Sea. Cancun is the tourist centre of the Riviera Maya holiday area and belongs to the state of Quintana Roo.
Cancun is only
62 miles
away from Cuba as the crow flies and was specially planned and implemented for tourism. About 628,000 inhabitants live here on an area of
1300 square miles
, more than 3.5 million tourists travel to the region every year. Most hotels are located on a narrow promontory directly on the beach.
The region has a very good infrastructure, the international Cancun Airport is catered by various direct flights from the United States and Europe.
Climate in Cancun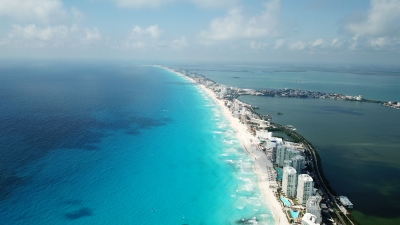 Cancun is known for its very warm and fantastic weather. The temperatures scratch at
30 °C
all year round. From
March
to
October
this is even significantly exceeded. The subtropical climate zone provides year-round precipitation, which in the main season, however, is low at around
1.97 in
per month.
Daytime temperatures at the Riviera Maya are always between
28 °C
to
35 °C
, although it can get oppressively hot in summer. The subtropical climate also brings with it the rainy season in Cancun in the middle of the year. Cyclones can also reach the coast during this time. The hurricane season officially runs from
June
to
November
, with most hurricanes occurring between
August
and October. However, Cancun and the Riviera Maya are rarely hit directly.
In the last 25 years exactly two hurricanes have hit the coast directly, modern early warning systems make it possible today to predict hurricanes five days before their arrival. There is therefore no danger for holidaymakers, as the hoteliers are also optimally prepared for the "worst case".
Best Time to Visit Cancun: Overview
Perfect

Perf.

climate in

Cancun

Perfect

Perf.

climate in

Cancun

Perfect

Perf.

climate in

Cancun

Perfect

Perf.

climate in

Cancun

Sticky and Hot

sticky + hot

yet little rain

little rain

Beginning of Rainy Season

Beg. Rainy Season

Beginning of Hurricane Season

risk of Hurricane

Hurricane Season

risk of Hurricane

Hurricane Season

risk of Hurricane

Rainy Season, sticky

Rainy Season / sticky

risk of Hurricane

risk of Hurricane

Rainy Season, sticky

Rainy Season / sticky

risk of Hurricane

risk of Hurricane

Beginning of Dry Season

Beg. Dry Season

weather getting more pleasant

pleasant weather

Perfect

Perf.

climate in

Cancun
When to visit Cancun?
Cancun and the surrounding holiday resorts of the Riviera Maya can be described as a year-round destination, as the temperatures are high all year round and mostly sunny weather prevails. Due to the effects of the rainy season with existing hurricane danger, however, the summer months have to be travelled through with some restrictions. In addition, it will be oppressively hot in and around Cancun from mid-
May
.
We therefore recommend the period from
December
to the end of
April
as the best travel season for Cancun. In the best travel season the temperatures rise up to
32 °C
, the water temperature is comfortably warm with
26 °C
to
27 °C
. You don't have to freeze at night either, the temperatures drop to a minimum of
20 °C
. The dryest months are
February
to April, we particularly recommend this time of the year.
Climate Chart Cancun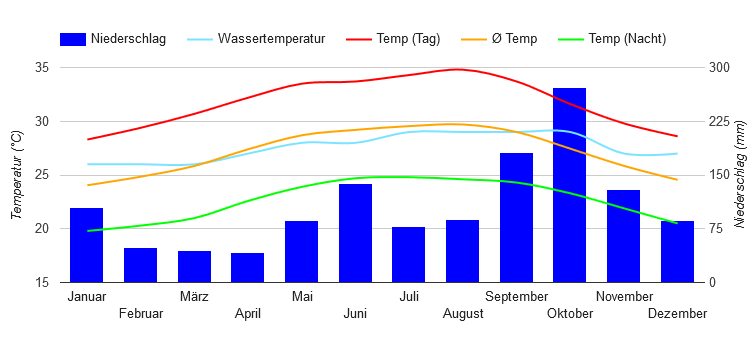 Show temperatures in degree
Source of Data: German Weather Service (Offenbach) and Wikipedia
Climate Table Cancun
In the following, you will find the climate table for Cancun, containing information about Temperatures, Precipitation, and Water Temperatures.
Temperatures, Precipitation
| | Jan | Feb | Mar | Apr | May | Jun | Jul | Aug | Sep | Oct | Nov | Dec |
| --- | --- | --- | --- | --- | --- | --- | --- | --- | --- | --- | --- | --- |
| Day Temperature | 28° | 29° | 31° | 32° | 34° | 34° | 34° | 35° | 34° | 32° | 30° | 29° |
| Night Temperature | 20° | 20° | 21° | 23° | 24° | 25° | 25° | 25° | 24° | 23° | 22° | 21° |
| Water Temperature | 26° | 26° | 26° | 27° | 28° | 28° | 29° | 29° | 29° | 29° | 27° | 27° |
| Precipitation (inch) | 4.12 | 1.95 | 1.74 | 1.62 | 3.42 | 5.44 | 3.07 | 3.44 | 7.16 | 10.7 | 5.13 | 3.39 |
| Rainy days | 9 | 6 | 5 | 4 | 7 | 11 | 9 | 10 | 14 | 16 | 11 | 10 |
Show temperatures in degree

Temperatures

The annual average temperature is

27.2 °C

.

For comparison: London

11 °C

, NYC

12 °C

, LA

17.9 °C

Warmest month:

August (

29.7 °C

)

Coldest month:

January (

24.1 °C

)

The maximum water temperature is

29 °C

. You can take a bath at these temperatures.

Months with water temperature of at least

21 °C

(adequate for beach vacation):

all months

Precipitation

Overall annual precipitation:

51.19

inch

on

112 rainy days

For comparison: London

24.06 in

, NYC

41.57 in

, LA

12.01 in

Rainy season (months with more than

6.9 in

of precipitation):

September, and October

Overall precipitation in the rainy season:

17.87 in

You cannot expect snow in any month.
Highlights and Attractions
The diving paradise Cancun offers majestic impressions below the water surface, which make the heart of every diver beat faster. Who does not want to go into the depths of the Caribbean Sea gets the possibility to get to know the underwater world while snorkeling. For divers the trip is also recommended during the months May to
September
.
On this coast the Pacific, the Caribbean Sea and the Gulf Stream meet. During this time you can experience breathtaking dives, admire unique corals and whale sharks and many other underwater inhabitants. From March to April the so-called Spring-Break takes place in Cancun, but also in the rest of the year Cancun offers a wide range of going out possibilities.
In the surroundings of the Riviera Maya, as the name suggests, there are countless testimonies of the ancient Maya. The most famous sites are Chichén Itzá, Cobá and Tulum. Other popular destinations in the region are Playa del Carmen and Puerto Morelos.
Popular Activities
Cancun: Isla Mujeres Catamaran Tour with Lunch and Open Bar
Tours
Set sail on the Caribbean Sea for Isla Mujeres, the Island of Women, where you can snorkel in the turquoise waters and relax on one of the world's most beautiful beaches. Savor a delicious buffet lunch and enjoy your favorite drinks from the open bar.
Chichén Itzá: GetYourGuide Exclusive Early Access & Lunch
Tours
Be the first to enter the Chichén Itzá Archaeological Site, one of the Seven Wonders of the World. In this GetYourGuide Exclusive, avoid the crowds and the heat, and admire this place while your expert guide tells you everything about this unique site.
From Cancún: Coba, Cenote, Tulum and Playa del Carmen Tour
Tours
Embark on a cultural and natural experience along the bright beaches and amazing archaeological zones of the Mayan Riviera on a guided tour.
More attractions
Chichén Itzá: Valladolid, Cenote, Tequila Tasting and Lunch
|
Cancún/Playa del Carmen: Chichen Itzá, Ik Kil and Coba Tour
|
Cancún: Classic Chichen Itza Day Tour with Lunch
|
Holbox Island Tour with Transfer Options
|
Cancun or Riviera Maya: Isla Contoy & Isla Mujeres Day Trip
|
Rio Lagartos, Las Coloradas, and Cenote Hubiku Day Trip
|
Cancun Jungle Tour Adventure with Speedboat and Snorkeling
|
Current Weather and Forecast
Current Weather in Cancun (Station Cancún)

overcast clouds,
23 °C
Clouds: 100 % Wind: 8 mph N
Air Pressure: 1016 hPa Humidity: 100 %
Last updated: 12th Mar 2022, 10:58 pm
The next days …
6th Mar 2022
7th Mar 2022
8th Mar 2022
9th Mar 2022
10th Mar 2022
11th Mar 2022

24 °C

to

28 °C

25 °C

to

28 °C

24 °C

to

29 °C

25 °C

to

28 °C

25 °C

to

29 °C

25 °C

to

29 °C

24 °C

to

28 °C

25 °C

to

28 °C

24 °C

to

29 °C

25 °C

to

28 °C

25 °C

to

29 °C

25 °C

to

29 °C

Clouds: 100 %
Clouds: 79 %
Clouds: 55 %
Clouds: 89 %
Clouds: 97 %
Clouds: 52 %

0.06 in

of rain

0.02 in

of rain
No Precipitation

0.01 in

of rain

0.03 in

of rain

0.01 in

of rain
Weather information provided by OpenWeatherMap. (CC BY-SA)
Show temperatures in degree
Mexico: Regions
Cancun is part of the holiday destination Mexico. We analyzed the climate for additional regions, in order to provide you with information about the best time to visit and the expected holiday weather:
Share your Experience and Win
We want to know: how was the weather during your Cancun holiday?
You can win a travel coupon of 1000 $. The price will be raffled among all submissions.

Mexico: Holiday Dream Riviera Maya
Destinations in the Vicinity …