On this page, you will find information about the climate and the best time to visit Tulum. We created climate tables and charts for the location of Tulum. These contain details about temperatures, precipitation and more.
Furthermore, we analyzed all climate data and provide a recommendation about which months are best to visit Tulum for your holiday.
Climate Overview

18 °C
to
33 °C

26 °C
to
29 °C

1.22
–
9.61 in
(4 – 18 Days of Rain)
Show temperatures in degree
Geographical position
Table of Contents


Tulum is a city on the Caribbean coast in Mexico with 20000 inhabitants. It is located on the Yucatán Peninsula on the Riviera Maya in the state of Quintana Roo.
Cancún, the centre of the Riviera Maya holiday region, is
81 miles
away. The tourist offer in Tulum is not yet as strongly developed as in the neighbouring villages at the Riviera Maya. Therefore a more relaxed and quiet holiday is possible here.
Tulum is located directly on the Caribbean coast. White sandy beaches and the turquoise sea dominate the image of the city. The picturesque location offers first-class Caribbean flair and perfect conditions for a beach holiday in the Caribbean.
Climate in Tulum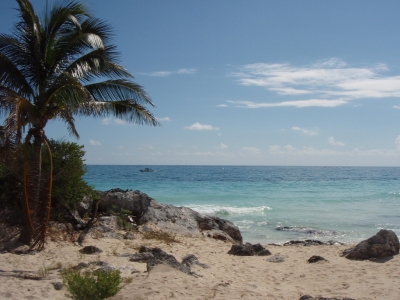 The climate in Tulum is tropical and hot. The temperatures are between
23 °C
and
30 °C
. Holidaymakers expect summery temperatures all year round that fluctuate little. From
April
to
September
it is warmest and sunniest in the region. In
May
the sun shines an average of eleven hours a day. Daytime temperatures can rise up to
35 °C
from May to September.
In Tulum it rains on average 108 days a year. The most likely period of rain is from
June
to
October
. Here, too, strong thunderstorms and hurricanes must be expected. The hurricane season in this region lasts until the end of
November
. After that the temperatures moderate again and the humidity decreases significantly.
Also the water temperatures are warm all year round and invite to a bathing holiday. The Caribbean Sea is never colder than
21 °C
.
Best Time to Visit Tulum: Overview
Perfect

Perf.

climate in

Tulum

Perfect

Perf.

climate in

Tulum

Perfect

Perf.

climate in

Tulum

Perfect

Perf.

climate in

Tulum

Schwül und heißer

schwül u. heiß

yet little rain

Wenig of rain

Beginn Rainy Season

Beg. of rainz.

Beginn Hurricane Season

Hurric. Gefahr

Hurricane Season

Hurric. Gefahr

Hurricane Season

Hurric. Gefahr

Rainy Season, schwül

of rainz. / schwül

Hurricane Risiko

Hurric. Gefahr

Rainy Season, schwül

of rainz. / schwül

Hurricane Risiko

Hurric. Gefahr

Beginn Trockenzeit

Beg. Trockenz.

Klima wird angenehmer

Angen. Klima

Perfect

Perf.

climate in

Tulum
When is the best time to travel in Tulum?
In the dry season from November to April the temperatures in Tulum are pleasantly summery. The great heat and the rainy season are over, so that also the humidity of the light sinks again. In the evening the temperatures cool down. The nights in Tulum are pleasant and suitable for long evenings on the beach or in the beach bar. This period is therefore the best travel time.
Especially during the holidays in
December
and at Easter it attracts many tourists. During this period, hotel prices are also higher than the annual average. But summer temperatures and lots of sunshine are guaranteed. Even during the hurricane season you can spend your holiday in Tulum without worries. Security is provided by contingency plans and an early warning system.
We generally recommend mid-November to mid-May as the absolute best travel time in Tulum and the Riviera Maya.
Climate Chart Tulum
Show temperatures in degree
Source of Data: German Weather Service (Offenbach) and Wikipedia
Climate Table Tulum
In the following, you will find the climate table for Tulum, containing information about Temperatures, Precipitation, Water Temperatures, and Hours of Sunshine.
Temperatures, Precipitation, Sunshine
| | Jan | Feb | Mar | Apr | May | Jun | Jul | Aug | Sep | Oct | Nov | Dec |
| --- | --- | --- | --- | --- | --- | --- | --- | --- | --- | --- | --- | --- |
| Day Temperature | 28° | 30° | 30° | 32° | 32° | 32° | 33° | 33° | 33° | 31° | 30° | 29° |
| Night Temperature | 18° | 19° | 20° | 21° | 23° | 24° | 24° | 23° | 23° | 22° | 20° | 19° |
| Water Temperature | 27° | 26° | 26° | 27° | 28° | 28° | 28° | 29° | 28° | 28° | 28° | 27° |
| Precipitation (inch) | 2.2 | 2.05 | 1.22 | 1.85 | 3.11 | 5.67 | 4.76 | 5.08 | 6.26 | 9.61 | 4.76 | 2.8 |
| Rainy days | 6 | 5 | 4 | 4 | 8 | 12 | 10 | 10 | 15 | 18 | 9 | 7 |
| Hours of Sunshine | 8 | 9 | 10 | 10 | 11 | 10 | 10 | 10 | 9 | 8 | 8 | 8 |
Show temperatures in degree

Temperatures

The annual average temperature is

26.1 °C

.

For comparison: London

11 °C

, NYC

12 °C

, LA

17.9 °C

Warmest month:

July (

28.5 °C

)

Coldest month:

January (

23 °C

)

The maximum water temperature is

29 °C

. You can take a bath at these temperatures.

Months with water temperature of at least

21 °C

(adequate for beach vacation):

all months

Precipitation

Overall annual precipitation:

49.37

inch

on

108 rainy days

For comparison: London

24.06 in

, NYC

41.57 in

, LA

12.01 in

Rainy season (months with more than

6.9 in

of precipitation):

October

Overall precipitation in the rainy season:

9.61 in

You cannot expect snow in any month.

Sunshine

As our climate table shows,

May

is the sunniest month with an average of

11 hours of sunshine per day

. Over the year, there are

9.3 hours of sunshine

per day on average. For comparison: London has 4.1, NYC has 7 and LA has 8.9 hours of sunshine per day on average.
Sights & Attractions
The ruins of Tulum are the city's most popular excursion destination. Here you can still see the remains of the Mayan city of that time. The largest and highest building of the old Maya complex is the Castillo, which stands directly on a hill at the sea and towers over the blue ocean. The historic city centre of the Maya city is bordered by a city wall with watchtowers. The city wall is open to the sea and offers a unique view of the Caribbean Sea.
Here you can get to know the Mayan culture in an impressive way. The coast of Tulum is perfect for diving and snorkelling and offers countless water sports. Shops for shopping, restaurants and many beach bars complete the tourist offer. Near the city there is also the national park of the same name.
This has a coastal section with many mangrove forests and cenotes. Cenotes are collapsed limestone caves now filled with fresh water. A beautiful area for swimming, diving and boating. Unique nature, vastness and wonderful vegetation are found here. A visit to the National Park is a must for every tourist.
More information about the best things to do: Mexico
Popular Activities
Tulum and Coba: Full-Day Archeological Tour with Lunch
Tours
Walk through Tulum and Coba, the most impressive Mayan archaeological sites in the area. Swim in a natural sinkhole with turquoise waters and learn about Mayan culture.
Cancún: Tulum Archaeological Site and Cenote Guided Tour
Tours
Explore the history of the ancient Maya civilization with a visit to the archaeological site of Tulum and learn more about the former city and its landmark monuments. Then refresh at one the most beautiful cenotes in the area.
From Tulum: Mayan ruins & Sian Kaan Nature Reserve Tour
Tours
Take an exciting half-day tour through the heart of ancient Mayan civilization and enjoy the stunning Sian Kaan Nature Reserve. Discover jungle wildlife, and float in the tranquil turquoise waters before returning home.
More attractions
Riviera Maya: Xel-Há Park All-Inclusive 1-Day Pass
|
Riviera Maya: Cobá and Chichén Itzá Tour with Cenote & Lunch
|
From Tulum: Chichen Itza, Cenote, and Valladolid Tour
|
Riviera Maya: Sian Kaan Boat Trip Adventure
|
Cenote Trail: Caves Visit and Bike Tour
|
Cancun or Riviera Maya: Whale Shark Tour & Playa Norte Beach
|
Snorkeling & Underground Cenotes Half-Day Tour from Tulum
|
Current Weather and Forecast
Current Weather in Tulum
moderate rain,
24.4 °C
Clouds: 32 % Wind: 7 mph NO
Air Pressure: 1020 hPa Humidity: 79 %
0.04 in
of rain (last 3 hours)
Last updated: 4th Feb 2023, 06:40 pm
The next days …
5th Feb 2023
6th Feb 2023
7th Feb 2023
8th Feb 2023
9th Feb 2023
10th Feb 2023

21 °C

to

28 °C

21 °C

to

27 °C

23 °C

to

28 °C

24 °C

to

27 °C

24 °C

to

28 °C

21 °C

to

28 °C

21 °C

to

28 °C

21 °C

to

27 °C

23 °C

to

28 °C

24 °C

to

27 °C

24 °C

to

28 °C

21 °C

to

28 °C

Clouds: 13 %
Clouds: 15 %
Clouds: 4 %
Clouds: 34 %
Clouds: 4 %
Clouds: 25 %

0.01 in

of rain

0.1 in

of rain

0.08 in

of rain

0.33 in

of rain

0.09 in

of rain

0.32 in

of rain
Weather information provided by OpenWeatherMap. (CC BY-SA)
Show temperatures in degree
Mexico: Regions
Tulum is part of the holiday destination Mexico. We analyzed the climate for additional regions, in order to provide you with information about the best time to visit and the expected holiday weather:
Share your Experience and Win
We want to know: how was the weather during your Tulum holiday?
You can win a travel coupon of 1000 $. The price will be raffled among all submissions.

Tulum: The Paradise of Paradises
Destinations in the Vicinity …