On this page, you will find information about the climate and the best time to visit Varadero. We created climate tables and charts for the location of Varadero. These contain details about temperatures, precipitation and more.
Furthermore, we analyzed all climate data and provide a recommendation about which months are best to visit Varadero for your holiday.
Climate Overview

18 °C
to
32 °C

24 °C
to
30 °C

1.34
–
8.19 in
(2 – 14 Days of Rain)
Show temperatures in degree
General & Geography
Table of Contents


Varadero is not a classic village, but mainly refers to the Hicacos peninsula, which is about
12 miles
long.
Originally populated by indigenous tribes, the peninsula, once heavily forested, was increasingly opened up to bathing tourism. Today, Varadero has a large number of high-class hotels right on the long sandy beach.
Nearly all inhabitants live from tourism, but local life and the original culture of Varadero have declined considerably under the influence of the widespread all-inclusive concept in the holiday resorts.
Varadero is located about
93 miles
east of the capital of Cuba. Near the city is Varadero International Airport (Juan Gualberto Gómez), which carries the second highest number of passengers in the country after Havana.
Climate in Varadero (Cuba)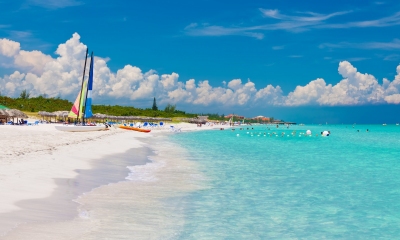 The climate on the peninsula of Varadero is typically tropical with only slight temperature fluctuations. It is influenced by the north-east trade wind and can therefore be divided into a rather dry winter season and a much wetter summer season. However, there are no classical seasons like.
In the coldest month of
January
the average daytime temperature is 26.
3 °C
, in the hottest month of
August
it is 31.
7 °C
on average. Even at night, the thermometer seldom falls significantly below
20 °C
. The rainy season on Varadero runs from about the beginning of
May
to the end of
October
.
During this humid, sometimes humid summer season, there is also the risk of tropical cyclones, and the hurricane season officially runs from
June
to October. Statistically, the risk is highest from August to October. However, climate change is always causing delays and surprises.
Due to the holiday seasons in Europe, the summer in Varadero is still the absolute peak season. Many Cubans also visit their summer residences, especially around the anniversary of the revolution (26
July
). July and August therefore have the highest overall overnight prices on Varadero.
Best Time to Visit Varadero: Overview
Perfect

Perf.

climate in

Varadero

Perfect

Perf.

climate in

Varadero

Perfect

Perf.

climate in

Varadero

usually Pleasant, a little wet

mostly Pleasant, but a little wet

beginning of wet summer season

wet Summer

yet main season

trotzd. Main Season

yet main season

trotzd. Main Season

Hurricane Season

risk of Hurricane

Hurricane Season

risk of Hurricane

Hurricane Season

risk of Hurricane

Perfect

Perf.

climate in

Varadero

Perfect

Perf.

climate in

Varadero
When is the best time to travel for Varadero?
We have now already seen several brochures and websites of different tour operators, which show for Varadero and Cuba in general just those months as the best travel season, which are actually the least suitable from a purely climatic point of view. Behind it are probably business interests for the high season in summer.
It is therefore important to us to be completely honest with our readers: In principle, Varadero can be visited all year round. And those who depend on the summer holidays can hardly avoid the months of July and August. Nevertheless, the climate conditions described are not exactly ideal.
The best time to travel in Varadero (Cuba) is therefore between mid-
November
and mid-
April
. The most stable and pleasant climate is from Christmas to the end of
March
. With water temperatures of
24 °C
to
30 °C
, swimming is generally possible all year round.
Climate Chart Varadero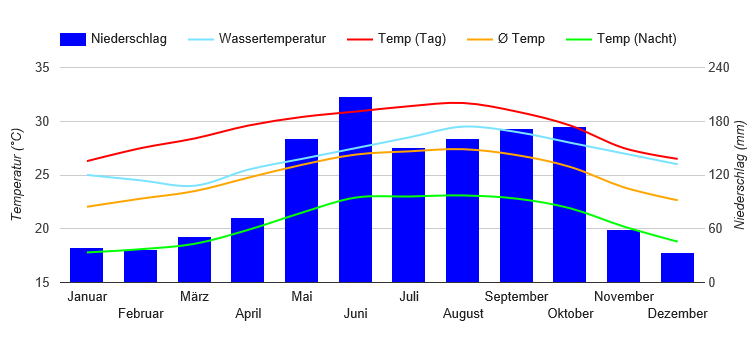 Show temperatures in degree
Source of Data: German Weather Service (Offenbach) and Wikipedia
Climate Table Varadero
In the following, you will find the climate table for Varadero, containing information about Temperatures, Precipitation, Water Temperatures, and Hours of Sunshine.
Temperatures, Precipitation, Sunshine
| | Jan | Feb | Mar | Apr | May | Jun | Jul | Aug | Sep | Oct | Nov | Dec |
| --- | --- | --- | --- | --- | --- | --- | --- | --- | --- | --- | --- | --- |
| Day Temperature | 26° | 28° | 28° | 30° | 30° | 31° | 31° | 32° | 31° | 30° | 28° | 27° |
| Night Temperature | 18° | 18° | 19° | 20° | 22° | 23° | 23° | 23° | 23° | 22° | 20° | 19° |
| Water Temperature | 25° | 25° | 24° | 26° | 27° | 28° | 29° | 30° | 29° | 28° | 27° | 26° |
| Precipitation (inch) | 1.54 | 1.46 | 2.01 | 2.87 | 6.34 | 8.19 | 5.94 | 6.34 | 6.77 | 6.85 | 2.32 | 1.34 |
| Rainy days | 2 | 2 | 4 | 5 | 8 | 14 | 11 | 11 | 12 | 12 | 6 | 5 |
| Hours of Sunshine | 8 | 8 | 9 | 9 | 9 | 8 | 9 | 8 | 9 | 8 | 7 | 7 |
Show temperatures in degree

Temperatures

The annual average temperature is

25 °C

.

For comparison: London

11 °C

, NYC

12 °C

, LA

17.9 °C

Warmest month:

August (

27.4 °C

)

Coldest month:

January (

22.1 °C

)

The maximum water temperature is

30 °C

. You can take a bath at these temperatures.

Months with water temperature of at least

21 °C

(adequate for beach vacation):

all months

Precipitation

Overall annual precipitation:

51.97

inch

on

92 rainy days

For comparison: London

24.06 in

, NYC

41.57 in

, LA

12.01 in

Rainy season (months with more than

6.9 in

of precipitation):

June

Overall precipitation in the rainy season:

8.19 in

You cannot expect snow in any month.

Sunshine

As our climate table shows,

April

is the sunniest month with an average of

9 hours of sunshine per day

. Over the year, there are

8.1 hours of sunshine

per day on average. For comparison: London has 4.1, NYC has 7 and LA has 8.9 hours of sunshine per day on average.
Sights and Attractions
The peninsula around Varadero captivates above all by its dreamlike, white sandy beach and the high-class hotel resorts. An excursion to the capital Havana can be booked locally without problems and should not be missing on any trip to Cuba to get an impression of the cultural and economic heart of the country.
Varadero itself also offers some beautiful sights and excursions. A tour to the stalactite caves (Saturno Cave) with crystal clear, quite cold water as a welcome refreshment is very popular. A snorkel trip to Coral Beach is also a must!
The supplier Varadertour has nice convertible tours through the region in the program. Meanwhile, in the Parque Central, a notorious piña colada is tempting, even without rum if desired. If you are still looking for the right souvenir, you should not miss a visit to Varadero Street Market.
More information about the best things to do: Cuba
Popular Activities
From Varadero: Sea Cruise to Cayo Blanco
Bus & Minivan Tours
Discover the beauty of the Caribbean Sea surrounding Cuba on a sea cruise from Varadero. Relax on board the boat and make use of the open bar. Swim and snorkel in the inviting waters off Cayo Blanco. Benefit from an included lunch and more.
Yumuri Valley Jeep Safari from Varadero
Tours
Explore the scenic splendor on a jeep safari and swim and snorkel in crystal clear waters on a tour of the Yumuri Valley. Journey through the amazing Cueva Saturno and savor a traditional lunch at Rancho Gaviota.
Catamaran Cruise Tour to Cayo Blanco with Dolphins
Tours
Cruise to the island of Cayo Blanco on a catamaran tour from Varadero. Discover spectacular reef formations after lunch and some time on the beach. Swim and snorkel with dolphins, and look for extraordinary coral gardens in the Caribbean Sea.
Current Weather and Forecast
Current Weather in Varadero

scattered clouds,
25 °C
Clouds: 40 % Wind: 4 mph OSO
Air Pressure: 1013 hPa Humidity: 100 %
Last updated: 28th Sep 2020, 03:42 am
The next days …
28th Sep 2020
29th Sep 2020
30th Sep 2020
1st Oct 2020
2nd Oct 2020
3rd Oct 2020

26 °C

to

29 °C

26 °C

to

30 °C

26 °C

to

29 °C

25 °C

to

29 °C

27 °C

to

29 °C

27 °C

to

29 °C

26 °C

to

29 °C

26 °C

to

30 °C

26 °C

to

29 °C

25 °C

to

29 °C

27 °C

to

29 °C

27 °C

to

29 °C

Clouds: 100 %
Clouds: 71 %
Clouds: 25 %
Clouds: 6 %
Clouds: 75 %
Clouds: 34 %

0.11 in

of rain

0.35 in

of rain

0.45 in

of rain

0.61 in

of rain

0.21 in

of rain

0.68 in

of rain
Weather information provided by OpenWeatherMap. (CC BY-SA)
Show temperatures in degree
Cuba: Regions
Varadero is part of the holiday destination Cuba. We analyzed the climate for additional regions, in order to provide you with information about the best time to visit and the expected holiday weather:
Share your Experience and Win
We want to know: how was the weather during your Varadero holiday?
You can win a travel coupon of 1000 $. The price will be raffled among all submissions.

Destinations in the Vicinity …