On this page, you will find information about the climate and the best time to visit Boracay. We created climate tables and charts for the location of Boracay. These contain details about temperatures, precipitation and more.
Furthermore, we analyzed all climate data and provide a recommendation about which months are best to visit Boracay for your holiday.
Climate Overview

23 °C
to
33 °C

28 °C
to
30 °C

2.05
–
18.27 in
(5 – 20 Days of Rain)
Show temperatures in degree
Geography and General
Table of Contents


Boracay is a small island in the Philippines and covers just ten square kilometres off the coast of Panay.
Despite its small size, Boracay has become the most popular holiday destination in the Philippines in recent years. The most famous figurehead of the island is the beautiful beach section called White Beach.
Kitesurfers enjoy Bulabog Beach, while on Diniwid Beach and Puka Shell Beach the focus is usually on comparatively quiet bathing fun.
In general, Boracay – especially the tourist mile on White Beach – is also known for its vibrant nightlife. International media cheer the dream beaches and the diverse night life equally. No wonder that the island has experienced a real boom in the past decade.
If you landed on this small island in the early eighties as an adventurous globetrotter without electricity and tourist infrastructure, you probably won't recognize Boracay today at all. Nevertheless, the island has its very own, unmistakable charm.
Boracay is home to around 33,000 inhabitants, almost all the locals speak English and thus enable uncomplicated communication. Main languages are Tagalog and Cebuano.
Climate on Boracay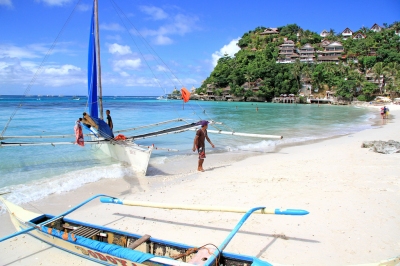 Boracay is located in the tropics and is under the constant influence of the ocean, the temperatures are therefore constantly high and there are only minor fluctuations during the course of the year. There are no classical seasons on Boracay, rather the climate of the Philippines island is mainly determined by the monsoon:
From about the end of
November
to the end of
May
the Amihan (north-east monsoon) prevails, from the beginning of
June
to the middle of November the Habagat (south-west monsoon) determines the climatic conditions decisively. "However,"monsoon" by no means refers to hurricanes or generally bad weather, but first of all only a certain climate season.
In fact, the hot low season on Boracay begins slowly in May, and the rainy season usually begins in the course of June. In general, there is a risk of typhoons in the Pacific Ocean, especially between
July
and November. During this time, the Philippines was repeatedly devastated.
The climate on Boracay outside the rainy season is much more pleasant. Towards the end of November, the humidity decreases noticeably, whereby it can come up to the end of the year again and again to stronger showers. From Christmas to Easter the absolute peak travel season on Boracay begins,
January
to
April
form the core of the dry season.
Best Time to Visit Boracay: Overview
Perfect

Perf.

climate in

Boracay

Perfect

Perf.

climate in

Boracay

Perfect

Perf.

climate in

Boracay

Perfect

Perf.

climate in

Boracay

Beginning of

Low Season

Low Season

very hot, increasingly wet

very hotes climate

wet, and risk of typhoon

wet, risk of typhoon

wet, and risk of typhoon

wet, risk of typhoon

wet, and risk of typhoon

wet, risk of typhoon

wet, and risk of typhoon

wet, risk of typhoon

wet, and risk of typhoon

wet, risk of typhoon

more pleasant

more pleasant
When is the best time to travel on Boracay?
In general, Boracay can be visited all year round, because even during the rainy seasons there are usually shorter, very strong showers, but afterwards the sun shows up again and again.
In May and June the first early bird bargains are usually tempting, but at the same time the temperatures reach absolute peak values and are felt by some holidaymakers as rather unpleasantly sultry-hot. The typhoon season from July to November is generally only recommended for repeat offenders.
During this time, strong winds, cloudy skies and often turbulent lakes occur time and again. In addition, the risk of a tropical cyclone is a knockout criterion for many travellers. We therefore recommend the period from Christmas to the end of April as the best travel season for Boracay.
Climate Chart Boracay
Show temperatures in degree
Source of Data: German Weather Service (Offenbach) and Wikipedia
Climate Table Boracay
In the following, you will find the climate table for Boracay, containing information about Temperatures, Precipitation, Water Temperatures, and Hours of Sunshine.
Temperatures, Precipitation, Sunshine
| | Jan | Feb | Mar | Apr | May | Jun | Jul | Aug | Sep | Oct | Nov | Dec |
| --- | --- | --- | --- | --- | --- | --- | --- | --- | --- | --- | --- | --- |
| Day Temperature | 29° | 30° | 31° | 32° | 33° | 32° | 31° | 31° | 31° | 31° | 31° | 30° |
| Night Temperature | 23° | 24° | 24° | 25° | 25° | 25° | 25° | 24° | 24° | 24° | 24° | 24° |
| Water Temperature | 28° | 28° | 28° | 28° | 30° | 30° | 30° | 30° | 30° | 29° | 28° | 28° |
| Precipitation (inch) | 4.61 | 2.28 | 2.05 | 2.4 | 7.64 | 13.86 | 16.97 | 18.27 | 13.58 | 14.13 | 11.26 | 8.31 |
| Rainy days | 9 | 6 | 5 | 5 | 10 | 18 | 20 | 19 | 18 | 18 | 14 | 12 |
| Hours of Sunshine | 7 | 8 | 8 | 9 | 8 | 8 | 7 | 7 | 6 | 6 | 6 | 7 |
Show temperatures in degree

Temperatures

The annual average temperature is

27.6 °C

.

For comparison: London

11 °C

, NYC

12 °C

, LA

17.9 °C

Warmest month:

May (

28.8 °C

)

Coldest month:

January (

26.3 °C

)

The maximum water temperature is

30 °C

. You can take a bath at these temperatures.

Months with water temperature of at least

21 °C

(adequate for beach vacation):

all months

Precipitation

Overall annual precipitation:

115.35

inch

on

154 rainy days

For comparison: London

24.06 in

, NYC

41.57 in

, LA

12.01 in

Rainy season (months with more than

6.9 in

of precipitation):

all except January, February, March, and April

Overall precipitation in the rainy season:

104.02 in

You cannot expect snow in any month.

Sunshine

As our climate table shows,

April

is the sunniest month with an average of

9 hours of sunshine per day

. Over the year, there are

7 hours of sunshine

per day on average. For comparison: London has 4.1, NYC has 7 and LA has 8.9 hours of sunshine per day on average.
Popular Activities
Boracay: Island and Beach-Hopping Boat Tour with Snorkeling
Tours
Go island hopping on this boat tour around the island of Boracay. Visit islands and beaches such as Crocodile Island and Puka Beach, where you can go swimming and snorkeling. Try a local-style buffet for lunch.
Boracay: Sunset Cruise with Water Activities
Tours
Boracay's sunset is a spectacular sight to see, and what better way to admire the view than by cruising across the ocean. Jump into the crystal clear waters, try paddleboarding, and discover the diverse marine life and colorful coral reefs beneath you.
Boracay: Ariel's Point Cliff Jump & All-Inclusive Boat Tour
Tours
Test your limits at Ariel's Point, one of the best cliff jumping and water sports spot in the world. Fill our your day with unlimited food and drinks, including alcoholic beverages and hard liquors to fully enjoy the party vibe.
More attractions
Boracay: Solo or Tandem Parasailing Experience
|
Boracay: Discovery Scuba Diving Experience for Beginners
|
Boracay: Carabao Island Tour with Water Sports & BBQ Feast
|
Boracay: Jet Ski Experience
|
Boracay: Jungle Adventure and Boat Cruise with Lunch
|
Boracay: Private Island Hopping & Snorkeling Tour
|
Boracay: 2-Hour Sunset Party Cruise & Free-Flowing Cocktails
|
Current Weather and Forecast
Current Weather in Boracay (Station Balabag)

broken clouds,
26.6 °C
Clouds: 78 % Wind: 13 mph NO
Air Pressure: 1013 hPa Humidity: 81 %
Last updated: 25th Feb 2020, 02:52 pm
The next days …
26th Feb 2020
27th Feb 2020
28th Feb 2020
29th Feb 2020
1st Mar 2020
2nd Mar 2020

26 °C

to

27 °C

26 °C

to

27 °C

26 °C

to

27 °C

26 °C

to

27 °C

26 °C

to

27 °C

26 °C

to

27 °C

26 °C

to

27 °C

26 °C

to

27 °C

26 °C

to

27 °C

26 °C

to

27 °C

26 °C

to

27 °C

26 °C

to

27 °C

Clouds: 35 %
Clouds: 100 %
Clouds: 88 %
Clouds: 56 %
Clouds: 2 %
Clouds: 79 %
No Precipitation
No Precipitation

0.04 in

of rain

0.12 in

of rain
No Precipitation

0.03 in

of rain
Weather information provided by OpenWeatherMap. (CC BY-SA)
Show temperatures in degree
Philippines: Regions
Boracay is part of the holiday destination Philippines. We analyzed the climate for additional regions, in order to provide you with information about the best time to visit and the expected holiday weather:
Share your Experience and Win
We want to know: how was the weather during your Boracay holiday?
You can win a travel coupon of 1000 $. The price will be raffled among all submissions.

Destinations in the Vicinity …