On this page, you will find information about the climate and the best time to visit Goa. We created climate tables and charts for the location of Panjim. These contain details about temperatures, precipitation and more.
Furthermore, we analyzed all climate data and provide a recommendation about which months are best to visit Goa for your holiday.
Climate Overview

20 °C
to
33 °C

27 °C
to
29 °C

0
–
36.3 in
(0 – 27 Days of Rain)
Show temperatures in degree
Geographical location
Table of Contents


Goa is located in the southwest of India and, with an area of
2300 square miles
and a population of around 1.5 million, is India's smallest federal state. The population density is about twice as high as in Germany, with an average of 394 people living on an area of one square kilometre.
The capital of Goa is Panaji, also called Nova Goa by the Portuguese. For about 450 years Goa was a Portuguese colony, and even today the influences in architecture and culture cannot be denied. Especially the church"Our Lady of the Immaculate Conception" is an impressive testimony of colonial history, many locals in the region around Goa are Catholics.
Goa has large forests, which cover about 40 percent of the total area and are predominant, especially in the highlands. In the lowlands on the coasts, the vegetation had to give way to heavy settlement, yet the region is considered comparatively natural and is still a retreat for many rare animal species.
Besides more than 400 different bird species, various mammals are also native to the west coast of India. In the forests around Goa live several species of cats (for example Zibet) and various species of monkeys (especially Langurs). Sambar deer, sloth bears and porcupines can also be observed in denser forest areas of the region with a little luck.
Goa is one of the most important tourist destinations in India, tourism developed especially at the end of the 1960s through a distinct hippie movement. The term "Goa-Party" is still a catchphrase, but a completely normal seaside tourism has developed along the coast for a long time, high class hotels and resorts are available today for a relaxing beach holiday.
Climate in Goa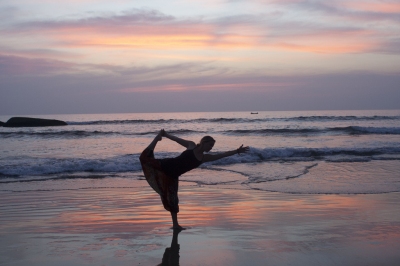 The Indian Goa has a tropical climate that is dominated by the monsoon. The rainy season in the region is from
June
to
September
. During this period, over
98.43 in
of rain falls, and in
July
alone, up to
36.3 in
of rain fall within just 31 days. In the mountain regions, precipitation can even triple during the rainy season.
During this time, temperatures range between
28 °C
to
32 °C
. At the end of September the rainy season usually ends slowly, the weather becomes drier and more pleasant. Another decisive factor is the considerable drop in air humidity, which then settles at around 60% at an elevated but tolerable level. However, the first half of
October
remains changeable for most years.
From the end of October to
April
follows the dry season in Goa. Temperatures rise up to
34 °C
. As a rule, no precipitation occurs during this period. The hottest month is
May
with average daily temperatures between
33 °C
to
35 °C
in the shade. Towards the middle of the month, the sharp rise in humidity announces the change to monsoon season (from June).
Best Time to Visit Goa: Overview
Perfect

Perf.

climate

in Goa

Perfect

Perf.

climate

in Goa

Perfect

Perf.

climate

in Goa

Perfect

Perf.

climate

in Goa

Suitable

time to travel

time

Rainy Season Goa

Rainy Season Goa

up to

34.29 in

of rain

of rain

Rainy Season Goa

Rainy Season Goa

up to

36.3 in

of rain

of rain

Rainy Season Goa

Rainy Season Goa

up to

20.75 in

of rain

of rain

Rainy Season Goa

Rainy Season Goa

up to

9.96 in

of rain

of rain

Suitable

time to travel

time

better weather

stabil. Wetter

Perfect

Perf.

climate in

Panjim

Perfect

Perf.

climate

in Goa
When to go to Goa?
The tropical climate and the influence of the monsoon determine the best travel season in Goa. In the months
November
to April a trip to Goa is highly recommended. The dry season is much more pleasant for travellers than the rainy season. The temperatures are perfect for a bathing holiday, the weather is sunny and there is almost no rain, especially between
December
and April.
During this travel season you can expect about 10 hours of sunshine per day and the beautiful beaches around Goa show themselves in all their splendour. At the end of the drying period, the humidity rises noticeably again. For Europeans, the sultry, hot air in May is almost unbearable.
From June onwards, the heavy rainfall begins, which usually ends at the end of September or the beginning of October. This monsoon season in Goa is only recommended for experienced travelers to India, as the cityscape can be marked by sometimes severe floods and the actually relaxed beach atmosphere and the popular nightlife of Goa are not to be found, some hotels even close completely.
Climate Chart Goa
Panjim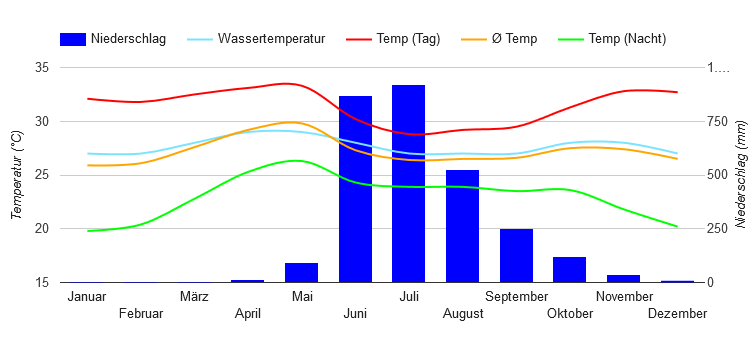 Show temperatures in degree
Source of Data: German Weather Service (Offenbach) and Wikipedia
Climate Table Goa
In the following, you will find the climate table for Goa, containing information about Temperatures, Precipitation, Water Temperatures, and Hours of Sunshine.
Temperatures, Precipitation, Sunshine in Panjim (Goa)
| | Jan | Feb | Mar | Apr | May | Jun | Jul | Aug | Sep | Oct | Nov | Dec |
| --- | --- | --- | --- | --- | --- | --- | --- | --- | --- | --- | --- | --- |
| Day Temperature | 32° | 32° | 33° | 33° | 33° | 30° | 29° | 29° | 30° | 31° | 33° | 33° |
| Night Temperature | 20° | 20° | 23° | 25° | 26° | 24° | 24° | 24° | 24° | 24° | 22° | 20° |
| Water Temperature | 27° | 27° | 28° | 29° | 29° | 28° | 27° | 27° | 27° | 28° | 28° | 27° |
| Precipitation (inch) | 0.04 | 0 | 0.04 | 0.51 | 3.66 | 34.25 | 36.3 | 20.75 | 9.96 | 4.76 | 1.38 | 0.39 |
| Rainy days | 0 | 0 | 0 | 1 | 4 | 22 | 27 | 13 | 14 | 6 | 3 | 0 |
| Hours of Sunshine | 10 | 10 | 9 | 10 | 10 | 4 | 3 | 4 | 6 | 8 | 9 | 10 |
Show temperatures in degree

Temperatures

The annual average temperature in Panjim is

27.2 °C

.

For comparison: London

11 °C

, NYC

12 °C

, LA

17.9 °C

Warmest month:

May (

29.8 °C

)

Coldest month:

January (

25.9 °C

)

The maximum water temperature in Panjim is

29 °C

. You can take a bath at these temperatures.

Months with water temperature of at least

21 °C

(adequate for beach vacation):

all months

Precipitation

Overall annual precipitation:

112.05

inch

on

90 rainy days

For comparison: London

24.06 in

, NYC

41.57 in

, LA

12.01 in

Rainy season (months with more than

6.9 in

of precipitation):

June, July, August, and September

Overall precipitation in the rainy season:

101.26 in

You cannot expect snow in any month in Panjim.

Sunshine

As our climate table shows,

February

is the sunniest month with an average of

10.3 hours of sunshine per day

. Over the year, there are

7.8 hours of sunshine

per day on average. For comparison: London has 4.1, NYC has 7 and LA has 8.9 hours of sunshine per day on average.
Highlights and Attractions
One of the most famous beaches in the region is Agonda Beach, considered the most beautiful beach in Goa. In Canacona you will find the picturesque Palolem Beach, which is particularly suitable for relaxation. An insider tip is Mandrem Beach in the village of the same name, which is especially suitable for families and couples looking for peace and relaxation.
By the way, free-range cows are part of the Indian beach picture, they are a popular photo motif, but do not disturb the holiday pleasure. As they say: other countries, other customs! In Panaji you should definitely visit the Basilica of Bon Jesus, culturally one of the highlights of the capital. Nature lovers should plan a tour to the Dudhsagar waterfalls and a trip to the nature reserve Bhagwan Mahavir.
Popular Activities
Goa International Airport: Private Hotel Transfer
Transportation
Pre-book a private transfer from Goa Airport at Dabolim to your accommodation in Goa. Pay a fixed fee depending on your drop-off location and start your holiday hassle-free.
Panaji: Heritage Walk through Goa's Latin Quarter
Tours
Enjoy a walk through the Old Latin Quarters of Panjim full of art and music . Trace the history of the Portuguese in Goa. See charming colonial buildings.
Goa: Pub Crawl
Tours
Join this exciting pub crawl in the heart of Goa. Hop from one pub to another and experience the nightlife of the city while tasting local food and beverages.
More attractions
Divar Island: Local Goan Village Tour with Traditional Lunch
|
Old Goa: Walking Tour of Heritage Churches
|
Goa Street Food Tour
|
Highlights of Portuguese Influenced Goa: 2-Hour Guided Walk
|
Delhi To/From Jaipur: One-Way City Transfer
|
Panaji: Fun-Filled 2-Hour Mandovi River Cruise with Dinner
|
From Panaji: North Goa Guided Sightseeing Tour
|
Current Weather and Forecast
Current Weather in Panjim (Station Taleigao)

broken clouds,
30.5 °C
Clouds: 56 % Wind: 9 mph O
Air Pressure: 1008 hPa Humidity: 62 %
Last updated: 29th Nov 2021, 12:06 pm
The next days …
29th Nov 2021
30th Nov 2021
1st Dec 2021
2nd Dec 2021
3rd Dec 2021
4th Dec 2021

25 °C

to

30 °C

25 °C

to

31 °C

24 °C

to

29 °C

25 °C

to

28 °C

24 °C

to

28 °C

24 °C

to

28 °C

25 °C

to

30 °C

25 °C

to

31 °C

24 °C

to

29 °C

25 °C

to

28 °C

24 °C

to

28 °C

24 °C

to

28 °C

Clouds: 96 %
Clouds: 100 %
Clouds: 99 %
Clouds: 93 %
Clouds: 72 %
Clouds: 70 %
No Precipitation

0.11 in

of rain

0.15 in

of rain

0.21 in

of rain

0.13 in

of rain
No Precipitation
Weather information provided by OpenWeatherMap. (CC BY-SA)
Show temperatures in degree
India: Regions
Goa is part of the holiday destination India. We analyzed the climate for additional regions, in order to provide you with information about the best time to visit and the expected holiday weather:
Share your Experience and Win
We want to know: how was the weather during your Goa holiday?
You can win a travel coupon of 1000 $. The price will be raffled among all submissions.

Destinations in the Vicinity …