On this page, you will find information about the climate and the best time to visit Nepal. We created climate tables and charts for the location of Kathmandu. These contain details about temperatures, precipitation and more.
Furthermore, we analyzed all climate data and provide a recommendation about which months are best to visit Nepal for your holiday.
Climate Overview

2 °C
to
28 °C

0.24
–
15.08 in
Show temperatures in degree
Geographical location
Table of Contents


Nepal is a landlocked South Asian state bordering the People's Republic of China to the north and India to the east, south and west.
The country covers a total area of
91000 square miles
and is home to some 26.5 million inhabitants. The capital and largest city of Nepal is Kathmandu in the valley of the same name.
Much of the Himalayas lie in the north and east of the country, including the highest mountain in the world (Mount Everest at 8848 m) in the Himalayas. In addition, seven other mountains belong to the 10 highest mountains in the world.
The lowest point of the former kingdom lies in the south of the country at about 70 meters near Kencha Kalan, altogether over 40% of the country are above 3000 meters of altitude.
Kathmandu is about
4000 miles
as the crow flies from Munich.
Climate in Nepal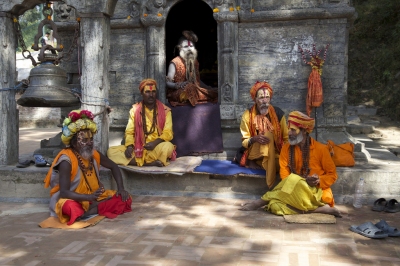 The climate in Nepal differs regionally due to the enormous differences in altitude. In principle, it can be observed that both temperatures and precipitation decrease with increasing altitude. Nepal can be divided into three climate zones. In the lowlands in the south a subtropical climate prevails. The average temperature is
25 °C
. Summer is characterized by a hot and humid climate.
Before the monsoon begins, it can often become oppressively humid. In the months of
April
and
May
the temperature can reach
40 °C
. In winter, temperatures range from
10 °C
at night to
17 °C
during the day. The climate is comparatively mild and dry in winter.
The climate in the Vorhimalaya above 1500 meters can be described as a temperate climate. It is characterized by warm summers with average temperatures of
24 °C
in
July
and quite cool winters with
10 °C
in
January
. In the high mountains over 4000 m in the north of the country there is an alpine climate. Temperatures here remain almost constantly below freezing, which is why the landscape is also covered with eternal snow and ice.
In the months of
June
to
September
, the southwest monsoon dominates almost all of Nepal and accounts for up to 90 percent of the total annual precipitation. In the remaining months it is then predominantly dry. In the lower levels there is between 2000 and
118.11 in
of precipitation per year. In the mountains there is only quite little precipitation of about
9.84 in
per year, which usually fall as snow.
Best Time to Visit Nepal: Overview
Temperatures

Temp.

up to

17 °C

Perfect

Perf.

climate in

Kathmandu

Perfect

Perf.

climate in

Kathmandu

Perfect

Perf.

climate in

Kathmandu

Temperatures

Temp.

up to

28 °C

Up to

8.94 in

of rain

of rain

Up to

15.08 in

of rain

of rain

Up to

11.61 in

of rain

of rain

Up to

7.72 in

of rain

of rain

Perfect

Perf.

climate in

Kathmandu

Perfect

Perf.

climate in

Kathmandu

Temperatures

Temp.

up to

18 °C
When to travel to Nepal?
Basically, the dry season in Nepal from mid-
October
to early May is particularly suitable for travelling. However, as it can get very cold in the winter months of
December
and January, especially in the higher altitudes, and many simple accommodations have no heating, we have deliberately excluded these two months from our recommendation for the best travel season in Nepal.
Our absolute recommendation is the two months of October and
November
, even if it can still come to showers in the first half of October. The air is now pleasantly mild, the view is very clear and the landscape is in full bloom after the rainy season. From the beginning of May it becomes unbearably hot in some places, at the latest in June the heavy rains begin again.
The travel season from June to September is therefore not recommended for Nepal, as many trails and trekking routes are now transformed into mud pools and can no longer be passed safely. In addition, the impressive mountain world often stands in a dense cloud cover.
Climate Chart Nepal
Kathmandu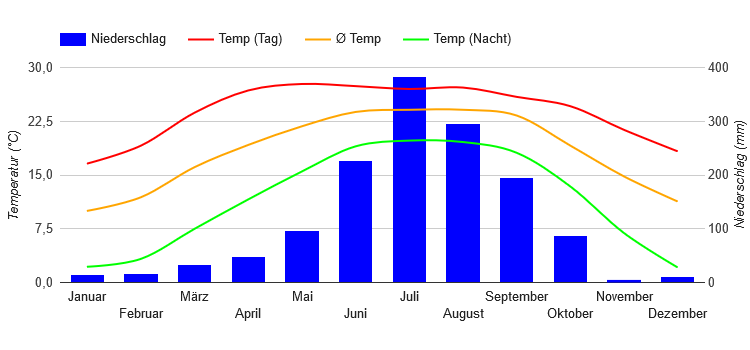 Show temperatures in degree
Source of Data: German Weather Service (Offenbach) and Wikipedia
Climate Table Nepal
In the following, you will find the climate table for Nepal, containing information about Temperatures, Precipitation, and Hours of Sunshine.
Temperatures, Precipitation, Sunshine in Kathmandu (Nepal)
| | Jan | Feb | Mar | Apr | May | Jun | Jul | Aug | Sep | Oct | Nov | Dec |
| --- | --- | --- | --- | --- | --- | --- | --- | --- | --- | --- | --- | --- |
| Day Temperature | 17° | 19° | 24° | 27° | 28° | 27° | 27° | 27° | 26° | 25° | 21° | 18° |
| Night Temperature | 2° | 3° | 8° | 12° | 16° | 19° | 20° | 20° | 18° | 13° | 7° | 2° |
| Precipitation (inch) | 0.55 | 0.67 | 1.3 | 1.89 | 3.82 | 8.94 | 15.08 | 11.61 | 7.72 | 3.46 | 0.24 | 0.47 |
| Hours of Sunshine | 7 | 8 | 8 | 7 | 8 | 6 | 4 | 5 | 5 | 6 | 8 | 6 |
Show temperatures in degree

Temperatures

The annual average temperature in Kathmandu is

18.3 °C

.

For comparison: London

11 °C

, NYC

12 °C

, LA

17.9 °C

Warmest month:

July (

24.1 °C

)

Coldest month:

January (

10 °C

)

Precipitation

Overall annual precipitation:

55.75

inch

For comparison: London

24.06 in

, NYC

41.57 in

, LA

12.01 in

Rainy season (months with more than

6.9 in

of precipitation):

June, July, August, and September

Overall precipitation in the rainy season:

43.35 in

Months that have possible snowfall: January, February, and December

Sunshine

As our climate table shows,

March

is the sunniest month with an average of

7.9 hours of sunshine per day

. Over the year, there are

6.4 hours of sunshine

per day on average. For comparison: London has 4.1, NYC has 7 and LA has 8.9 hours of sunshine per day on average.
Highlights and Attractions
Nepal has a great mixture of moving culture and unique nature. A visit to the capital Kathmandu with its seven UNESCO World Heritage Sites is a must. In the Kathmandu valley you can visit numerous stupas and temples. The fascinating mountain world can be explored on a trekking tour in the Annapurna area, Langtang area or the Everest Reguib.
In Chitwan National Park you can explore the Nepalese jungle from the back of an elephant. With a bit of luck you will see wild rhinos, elephants or even a tiger. Guided tours of Nepal often include highlights such as a mountain bike tour in Pokhara or visits to the royal cities of Patan and Bhaktapur.
Popular Activities
From Kathmandu: 1 hour Panoramic Everest Flight
Tours
Embark on a mountain flight in Nepal for a panoramic encounter with the highest peaks on earth. The plane departs from Kathmandu and flies alongside the Himalayas to give you eye-level views of snow-capped peaks before brining you back in just one hour.
Kathmandu Valley Private 6-Hour Tour
Tours
Take a 6-hour day tour of Kathmandu and its surrounding valley, bounded by green mountain walls and mighty snowcapped peaks. Your tour will take you via private car to the essential sites around the city, immersing you in the area's history and culture.
Kathmandu: One-Way Arrival or Departure Airport Transfer
Transportation
Choose a Tribhuvan International Airport transfer service by a comfortable private vehicle with an experienced driver.
More attractions
Everest Base Camp: 3 Hour Helicopter Sightseeing Tour
|
Private Nagarkot Sunrise and Hike to Dhulikhel Day Tour
|
Nagarkot Sunrise With Trip To Changu Narayan and Bhaktapur
|
Kathmandu: Full-Day Mountain Biking Tour
|
Pokhara: 30-Minute Tandem Paraglide
|
Kathmandu Walking Tour
|
Kathmandu: Private Full-Day Tour
|
Current Weather and Forecast
Current Weather in Kathmandu (Station B?l?ju)

few clouds,
24.2 °C
Clouds: 20 % Wind: 8 mph WSW
Air Pressure: 1016 hPa Humidity: 43 %
Last updated: 13th Mar 2022, 01:16 pm
The next days …
14th Mar 2022
15th Mar 2022
16th Mar 2022
17th Mar 2022
18th Mar 2022
19th Mar 2022

14 °C

to

30 °C

15 °C

to

30 °C

16 °C

to

30 °C

16 °C

to

31 °C

17 °C

to

32 °C

18 °C

to

31 °C

14 °C

to

30 °C

15 °C

to

30 °C

16 °C

to

30 °C

16 °C

to

31 °C

17 °C

to

32 °C

18 °C

to

31 °C

Clouds: 0 %
Clouds: 0 %
Clouds: 0 %
Clouds: 1 %
Clouds: 6 %
Clouds: 9 %
No Precipitation
No Precipitation
No Precipitation
No Precipitation
No Precipitation
No Precipitation
Weather information provided by OpenWeatherMap. (CC BY-SA)
Show temperatures in degree
Share your Experience and Win
We want to know: how was the weather during your Nepal holiday?
You can win a travel coupon of 1000 $. The price will be raffled among all submissions.

Impressive: 30 Days in Nepal
Destinations in the Vicinity …