On this page, you will find information about the climate and the best time to visit Bhutan. We created climate tables and charts for the location of Thimphu. These contain details about temperatures, precipitation and more.
Furthermore, we analyzed all climate data and provide a recommendation about which months are best to visit Bhutan for your holiday.
Climate Overview

-3 °C
to
24 °C

0
–
1.42 in
Show temperatures in degree
Geographical location
Table of Contents


The Kingdom of Bhutan is located in South Asia and borders Tibet to the north and the Indian states of West Bengal, Assam, Sikkim and Arunchal Pradesgh to the south. The Himalayas shape the landscape of Bhutan.
More than 80 percent of the country is at an altitude of over 2000 meters. The main settlement area is the Himalaya region at altitudes between 2000 and 3000 metres. The capital is Thimphu. Gnagkhar Puensum is the highest mountain in the country at 7,570 metres. He's never been climbed by a human before.
Mountaineering is forbidden by law in Bhutan above 6000 meters, the locals suspect the existence of ghosts and gods above this limit. In 1985 and 1986, four expeditions failed in their attempt to climb the summit. The Lind is more and more intensively developed for tourism from year to year. For example, there are only a limited number of flight tickets, so a trip to Bhutan must be planned in detail.
Climate in Bhutan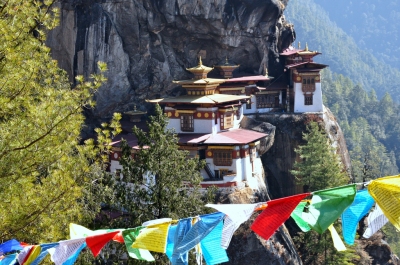 In Bhutan there are clear differences in climate in different regions. In the south there is a tropical to subtropical climate. In the central areas there is a temperate climate. Thus the winters are cool and the summers hot.
Typical for the Himalaya Mountains are the intense and cold winters. In the south, heavy rains and floods can occur during the rainy season. There is little rainfall in the capital Timphu throughout the year. In the months of
June
,
July
and
August
temperatures of over
20 °C
can be found here.
Best Time to Visit Bhutan: Overview
Perfect

Perf.

climate in

Timphu

Perfect

Perf.

climate in

Timphu

Perfect

Perf.

climate in

Timphu

Temperatures

Temp.

up to

23 °C

Temperatures

Temp.

up to

24 °C

Temperatures

Temp.

up to

23 °C

Perfect

Perf.

climate in

Timphu

Perfect

Perf.

climate in

Timphu

Temperatures

Temp.

up to

16 °C
When to travel to Bhutan?
From June to August the climate is pleasantly warm, even at night it usually doesn't get colder than
15 °C
. The precipitation values are very low during these months with 25 to
1.42 in
of rain. The other months are characterized by colder temperatures. In the winter months, temperatures
may
well fall below zero.
Autumn is generally considered to be the best time to travel, even if it is a little cooler the months of
October
to early
December
are also good for a Bhutan trip. In the summer months, the foothills of the Indian monsoon provide a limited view of the universally popular and legendary Himalayas.
The best time to travel in Bhutan is from
January
to
March
and from the end of October to the beginning of January. Despite the cold temperatures, some experts recommend winter as an attractive travel season, as low season prices are now attractive and the best view of the Himalayas is possible.
Climate Chart Bhutan
Thimphu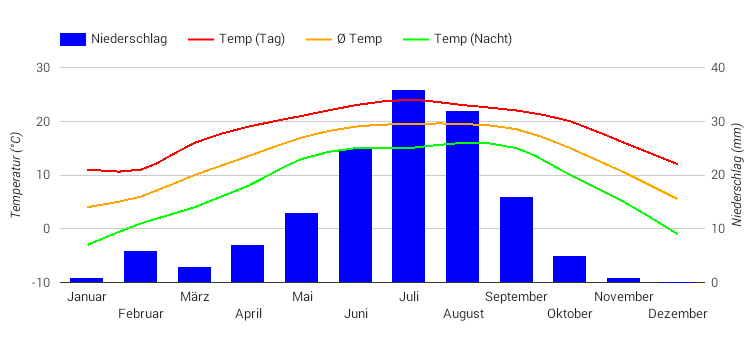 Show temperatures in degree
Source of Data: German Weather Service (Offenbach) and Wikipedia
Climate Table Bhutan
In the following, you will find the climate table for Bhutan, containing information about Temperatures, and Precipitation.
Temperatures, Precipitation in Thimphu (Bhutan)
| | Jan | Feb | Mar | Apr | May | Jun | Jul | Aug | Sep | Oct | Nov | Dec |
| --- | --- | --- | --- | --- | --- | --- | --- | --- | --- | --- | --- | --- |
| Day Temperature | 11° | 11° | 16° | 19° | 21° | 23° | 24° | 23° | 22° | 20° | 16° | 12° |
| Night Temperature | -3° | 1° | 4° | 8° | 13° | 15° | 15° | 16° | 15° | 10° | 5° | -1° |
| Precipitation (inch) | 0.04 | 0.24 | 0.12 | 0.28 | 0.51 | 0.98 | 1.42 | 1.26 | 0.63 | 0.2 | 0.04 | 0 |
Show temperatures in degree

Temperatures

The annual average temperature in Thimphu is

13.2 °C

.

For comparison: London

11 °C

, NYC

12 °C

, LA

17.9 °C

Warmest month:

July (

19.5 °C

)

Coldest month:

January (

4 °C

)

Precipitation

Overall annual precipitation:

5.71

inch

For comparison: London

24.06 in

, NYC

41.57 in

, LA

12.01 in

There is no rainy season (months with more than

6.9 in

of precipitation).

Months that have possible snowfall: February
Highlights and Attractions
A holiday in Bhutan is only suitable for individual travellers. The infrastructure is not yet well developed. The main means of transport are comparatively overcrowded minibuses. Those who appreciate adventure will love Bhutan. The main focus of activities in Bhutan are definitely hiking trips or even demanding climbing tours. The view of the Himalayas alone is an absolute highlight. Other sights include Buddha Dordenma, Punakha Dzong Monastery and Taktsang Palphug Monastery.
Popular Activities
From Kathmandu: Private 4-Day Bhutan Experience with Meals
Tours
Enjoy a 3-night package from Kathmandu to discover the Kingdom of Bhutan. Take a spectacular flight over the Himalayas before exploring the highlights of Bhutan on a private guided tour.
Current Weather and Forecast
Current Weather in Thimphu

overcast clouds,
6.6 °C
Clouds: 96 % Wind: 6 mph SSO
Air Pressure: 1010 hPa Humidity: 83 %
Last updated: 7th Feb 2023, 11:14 am
The next days …
7th Feb 2023
8th Feb 2023
9th Feb 2023
10th Feb 2023
11th Feb 2023
12th Feb 2023

3 °C

to

7 °C

-0 °C

to

9 °C

-1 °C

to

10 °C

2 °C

to

10 °C

3 °C

to

12 °C

1 °C

to

10 °C

3 °C

to

7 °C

-0 °C

to

9 °C

-1 °C

to

10 °C

2 °C

to

10 °C

3 °C

to

12 °C

1 °C

to

10 °C

Clouds: 98 %
Clouds: 67 %
Clouds: 58 %
Clouds: 74 %
Clouds: 37 %
Clouds: 50 %

0.08 in

of rain

0.05 in

of rain

0.01 in

of rain

0.01 in

of snow

0.01 in

of rain

0.04 in

of rain
Weather information provided by OpenWeatherMap. (CC BY-SA)
Show temperatures in degree
Share your Experience and Win
We want to know: how was the weather during your Bhutan holiday?
You can win a travel coupon of 1000 $. The price will be raffled among all submissions.

Destinations in the Vicinity …