On this page, you will find information about the climate and the best time to visit Singapore. We created climate tables and charts for the location of Singapore. These contain details about temperatures, precipitation and more.
Furthermore, we analyzed all climate data and provide a recommendation about which months are best to visit Singapore for your holiday.
Climate Overview

23 °C
to
32 °C

27 °C
to
29 °C

5.51
–
11.97 in
Show temperatures in degree
Geographical location
Table of Contents


Singapore is both a city and an island state; with an area of only
450 square miles
, it is the smallest state in the whole of Southeast Asia. The name
Singapore
is based on a legend of the Prince's encounter with a lion and consists of the terms singha (for lion) and pura (for city).
Singapore meets the region's most important shipping route to the west, the so-called Strait of Malacca, and is connected to the mainland of Malaysia via the Johor-Singapore Causeway, an artificial dam and the Second Link Bridge.
Singapore's rather flat national territory has its highest peak in the 163-metre-high Bukit Timah Hill. Singapore is one of the ten most visited cities in the world and, despite the high cost of living, continues to experience great tourist growth.
Singapore is a true multicultural country with around 5.7 million inhabitants, the correct name for its inhabitants is Singaporeans. Official languages are Chinese, English, Malay and Tamil. However, English has become the main language and is also taught primarily in schools.
About a third of the population are Buddhists, followed by Christians (about 18%), Muslims (15%) and Daoists (11%).
Climate in Singapore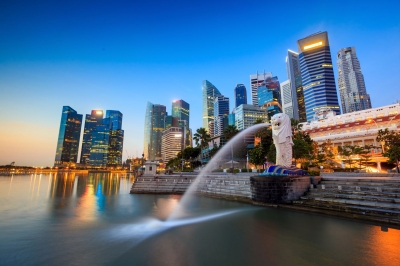 Singapore has a tropical-humid climate with high temperatures all year round. During the course of the year, the daily values range between at least
29 °C
(
December
,
January
) and around
32 °C
(
April
,
May
). There are no classical seasons, only the monsoon at the end of the calendar year provides for some cooling and more precipitation.
In general, Singapore has very high humidity and experiences regular tropical showers. However, the rain falls mainly at night or in the early morning, even during the day it is rarely permanently free of clouds. Europeans therefore often find the climate in Singapore oppressive or humid.
On the other hand, the weather rarely stands in the way of an extensive city exploration in Singapore, as the rain showers are just as quickly over as they began and no unpleasant weather extremes are to be expected.
Best Time to Visit Singapore: Overview
up to

7.8 in

of rain

of rain

Perfect

Perf.

climate in

Singapore

Perfect

Perf.

climate in

Singapore

Perfect

Perf.

climate in

Singapore

Perfect

Perf.

climate in

Singapore

Perfect

Perf.

climate in

Singapore

Perfect

Perf.

climate in

Singapore

Perfect

Perf.

climate in

Singapore

Perfect

Perf.

climate in

Singapore

up to

9.92 in

of rain

of rain

up to

12.36 in

of rain

of rain
When is the best time to travel to Singapore?
Due to the climate conditions described above, Singapore is generally good to visit all year round. One should not hang the precipitation values too high, we have already made fantastic trips to Singapore and used the city not only as a stopover.
The city's many attractions offer more than enough reason to take Singapore seriously as a completely independent travel destination. Prices for overnight stays are particularly high around Christmas and New Year's Eve, but also on Chinese New Year's Day (end of January to mid-
February
depending on the moon phase) and at Easter.
In any case, the European winter months are less suitable due to the increased precipitation, which is why we can recommend the period from
March
to
October
as the best travel season for Singapore. Nevertheless – and I would like to point this out again – we ourselves had very good travel weather in Singapore as early as January.
Climate Chart Singapore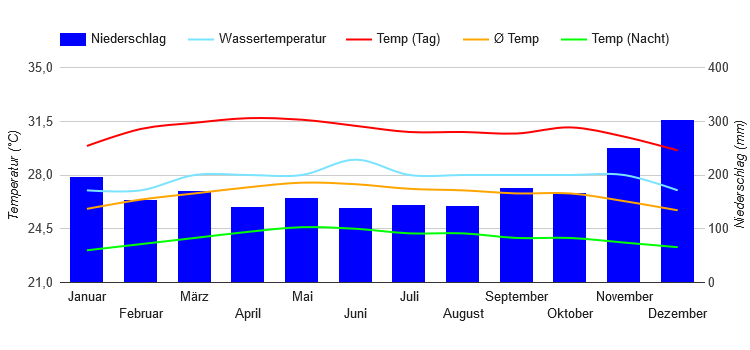 Show temperatures in degree
Source of Data: German Weather Service (Offenbach) and Wikipedia
Climate Table Singapore
In the following, you will find the climate table for Singapore, containing information about Temperatures, Precipitation, Water Temperatures, and Hours of Sunshine.
Temperatures, Precipitation, Sunshine
| | Jan | Feb | Mar | Apr | May | Jun | Jul | Aug | Sep | Oct | Nov | Dec |
| --- | --- | --- | --- | --- | --- | --- | --- | --- | --- | --- | --- | --- |
| Day Temperature | 30° | 31° | 31° | 32° | 32° | 31° | 31° | 31° | 31° | 31° | 31° | 30° |
| Night Temperature | 23° | 24° | 24° | 24° | 25° | 25° | 24° | 24° | 24° | 24° | 24° | 23° |
| Water Temperature | 27° | 27° | 28° | 28° | 28° | 29° | 28° | 28° | 28° | 28° | 28° | 27° |
| Precipitation (inch) | 7.8 | 6.06 | 6.73 | 5.55 | 6.22 | 5.51 | 5.71 | 5.63 | 6.97 | 6.57 | 9.92 | 11.97 |
| Hours of Sunshine | 6 | 7 | 6 | 6 | 6 | 6 | 6 | 6 | 5 | 5 | 4 | 4 |
Show temperatures in degree

Temperatures

The annual average temperature is

26.7 °C

.

For comparison: London

11 °C

, NYC

12 °C

, LA

17.9 °C

Warmest month:

May (

27.5 °C

)

Coldest month:

December (

25.7 °C

)

The maximum water temperature is

29 °C

. You can take a bath at these temperatures.

Months with water temperature of at least

21 °C

(adequate for beach vacation):

all months

Precipitation

Overall annual precipitation:

84.65

inch

For comparison: London

24.06 in

, NYC

41.57 in

, LA

12.01 in

Rainy season (months with more than

6.9 in

of precipitation):

January, September, November, and December

Overall precipitation in the rainy season:

36.65 in

You cannot expect snow in any month.

Sunshine

As our climate table shows,

February

is the sunniest month with an average of

6.5 hours of sunshine per day

. Over the year, there are

5.5 hours of sunshine

per day on average. For comparison: London has 4.1, NYC has 7 and LA has 8.9 hours of sunshine per day on average.
Highlights and Sights
Singapore is – in a way similar to Dubai – a city that never stands still. New, extraordinary attractions are constantly being added and shape the cityscape with astonishing architecture. First and foremost of course the luxury hotel Marina Bay Sands with its brilliant twin towers and the viewing platform to the marina.
But also the neighbouring Ferris Wheel Singapore Flyer and the laser show in the evening are more than worth a visit. The light spectacle of the new Gardens by the Bay is as popular as the Botanical Garden, a stroll along Orchard Road, a trip to the zoo (including night safari) and Sentosa Island with highlights such as the Universal Film Studios.
More information about the best things to do: Singapore
Popular Activities
Singapore: Gardens by the Bay Admission E-Ticket
Tickets
Visit Singapore's popular Flower Dome and Cloud Forest, and a range of other free attractions, with your day ticket. Marvel at the 16-story trees at this iconic Singapore destination.
Singapore: Private Welcome City Tour
Tours
Make your visit to Singapore as much about the people you meet as the places you see. Choose from 2, 3 and 4-hour options for this private introduction to the city with a local. Get tips on transportation and top things to see and do.
Singapore: Marina Bay Sands Skip-the-Ticket-Line E-Ticket
Architecture
Get 360-degree views over Singapore from the Observation Deck on the 57th floor of Marina Bay Sands. Enjoy skip-the-line entrance to the SkyPark at the iconic building.
More attractions
Singapore: Sentosa Cable Car Sky Pass
|
Singapore: Battlebox Story of Strategy and Surrender Tour
|
Singapore: Marina Bay 2-Hour Mini Segway Tour
|
Singapore Zoo Morning Ticket with Hotel Pick-Up
|
Universal Studios Singapore Ticket with Hotel Pickup
|
Singapore: National Orchid Garden Entry Tickets
|
Jewel Changi Airport: Canopy Park Admission Ticket
|
Current Weather and Forecast
Current Weather in Singapore (Station Somapah Serangoon)

broken clouds,
25.3 °C
Clouds: 75 % Wind: 4 mph NO
Air Pressure: 1010 hPa Humidity: 83 %
Last updated: 28th Feb 2021, 11:28 pm
The next days …
1st Mar 2021
2nd Mar 2021
3rd Mar 2021
4th Mar 2021
5th Mar 2021
6th Mar 2021

25 °C

to

30 °C

25 °C

to

31 °C

25 °C

to

31 °C

26 °C

to

31 °C

26 °C

to

31 °C

26 °C

to

29 °C

25 °C

to

30 °C

25 °C

to

31 °C

25 °C

to

31 °C

26 °C

to

31 °C

26 °C

to

31 °C

26 °C

to

29 °C

Clouds: 80 %
Clouds: 6 %
Clouds: 43 %
Clouds: 22 %
Clouds: 95 %
Clouds: 79 %
No Precipitation
No Precipitation

0.01 in

of rain

0.06 in

of rain

0.13 in

of rain

1.15 in

of rain
Weather information provided by OpenWeatherMap. (CC BY-SA)
Show temperatures in degree
Share your Experience and Win
We want to know: how was the weather during your Singapore holiday?
You can win a travel coupon of 1000 $. The price will be raffled among all submissions.

Destinations in the Vicinity …