On this page, you will find information about the climate and the best time to visit Angkor Wat. We created climate tables and charts for the location of Siem Reap. These contain details about temperatures, precipitation and more.
Furthermore, we analyzed all climate data and provide a recommendation about which months are best to visit Angkor Wat for your holiday.
Climate Overview

20 °C
to
36 °C

0.16
–
11.34 in
(1 – 16 Days of Rain)
Show temperatures in degree
Geographical location and general information
Table of Contents


When we speak in the vernacular of Angkor Wat, then we usually have not only the very concrete individual temple in mind, but mean the entire temple complex of Angkor in Cambodia. Indeed, Angkor Wat is by far the most famous complex of the former city of Angkor, but there are many other fascinating temples in the immediate vicinity.
The starting point for the explorations of Angkor Wat is the town of Siem Reap a few kilometres north of Lake Tonle-Sap. Visitors to Angkor Temples will find a wide range of hotels of all price categories (from hostels for 5 USD to luxury resorts of international chains) as well as an interesting old town with many colonial buildings.
Siem Reap has an international airport, which is served quite cheaply by numerous Asian airlines. Visitors to the Angkor Temples in Cambodia can usually travel with a change from Europe. There are also various bus connections from the capital Phnom Penh, which is about
160 miles
from Siem Reap.
The temples of Angkor include Angkor Wat and the impressive buildings of Angkor Thom, Bayon, Ta Prohm, Banteay Kdei and Bakong (Roluos). Usually you take your own Tuk Tuk driver in Siem Reap and explore the Angkor temples on the "Small Circuit" or "Grand Circuit" according to your own wishes.
Exploring the UNESCO World Heritage Site by bicycle is possible at least in the centre of the Angkor complex, and air-conditioned cars are also available at an extra charge. Tickets are also available in several seasons as multi-day tickets, we recommend at least one three-day ticket, which is valid on any three days of a week.
Climate: Angkor Wat / Siem Reap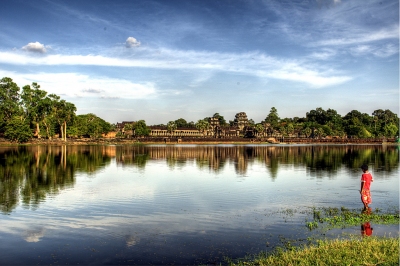 The Siem Reap region in Cambodia is characterised by a strongly tropical climate, which entails hot temperatures of
30 °C
to
36 °C
all year round. Peak values above
40 °C
are not unusual, even at night it never gets cooler than
20 °C
. The climate around Angkor Wat has a high humidity, which can increase to more than 90 percent, especially in the rainy season.
There are no seasons in Cambodia, even between the summer and winter months there are only minor differences. However, the rainy season, which can provide an average of 15 rainy days per month and sometimes considerable precipitation between
May
and
October
, has a decisive influence. The air is now unpleasantly humid and becomes partly unbearable, especially in the winding walls of Angkor.
From the beginning of
November
the dry season begins in Siem Reap and most regions of Cambodia, which offers very stable weather and 8 to 9 hours of sunshine until mid-
April
. The driest months in the Angkor region are between
December
and
February
, while it can get noticeably hotter from mid-
March
. The month of April is quite dry, but has an average day temperature of 35.
8 °C
.
Best Time to Visit Angkor Wat: Overview
Perfect

Perf.

climate in

Angkor Wat

Perfect

Perf.

climate in

Angkor Wat

hottest month

hottest month

in

Angkor Wat

Suitable

time to travel

time

Transition to Rainy Season

Transition to Rainy Season

up to

7.6 in

of rain

of rain

up to

8.62 in

of rain

of rain

up to

11.34 in

of rain

of rain

up to

8.31 in

of rain

of rain

Perfect

Perf.

climate in

Angkor Wat

Perfect

Perf.

climate in

Angkor Wat
Best time to travel Angkor Wat
The best time for Angkor at Siem Reap is during the dry season between November and the end of March. Due to the lower humidity and the lack of rain, exploring the world-famous temples is now much more pleasant. Remember, however, that this time of the year is also very popular with other holidaymakers and is therefore the high season in Angkor Wat.
This makes it all the more important to have an experienced driver and guide who knows the exact programme of the large coaches at this time of the trip. The magic word now is to drive "anti-cyclically", we ourselves could always avoid the crowd with good planning. April is also suitable as a travel season, but statistically it is the hottest month in Cambodia.
If you have no problem with increased rainfall, you can of course also consider the fringe months of May and November or even the core of the rainy season between
June
and October as travel season for Angkor Wat. Photogenic cloud formations or occasional thunderstorms can occur, but as a rule it usually remains sunny and nature now shines in bright colours.
Climate Chart Angkor Wat
Siem Reap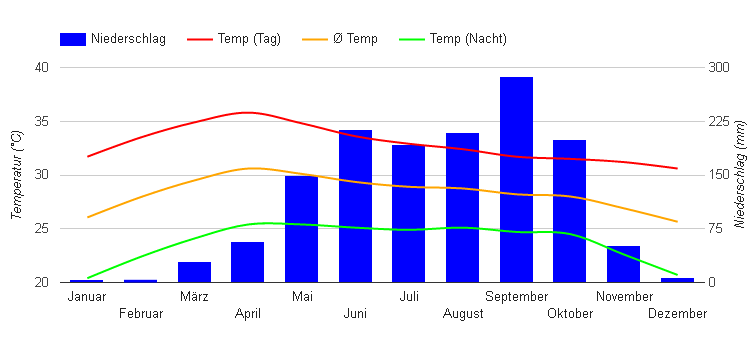 Show temperatures in degree
Source of Data: German Weather Service (Offenbach) and Wikipedia
Climate Table Angkor Wat
In the following, you will find the climate table for Angkor Wat, containing information about Temperatures, Precipitation, and Hours of Sunshine.
Temperatures, Precipitation, Sunshine in Siem Reap (Angkor Wat)
| | Jan | Feb | Mar | Apr | May | Jun | Jul | Aug | Sep | Oct | Nov | Dec |
| --- | --- | --- | --- | --- | --- | --- | --- | --- | --- | --- | --- | --- |
| Day Temperature | 32° | 34° | 35° | 36° | 35° | 34° | 33° | 32° | 32° | 32° | 31° | 31° |
| Night Temperature | 20° | 22° | 24° | 25° | 25° | 25° | 25° | 25° | 25° | 25° | 23° | 21° |
| Precipitation (inch) | 0.15 | 0.19 | 1.14 | 2.26 | 5.89 | 8.43 | 7.58 | 8.22 | 11.33 | 7.86 | 2.02 | 0.29 |
| Rainy days | 1 | 1 | 3 | 6 | 11 | 15 | 15 | 15 | 16 | 14 | 6 | 1 |
| Hours of Sunshine | 9 | 9 | 8 | 8 | 7 | 6 | 6 | 5 | 5 | 7 | 8 | 9 |
Show temperatures in degree

Temperatures

The annual average temperature in Siem Reap is

28.3 °C

.

For comparison: London

11 °C

, NYC

12 °C

, LA

17.9 °C

Warmest month:

April (

30.6 °C

)

Coldest month:

December (

25.7 °C

)

Precipitation

Overall annual precipitation:

55.35

inch

on

104 rainy days

For comparison: London

24.06 in

, NYC

41.57 in

, LA

12.01 in

Rainy season (months with more than

6.9 in

of precipitation):

June, July, August, September, and October

Overall precipitation in the rainy season:

43.42 in

You cannot expect snow in any month in Siem Reap.

Sunshine

As our climate table shows,

January

is the sunniest month with an average of

9 hours of sunshine per day

. Over the year, there are

7.3 hours of sunshine

per day on average. For comparison: London has 4.1, NYC has 7 and LA has 8.9 hours of sunshine per day on average.
Sights of Siem Reap and surroundings
One of the biggest highlights of the region around Siem Reap are without doubt the Angkor Temples, which have been declared a UNESCO World Heritage Site and have long been hidden in Cambodia's densely overgrown jungle. Unfortunately, not only the climate gnaws at the historical buildings, but also the (sometimes very careless) tourist masses make the building fabric difficult to create. Art theft is another big problem around Angkor Wat.
It is therefore not excluded that the visiting possibilities of the temples may one day have to be strictly limited in order to preserve them for future generations. Already today, many areas of supports are held together statically or are painstakingly restored by research groups. As described, the world of Angkor is not exclusively about Angkor Wat itself.
The most popular temples are also the overwhelming Bayon Temple, Ta Prohm and Angkor Thom, one of the highlights of the former Khmer Empire, captured by gigantic trees. The Cambodia Landmine Museum, Angkor Silk Farm and the Banteay Srei Butterfly Centre are among the many interesting temples. In Siem Reap, Pub Street offers many restaurants and more western entertainment every evening.
Popular Activities
Angkor Wat Full-Day Sunrise Tour
Tours
Watch the sunrise at Angkor Wat and soak up the early morning atmosphere. Spend the rest of the day temple hopping with a professional local guide, in a small group of maximum 10 participants, or choose a private tour for your group only.
Siem Reap: Full-Day Small Group Temples Tour
Tours
Discover the temples of Angkor, representing 600 years of Khmer civilization (802-1432 AD), on a full-day small group tour. You'll learn about one of Asia's greatest kingdoms from your historian guide.
Siem Reap: Phare, the Cambodian Circus
Tickets
Experience the arts culture of Cambodia at Siem Reap's 1-hour Phare Circus Show and see the famous artists of Phare Ponleu Selpak Artistic and Social Center from Battambang perform a blend of modern theater, music, dance, acrobatics, and more.
More attractions
Sunset Dinner Tour: Tonle Sap Lake Floating Village
|
From Siem Reap: 2-Day Small Group Temples Sunrise Tour
|
Angkor Wat Temple Hopping Tour with Sunset
|
Angkor Wat Full-Day Private Tour with Sunrise
|
Siem Reap 1-Day Jeep Tour to Angkor Wat and Ta Prohm
|
Angkor Wat, Angkor Thom and Bayon Temple: Private Day Tour
|
Angkor Wat: 2-Day Temples Tour with Sunset & Sunrise
|
Current Weather and Forecast
Current Weather in Siem Reap

few clouds,
33 °C
Clouds: 20 % Wind: 8 mph S
Air Pressure: 1005 hPa Humidity: 49 %
Last updated: 13th Mar 2022, 08:18 am
The next days …
6th Mar 2022
7th Mar 2022
8th Mar 2022
9th Mar 2022
10th Mar 2022
11th Mar 2022

25 °C

to

35 °C

25 °C

to

35 °C

24 °C

to

34 °C

26 °C

to

34 °C

26 °C

to

34 °C

25 °C

to

33 °C

25 °C

to

35 °C

25 °C

to

35 °C

24 °C

to

34 °C

26 °C

to

34 °C

26 °C

to

34 °C

25 °C

to

33 °C

Clouds: 88 %
Clouds: 63 %
Clouds: 71 %
Clouds: 32 %
Clouds: 99 %
Clouds: 94 %
No Precipitation

0.15 in

of rain

0.07 in

of rain

0.1 in

of rain

0 in

of rain

0.31 in

of rain
Weather information provided by OpenWeatherMap. (CC BY-SA)
Show temperatures in degree
Cambodia: Regions
Angkor Wat is part of the holiday destination Cambodia. We analyzed the climate for additional regions, in order to provide you with information about the best time to visit and the expected holiday weather:
Share your Experience and Win
We want to know: how was the weather during your Angkor Wat holiday?
You can win a travel coupon of 1000 $. The price will be raffled among all submissions.

Destinations in the Vicinity …