On this page, you will find information about the climate and the best time to visit Khao Lak. We created climate tables and charts for the location of Khao Lak. These contain details about temperatures, precipitation and more.
Furthermore, we analyzed all climate data and provide a recommendation about which months are best to visit Khao Lak for your holiday.
Climate Overview

23 °C
to
34 °C

27 °C
to
29 °C

1.18
–
13.86 in
(3 – 24 Days of Rain)
Show temperatures in degree
General and Geography
Table of Contents


Khao Lak is still a kind of insider tip for travellers to Thailand, because this comparatively quiet and first-class holiday region is often overshadowed by the tourist centre in Phuket, some
37 miles
away.
But this is by no means a disadvantage, because Khao Lak in the south of Thailand directly at the Andamanensee scores with fantastic hotel resorts, fantastic beaches and a very stylish environment. Instead of wild parties, Khao Lak offers pleasant relaxation and moments of enjoyment.
We do not want to hide the fact that Khao Lak together with the island Koh Phi Phi Phi was probably the most severely affected region of the tsunami in 2004. The endless diligence and courage of the locals as well as the great international support have not only resurrected Khao Lak. On the contrary, Khao Lak shines much more beautifully today than before the extensive destruction.
There are no more impairments for holiday-makers, the region and the fantastic landscape around it have recovered perfectly. Extensive protective measures and early warning systems also ensure that a comparable catastrophe is no longer possible in the future.
The journey to Khao Lak is via Phuket airport. The transfer time (by bus, van or taxi) is about 1.5 to 2 hours over well-developed roads.
Climate in Khao Lak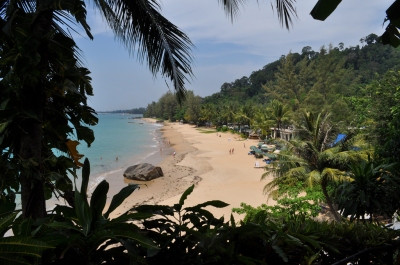 Khao Lak is located in southern Thailand and therefore has a humid tropical climate. This is characterised by high temperatures all year round with only very small fluctuations. There are no classical seasons in Thailand, the region Khao Lak is rather marked by the dry season and the rainy season.
With the change of the monsoon in the course of
April
the humidity rises strongly and starts a distinct rainy season in Khao Lak until about the middle of
November
. It often clears up already at the end of
October
, but statistically October even registers the highest rainfall of the whole year.
The dry season in Khao Lak not only means a significant increase in the hours of sunshine, but also goes hand in hand with significantly less humidity. The climate in the region is then felt as particularly pleasant and is suitable for us Europeans particularly well for a Thailand vacation.
Best Time to Visit Khao Lak: Overview
Perfect

Perf.

climate in

Khao Lak

Perfect

Perf.

climate in

Khao Lak

Perfect

Perf.

climate in

Khao Lak

usually Pleasant, but increasingly wet

mostly good weather, but increasingly wet.

End of Rainy Season

End of Rainy Season

better weather

better weather

Perfect

Perf.

climate in

Khao Lak
When is the best time to go to Khao Lak?
As described, the dry season in the region begins in November, while the heavy rains arrive at the beginning of
May
. The best time to visit Khao Lak is therefore from mid-November to the end of April. The climatic conditions are particularly ideal in the travel season between Christmas and Easter.
Thailand is particularly in demand as a holiday destination during the European Christmas holidays. During this high season the prices for flights and hotels are therefore particularly high. Those who are not dependent on school holidays will find the best weather conditions at significantly lower prices at the beginning of
March
.
Climate Chart Khao Lak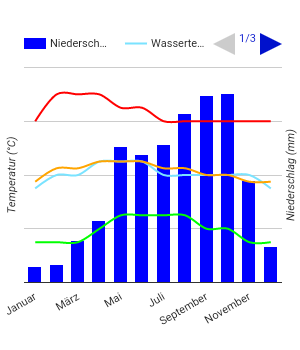 Show temperatures in degree
Source of Data: German Weather Service (Offenbach) and Wikipedia
Climate Table Khao Lak
In the following, you will find the climate table for Khao Lak, containing information about Temperatures, Precipitation, Water Temperatures, and Hours of Sunshine.
Temperatures, Precipitation, Sunshine
| | Jan | Feb | Mar | Apr | May | Jun | Jul | Aug | Sep | Oct | Nov | Dec |
| --- | --- | --- | --- | --- | --- | --- | --- | --- | --- | --- | --- | --- |
| Day Temperature | 32° | 34° | 34° | 34° | 33° | 33° | 32° | 32° | 32° | 32° | 32° | 32° |
| Night Temperature | 23° | 23° | 23° | 24° | 25° | 25° | 25° | 25° | 24° | 24° | 23° | 23° |
| Water Temperature | 27° | 28° | 28° | 29° | 29° | 29° | 28° | 28° | 28° | 28° | 28° | 27° |
| Precipitation (inch) | 1.18 | 1.3 | 3.11 | 4.53 | 9.96 | 9.37 | 10.08 | 12.36 | 13.66 | 13.86 | 7.44 | 2.64 |
| Rainy days | 3 | 5 | 7 | 14 | 24 | 21 | 21 | 22 | 23 | 23 | 16 | 8 |
| Hours of Sunshine | 9 | 10 | 9 | 8 | 6 | 5 | 6 | 6 | 5 | 6 | 7 | 8 |
Show temperatures in degree

Temperatures

The annual average temperature is

28.3 °C

.

For comparison: London

11 °C

, NYC

12 °C

, LA

17.9 °C

Warmest month:

April (

29 °C

)

Coldest month:

January (

27.5 °C

)

The maximum water temperature is

29 °C

. You can take a bath at these temperatures.

Months with water temperature of at least

21 °C

(adequate for beach vacation):

all months

Precipitation

Overall annual precipitation:

89.49

inch

on

187 rainy days

For comparison: London

24.06 in

, NYC

41.57 in

, LA

12.01 in

Rainy season (months with more than

6.9 in

of precipitation):

May, June, July, August, September, October, and November

Overall precipitation in the rainy season:

76.73 in

You cannot expect snow in any month.

Sunshine

As our climate table shows,

February

is the sunniest month with an average of

10 hours of sunshine per day

. Over the year, there are

7.1 hours of sunshine

per day on average. For comparison: London has 4.1, NYC has 7 and LA has 8.9 hours of sunshine per day on average.
Sights, Beaches, Activities
In contrast to the often cloudy Phuket, Khao Lak clearly focuses on relaxation, recreation and enjoyment. The destination is therefore an ideal domicile for couples and families alike. Thanks to the great excursion possibilities, the region offers the best conditions for young and old.
One should know that Khao Lak is not a single place in the classical sense, but rather the name of a whole series of small villages along the beautiful sandy beach. In the whole area there are not only great resorts, but also small boutiques, shops and numerous restaurants.
The combination of fine sandy beaches and tropical rainforest is dreamlike. The neighbouring Khao Lak-Lamru National Park is definitely worth a trip, it entices with spectacular nature and a great waterfall. The same applies to the Khao Sok National Park further inland.
Khao Lak is also a perfect starting point for divers and snorkellers: the paradisiacal Similan and Surin Islands are easily accessible as a day trip. Also three- to five-day diving safaris can be booked on site at short notice and give an insight into spectacular underwater worlds.
Popular Activities
Khao Sok: Full-Day Bamboo Rafting and Elephant Bathing
Tours
Explore the beauty of Khao Sok National Park with an amazing elephant bathing experience in the green jungle before bamboo rafting along the river with a unique coffee break on the bank.
Khao Lak: Phang Nga Bay & James Bond Island by Longtail Boat
Tours
Cruise the amazing Phang Nga Bay by traditional longtail boat on a full-day tour from Khao Lak. Discover the unique karst formations and green mangrove forests, and visit James Bond Island and Suwan Khuha Cave Temple.
Khao Lak: Rafting, Elephant Bathing & Sea Turtle Center Tour
Tours
Enjoy a day of river rafting, visiting an elephant camp and exploring a tropical rainforest. Learn about sea turtles at a conservation center.
More attractions
Khao Lak: Raft Expedition & Sea Turtle Conservation Center
|
Full-Day Temple Tour Including Dragon Cave from Khao Lak
|
Khao Lak: Sri Phang Nga Canoe and Tam Nang Waterfall Tour
|
From Khao Lak: Full-Day Snorkeling in the Surin Islands
|
From Khao Lak: Khao Sok National Park Half-Day Tour
|
Phuket: White Water Rafting, Waterfall Trek, and ATV Ride
|
Temple Tour & Old Town
|
Current Weather and Forecast
Current Weather in Khao Lak (Station Kapong)

overcast clouds,
29.6 °C
Clouds: 85 % Wind: 13 mph W
Air Pressure: 1007 hPa Humidity: 68 %
Last updated: 13th Mar 2022, 06:44 am
The next days …
6th Mar 2022
7th Mar 2022
8th Mar 2022
9th Mar 2022
10th Mar 2022
11th Mar 2022

25 °C

to

29 °C

25 °C

to

30 °C

25 °C

to

30 °C

24 °C

to

31 °C

24 °C

to

29 °C

25 °C

to

29 °C

25 °C

to

29 °C

25 °C

to

30 °C

25 °C

to

30 °C

24 °C

to

31 °C

24 °C

to

29 °C

25 °C

to

29 °C

Clouds: 32 %
Clouds: 94 %
Clouds: 94 %
Clouds: 98 %
Clouds: 71 %
Clouds: 95 %

0.33 in

of rain

0.03 in

of rain

0.3 in

of rain

0.04 in

of rain

0.13 in

of rain

0.11 in

of rain
Weather information provided by OpenWeatherMap. (CC BY-SA)
Show temperatures in degree
Thailand: Regions
Khao Lak is part of the holiday destination Thailand. We analyzed the climate for additional regions, in order to provide you with information about the best time to visit and the expected holiday weather:
Share your Experience and Win
We want to know: how was the weather during your Khao Lak holiday?
You can win a travel coupon of 1000 $. The price will be raffled among all submissions.

Khao Lak: Holiday paradise near Phuket
Destinations in the Vicinity …