On this page, you will find information about the climate and the best time to visit Pattaya. We created climate tables and charts for the location of Pattaya. These contain details about temperatures, precipitation and more.
Furthermore, we analyzed all climate data and provide a recommendation about which months are best to visit Pattaya for your holiday.
Climate Overview

22 °C
to
33 °C

27 °C
to
30 °C

0.24
–
9.57 in
(1 – 19 Days of Rain)
Show temperatures in degree
Geographical location
Table of Contents


Pattaya is a popular holiday resort in the Thai province of Chon Buri. The city is located on the east coast of the Gulf of Thailand and is about
81 miles
from Bangkok. A highway leads from Pattaya directly to the capital.
Pattaya is officially home to about 100,000 people, but the actual number is estimated to be up to four times this number, as many emigrants have also never officially registered with the government or are still resident in Europe.
Directly opposite the city centre is the 15 kilometre long beach of Pattaya, on whose section Pattaya Klang most hotels and clubs are located. Jomtien Beach in the north of Pattaya is a popular holiday region also for families.
In principle, Pattaya is considered a destination where something is on offer at any time of the day or night. The island of Ko Lan off the coast, which can be reached by boat or ferry in a few minutes, is quieter.
Climate in Pattaya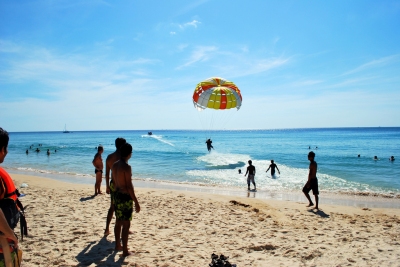 The climate in Pattaya is tropical and monsoonal, the temperatures fluctuate only minimally throughout the year. On average, the daytime temperature is around
31 °C
. Although there are no classical seasons in Thailand, there are three different climate phases with very different amounts of precipitation in the Pattaya region.
November
to
February
are hot and dry with little rain, the humidity on the coast around Pattaya is only around 50 percent.
March
and
April
are transitional months. From
May
to
August
, however, it gets very hot, humid air and regular rainfall cause sultriness. The third phase is the"real rainy season" in Pattaya with an average humidity of 90 percent and enormous rainfall in
September
and
October
.
Best Time to Visit Pattaya: Overview
Perfect

Perf.

climate in

Pattaya

Perfect

Perf.

climate in

Pattaya

Very hot (average up to

29 °C

)

Very hot (average up to

31 °C

)

Very hot (average up to

29 °C

)

Very hot (average up to

29 °C

)

Very hot (average up to

29 °C

)

Very hot (average up to

29 °C

)

Very hot (average up to

28 °C

)

Up to

8.55 in

of rain

of rain

Up to

9.55 in

of rain

of rain

Perfect

Perf.

climate in

Pattaya

Perfect

Perf.

climate in

Pattaya
When to go to Pattaya?
In general it is very hot in Pattaya all year round, even at night it stays very warm with
22 °C
to
26 °C
. From November to February is the main tourist season in the region, especially around Christmas and the beginning of
January
the hotels are well filled. Pattaya and Jomtien Beach peak in the winter holidays, prices are lower before and after.
In general we recommend the months November to February as the best travel season in Pattaya, but also March and April are worth a recommendation with rather low rainfall and pleasant weather. Since most Europeans have left by the end of February, the time before Easter is a good alternative. As it gets noticeably hotter again in March and April, however, we do not recommend the months as the absolutely best travel time in the region.
The rainy season from May to October is very volatile, heavy rains are more frequent and many shops in the tourist centres are now closing. Mosquitoes can also occur more frequently. All in all, this off-season travel season is extremely inexpensive for good reason. Don't let yourself be tempted by the often conspicuous bargains, but consider whether you really want to take the weather risk on a long-haul trip.
Climate Chart Pattaya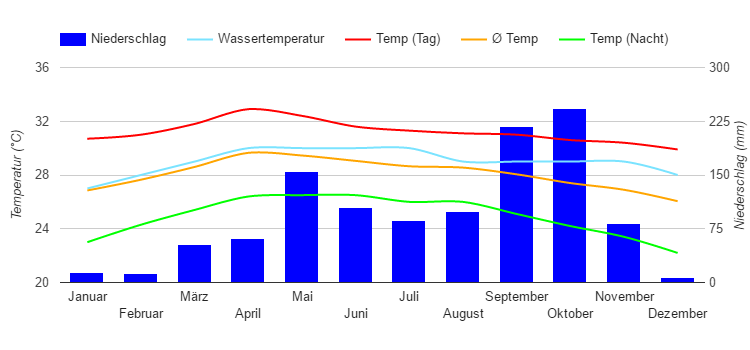 Show temperatures in degree
Source of Data: German Weather Service (Offenbach) and Wikipedia
Climate Table Pattaya
In the following, you will find the climate table for Pattaya, containing information about Temperatures, Precipitation, and Water Temperatures.
Temperatures, Precipitation
| | Jan | Feb | Mar | Apr | May | Jun | Jul | Aug | Sep | Oct | Nov | Dec |
| --- | --- | --- | --- | --- | --- | --- | --- | --- | --- | --- | --- | --- |
| Day Temperature | 31° | 31° | 32° | 33° | 32° | 32° | 31° | 31° | 31° | 31° | 30° | 30° |
| Night Temperature | 23° | 24° | 25° | 26° | 27° | 27° | 26° | 26° | 25° | 24° | 23° | 22° |
| Water Temperature | 27° | 28° | 29° | 30° | 30° | 30° | 30° | 29° | 29° | 29° | 29° | 28° |
| Precipitation (inch) | 0.54 | 0.47 | 2.07 | 2.43 | 6.09 | 4.13 | 3.43 | 3.88 | 8.55 | 9.55 | 3.26 | 0.25 |
| Rainy days | 2 | 2 | 5 | 6 | 12 | 12 | 12 | 13 | 17 | 19 | 7 | 1 |
Show temperatures in degree

Temperatures

The annual average temperature is

28.1 °C

.

For comparison: London

11 °C

, NYC

12 °C

, LA

17.9 °C

Warmest month:

April (

29.7 °C

)

Coldest month:

December (

26.1 °C

)

The maximum water temperature is

30 °C

. You can take a bath at these temperatures.

Months with water temperature of at least

21 °C

(adequate for beach vacation):

all months

Precipitation

Overall annual precipitation:

44.64

inch

on

108 rainy days

For comparison: London

24.06 in

, NYC

41.57 in

, LA

12.01 in

Rainy season (months with more than

6.9 in

of precipitation):

September, and October

Overall precipitation in the rainy season:

18.1 in

You cannot expect snow in any month.
Highlights and Attractions
Besides the popular beaches of Pattaya Beach and Jomtien Beach, the offshore islands of Ko Lan and Ko Phai are popular seaside resorts in Pattaya with crystal clear waters and great coral reefs. Boat trips as well as diving and snorkeling tours are offered in many places as excursions. Sights in Pattaya are the Sanctuary of Truth and the statue Big Buddha on the highest peak of the city.
Activities such as petting tigers in special parks are loved by many tourists and actively promoted on site. However, we ask you to consider the housing conditions and to agree with your own conscience whether you would like to support the confinement of wild animals for tourist enjoyment. Even if the operators vehemently claim that they are injured / orphaned animals and that the farm serves their welfare.
More information about the best things to do: Thailand
Popular Activities
Pattaya: Ethical Elephant Sanctuary Interactive Tour
Nature & Adventure
A half-day package offers visitors an opportunity to spend quality time with elephants at an ethically run elephant jungle sanctuary. Gain insight into their history and behavior and create lifelong memories of your time with the animals.
Pattaya: Art in Paradise 3D Museum Discounted Ticket
Art & Museums
Visit Art in Paradise in Pattaya, a hands-on museum with dioramas, dinosaurs, a 3D safari, and other exhibits where you can pose creatively.
Pattaya: Ripley's Believe It or Not! Combo Admission Ticket
Art & Museums
Ripley's Believe It or Not! Pattaya is the home to world class attractions and museums, which comprises of 7 attractions all in one place. You can select to choose to visit your favorite 3, 5 or 7 and have a great time with your loved ones.
More attractions
Pattaya: 2-Hour ATV Off-Road Adventure Tour with Meal
|
Pattaya: Private Car or Minibus Charter with Driver
|
Pattaya: 2-Hour Advanced ATV Off-Road Tour with Meal
|
Pattaya: 3-Hour Guided Enduro Tour with Meal
|
Pattaya: Frost Magical Ice of Siam Admission Ticket
|
Bangkok: Yunomori Sukhumvit Herbal Compression Spa Treatment
|
Pattaya: Tour to the Big Buddha Temple with Massage and Yoga
|
Current Weather and Forecast
Current Weather in Pattaya

few clouds,
29.7 °C
Clouds: 20 % Wind: 7 mph S
Air Pressure: 1009 hPa Humidity: 83 %
Last updated: 15th Apr 2021, 02:12 pm
The next days …
16th Apr 2021
17th Apr 2021
18th Apr 2021
19th Apr 2021
20th Apr 2021
21st Apr 2021

28 °C

to

31 °C

28 °C

to

31 °C

27 °C

to

29 °C

26 °C

to

29 °C

27 °C

to

30 °C

27 °C

to

30 °C

28 °C

to

31 °C

28 °C

to

31 °C

27 °C

to

29 °C

26 °C

to

29 °C

27 °C

to

30 °C

27 °C

to

30 °C

Clouds: 95 %
Clouds: 83 %
Clouds: 100 %
Clouds: 100 %
Clouds: 79 %
Clouds: 100 %

0.02 in

of rain

0.11 in

of rain

0.46 in

of rain

0.62 in

of rain

0.32 in

of rain

0.36 in

of rain
Weather information provided by OpenWeatherMap. (CC BY-SA)
Show temperatures in degree
Thailand: Regions
Pattaya is part of the holiday destination Thailand. We analyzed the climate for additional regions, in order to provide you with information about the best time to visit and the expected holiday weather:
Share your Experience and Win
We want to know: how was the weather during your Pattaya holiday?
You can win a travel coupon of 1000 $. The price will be raffled among all submissions.

Pattaya: Between nightlife and beach
Destinations in the Vicinity …