On this page, you will find information about the climate and the best time to visit Serengeti. We created climate tables and charts for the location of Seronera. These contain details about temperatures, precipitation and more.
Furthermore, we analyzed all climate data and provide a recommendation about which months are best to visit Serengeti for your holiday.
Climate Overview

14 °C
to
29 °C

0.51
–
5.47 in
(3 – 14 Days of Rain)
Show temperatures in degree
General & Geography
Table of Contents


The Serengeti is an animal-rich savannah area in northern Tanzania and is usually described by experts in the same breath as the Okavango Delta as the best safari area in Africa.
Covering an area of more than
19000 square miles
, the reserve extends to the south of Kenya, where it merges directly into the Masai Mara in a common ecosystem.
The vast, almost treeless steppe became well known to a broad public, not least through the German naturalist Professor Dr. Grzimek and his documentary "Serengeti must not die".
The seemingly endless grassy plains are the scene of one of the greatest natural spectacles on earth when up to two million wildebeests and more than 250,000 zebras and gazelles migrate every year.
This
Great Migration
in search of nutrient-rich grasslands culminates between
December
and
February
with the mass births of young animals mostly in the southern corridor of the Serengeti. A true feast for countless lions, leopards, cheetahs and many other predators!
The Serengeti ecosystem, which offers unforgettable wildlife encounters all year round, includes smaller protected areas such as Mazwa, Grumeti and Ikorongo as well as the neighbouring Ngorongoro Conservation Area.
The world-famous Ngorongoro Crater is part of the Serengeti National Park and is home to the highest predator density on the African continent. According to the latest census, around 3000 lions can be found throughout the Serengeti.
Most safaris along the
Northern Circuit
in Tanzania start in the city of Arusha, which can be reached via Kilimanjaro International Airport (JRO) via European hubs such as Amsterdam, Paris or Frankfurt.
Climate in the Serengeti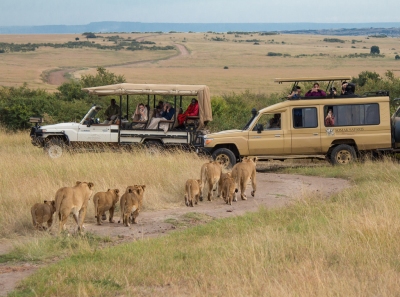 In the Serengeti a tropical climate prevails, there are only slight temperature fluctuations during the year. In the warmest month of
October
, an average of
29 °C
is measured in the shade during the day, and 25.
5 °C
in the coolest month of
July
. At night the temperatures are between
14 °C
to
17 °C
.
There are no classical four seasons in Tanzania, rather the dry season is distinguished from the two rainy seasons in the north of the country. The great rainy season starts around mid-
March
and lasts until around the end of
May
. A smaller, weaker rainy season runs from the beginning of
November
to mid-December.
Rainfall is the absolute exception, especially between
June
and October. As the dry season continues, the landscape becomes increasingly barren and the vast plains of the Serengeti are dust-dry in
September
and October. The animals then gather at the few remaining waterholes.
Best Time to Visit Serengeti: Overview
best conditions for safari, birth of wildebeest babies

Perfect for Safaris, wildebeest births

best conditions for safari, herds in the south

Perfect for Safaris, herds in the south

End of

Dry Season

Dry Season

still very good conditions, herds migrate to the west

still very good conditions, herds migrate towards west

difficult for Safari, some lodges closed

difficult for Safari, some lodges closed

difficult for Safari, some lodges closed

difficult for Safari, some lodges closed

ideal for Great Migration in the Western Corridor

Perf. for herds in the west

Herds migrate to the north towards Kenya

herds in the north

Herds reach border of Masai Mara

herds migrate towards Masai Mara

Scenery very dry, ideal for Safari

dry, sparse and hence perfect for Safari

dust-dry, animals at rare watering places

very dry, animals at rare watering places

Small

Rainy Season

Rainy Season

Safaris still possible, minor limitations

minor limitations

Small

Rainy Season

Rainy Season

yet mostly perfect conditions

yet mostly perfect conditions
When is the best time to travel to the Serengeti?
While the small rainy season in November and December brings only minor restrictions, during the big rainy season from mid-March to the end of May many camps in the Serengeti are even closed or advertise with strong
Green Season
discounts. Wildlife observation is now much more difficult and some areas are impassable.
The best time for safaris in the Serengeti is between mid-December to mid-March and June to the end of October. Particularly many young animals (both wildebeests and zebras as well as numerous cats) can be found in the southern corridor at the beginning of the year, especially in the months of
January
and February.
The African winter from June to
August
is particularly popular when the herds in the Western Corridor of the Serengeti try to cross the Grumeti River, where countless crocodiles lurk for a nutritious catch. The temperatures are now a little cooler, but the air is very clear and the conditions are excellent.
Climate Chart Serengeti
Seronera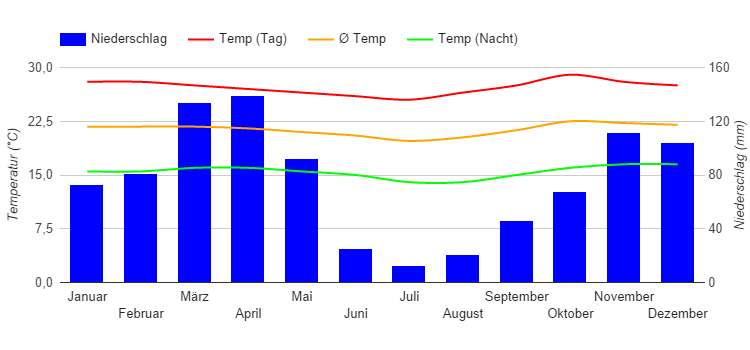 Show temperatures in degree
Source of Data: German Weather Service (Offenbach) and Wikipedia
Climate Table Serengeti
In the following, you will find the climate table for Serengeti, containing information about Temperatures, Precipitation, and Hours of Sunshine.
Temperatures, Precipitation, Sunshine in Seronera (Serengeti)
| | Jan | Feb | Mar | Apr | May | Jun | Jul | Aug | Sep | Oct | Nov | Dec |
| --- | --- | --- | --- | --- | --- | --- | --- | --- | --- | --- | --- | --- |
| Day Temperature | 28° | 28° | 28° | 27° | 27° | 26° | 26° | 27° | 28° | 29° | 28° | 28° |
| Night Temperature | 16° | 16° | 16° | 16° | 16° | 15° | 14° | 14° | 15° | 16° | 17° | 17° |
| Precipitation (inch) | 2.87 | 3.19 | 5.28 | 5.47 | 3.62 | 0.98 | 0.51 | 0.83 | 1.81 | 2.68 | 4.41 | 4.09 |
| Rainy days | 6 | 7 | 12 | 14 | 10 | 5 | 3 | 4 | 6 | 8 | 11 | 10 |
| Hours of Sunshine | 8 | 8 | 7 | 6 | 7 | 7 | 7 | 8 | 8 | 7 | 7 | 8 |
Show temperatures in degree

Temperatures

The annual average temperature in Seronera is

21.4 °C

.

For comparison: London

11 °C

, NYC

12 °C

, LA

17.9 °C

Warmest month:

October (

22.5 °C

)

Coldest month:

July (

19.8 °C

)

Precipitation

Overall annual precipitation:

35.75

inch

on

96 rainy days

For comparison: London

24.06 in

, NYC

41.57 in

, LA

12.01 in

There is no rainy season (months with more than

6.9 in

of precipitation).

You cannot expect snow in any month in Seronera.

Sunshine

As our climate table shows,

January

is the sunniest month with an average of

8 hours of sunshine per day

. Over the year, there are

7.3 hours of sunshine

per day on average. For comparison: London has 4.1, NYC has 7 and LA has 8.9 hours of sunshine per day on average.
What is the best way to combine the Serengeti with other areas?
The Serengeti is ideally situated for a combination on the so-called Northern Circuit, probably the most spectacular safari round trip of your life. From Arusha, a visit to Lake Manyara National Park and, during the African winter (elephant migration), a detour to Tarangire is worthwhile.
Afterwards we cross the world-famous and breathtaking Ngorongoro Crater into the southern corridor of the Serengeti. Especially in spring the herds stay here and give birth to their offspring. The central Serengeti around Seronero (also accessible by small plane) should not be missing on your journey.
A visit to the north, especially the adjacent Grumeti Reserve, can also be a unique addition to your safari, as special rights (e.g. for off-road and night safaris) also apply in private concessions. Possible extensions could be climbing Kilimanjaro or relaxing days in Zanzibar.
More information about the best things to do: Tanzania
Popular Activities
3-hour Zanzibar Spice Tour
Meet the Locals
Roam through Zanzibar's spice plantations led by a professional guide. Zanzibar is known as the Spice Island; famous for its cloves, vanilla, nutmeg, and cardamom. Learn about the islands impact in the colonial world, and how the spices are grown today.
Relaxing 2-Hour Dhow Sunset Cruise
Sailing Trips & Boat Tours
Escape the bustle of the city and sail through the clear coastal waters of Tanzania on this magical sunset cruise from Stone Town. On this 2-hour cruise, just relax, enjoy the warm breeze, and take in the beauty of the African shoreline.
Zesty Zanzibar: Food Tour and Cooking Class
Walking Tours
Go beyond the shaker to a spice farm in Zanzibar, and sample the best that the "Spice Island" has to offer. Explore a nearby village, and then head to the home of a local cassava farmer for a Swahili cooking lesson and lunch of freshly-farmed produce.
More attractions
Zanzibar 3-Hour Green Panorama Tour
|
Music, Dance, Art! Swahili Culture Trip on Zanzibar Island
|
Slave Routes of Zanzibar – 3-Hour Guided Tour
|
3-Hour Stone Town Tour
|
Prison Island 3-Hour Tour
|
Sultan Panorama Tour with Lunch
|
Zanzibar City: 3-Hour Princess Salme Tour
|
Current Weather and Forecast
Current Weather in Seronera (Station Mugumu)

broken clouds,
19.4 °C
Clouds: 84 % Wind: 2 mph ONO
Air Pressure: 1013.86 hPa Humidity: 79 %
Last updated: 24th Jun 2019, 11:28 pm
The next days …
25th Jun 2019
26th Jun 2019
27th Jun 2019
28th Jun 2019
29th Jun 2019
30th Jun 2019

19 °C

to

27 °C

17 °C

to

25 °C

17 °C

to

20 °C

15 °C

to

27 °C

15 °C

to

30 °C

15 °C

to

29 °C

19 °C

to

27 °C

17 °C

to

25 °C

17 °C

to

20 °C

15 °C

to

27 °C

15 °C

to

30 °C

15 °C

to

29 °C

Clouds: 45 %
Clouds: 84 %
Clouds: 100 %
Clouds: 74 %
Clouds: 0 %
Clouds: 8 %

0.02 in

of rain

0.11 in

of rain

0.03 in

of rain
No Precipitation
No Precipitation
No Precipitation
Weather information provided by OpenWeatherMap. (CC BY-SA)
Show temperatures in degree
Tanzania: Regions
Serengeti is part of the holiday destination Tanzania. We analyzed the climate for additional regions, in order to provide you with information about the best time to visit and the expected holiday weather:
Share your Experience and Win
We want to know: how was the weather during your Serengeti holiday?
You can win a travel coupon of 1000 $. The price will be raffled among all submissions.

Destinations in the Vicinity …