On this page, you will find information about the climate and the best time to visit Sydney. We created climate tables and charts for the location of Sydney. These contain details about temperatures, precipitation and more.
Furthermore, we analyzed all climate data and provide a recommendation about which months are best to visit Sydney for your holiday.
Climate Overview

9 °C
to
27 °C

19 °C
to
24 °C

2.72
–
5.39 in
(6 – 10 Days of Rain)
Show temperatures in degree
Geographical location
Table of Contents


Sydney is located in the southeast of Australia and is the capital of the state of New South Wales. According to the latest calculations, about 4.6 million inhabitants live in the city area, making Sydney the largest city in the country, ahead of Melbourne, Brisbane and Cairns.
Sydney lies directly on the Pacific Ocean and has Port Jackson (also called Sydney Harbour), the largest natural harbour in the world, where the world-famous Sydney Opera House is located alongside the Harbour Bridge. The entire metropolitan region of Sydney covers an area of more than
7500 square miles
(in comparison: Berlin has around
560 miles
²) and is divided into 40 local administrative districts.
The city stretches from southern Botany Bay to the Hawkesbury River in the north, from the Pacific to the edge of the Blue Mountains in the west. The hill plateau Hornsby to the north of Sydney Harbour is striking, while the landscape in the south is rather flat. The parks and beaches near the city centre are extraordinary, especially the popular surfing beach Bondi Beach.
Climate in Sydney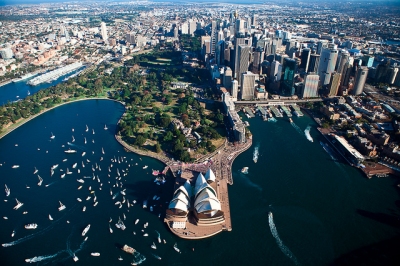 The weather in Sydney is determined by distinct seasons, which run exactly opposite to Europe. So the Australian summer is in the European winter months and vice versa. Sydney has a subtropical climate, which is more moderate due to the immediate proximity to the Pacific Ocean and therefore usually bearable even in high summer.
The months after the turn of the year are particularly warm,
January
and
February
usually have day temperatures between
26 °C
to
28 °C
in the shade, while even at night approximately
20 °C
are usual. In
July
, the winter in Sydney reaches its peak, but during the day average values of around
13 °C
are still reached. Frost is an absolutely exceptional phenomenon and is only possible at altitudes.
The historic lowest temperature in Sydney is
2 °C
, rarely does the thermometer drop below the
5 °C
threshold in winter. However, the region is quite humid with over
47.24 in
of rain during the year. Most precipitation falls between
April
and
June
, the driest time is in
September
. Snow is very rare in Sydney, because of the temperatures it doesn't stay there anyway.
Best Time to Visit Sydney: Overview
Perfect

Perf.

climate in

Sydney

Perfect

Perf.

climate in

Sydney

Perfect

Perf.

climate in

Sydney

Perfect

Perf.

climate in

Sydney

Temperatures

Temp.

up to

21 °C

Temperatures

Temp.

up to

18 °C

Temperatures

Temp.

up to

17 °C

Temperatures

Temp.

up to

19 °C

mostly Pleasant climate

mostly Pleasant climate

Perfect

Perf.

climate in

Sydney

Perfect

Perf.

climate in

Sydney
When to visit Sydney?
Due to the pleasant climate, the high temperatures and a water temperature between
21 °C
to
25 °C
, the holiday months
November
to mid-April are recommended as the best travel season in Sydney. Especially from Christmas to the end of January, many locals travel to the surrounding beaches such as Bondi Beach, Palm Beach or Manly Beach. It is a sometimes wuzzy, but always friendly and cordial atmosphere. Barbecuing in the parks, tanned bodies now present themselves under the Australian sun and the metropolis shows its most beautiful side.
But the rest of the year is also suitable as a travel season, especially the autumn from mid-
March
to the end of
May
is still mild and the humidity is now pleasantly low. At this time of year, the national parks are particularly popular, and there are also ideal conditions for hiking. A visit to the Sydney Mardi Gras or the colourful Sydney Festival in March are also among the highlights.
The best time for whale watching on the coast off Sydney is between May and November, i.e. during the Australian winter. Tours start right in the harbour on Circular Quay, and the National Rugby League (NRL) is now in full swing in Australia, providing plenty of entertainment. With around 340 sunny days, Sydney is one of the sunniest cities in the world and also wonderful to visit in winter.
Climate Chart Sydney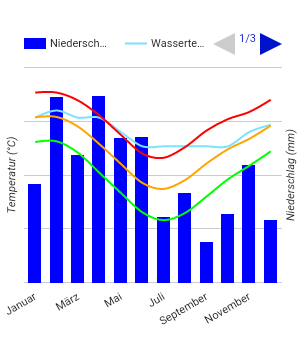 Show temperatures in degree
Source of Data: German Weather Service (Offenbach) and Wikipedia
Climate Table Sydney
In the following, you will find the climate table for Sydney, containing information about Temperatures, Precipitation, Water Temperatures, and Hours of Sunshine.
Temperatures, Precipitation, Sunshine
| | Jan | Feb | Mar | Apr | May | Jun | Jul | Aug | Sep | Oct | Nov | Dec |
| --- | --- | --- | --- | --- | --- | --- | --- | --- | --- | --- | --- | --- |
| Day Temperature | 27° | 27° | 25° | 23° | 21° | 18° | 17° | 19° | 21° | 23° | 24° | 26° |
| Night Temperature | 20° | 20° | 18° | 15° | 13° | 10° | 9° | 10° | 12° | 14° | 16° | 18° |
| Water Temperature | 23° | 24° | 23° | 23° | 21° | 19° | 19° | 19° | 19° | 19° | 21° | 22° |
| Precipitation (inch) | 3.78 | 5.38 | 4.31 | 5.39 | 4.63 | 4.64 | 3.18 | 3.61 | 2.72 | 3.24 | 4.13 | 3.13 |
| Rainy days | 9 | 9 | 10 | 9 | 10 | 8 | 8 | 6 | 6 | 8 | 9 | 8 |
| Hours of Sunshine | 8 | 7 | 7 | 6 | 6 | 6 | 6 | 8 | 8 | 8 | 8 | 8 |
Show temperatures in degree

Temperatures

The annual average temperature is

18.5 °C

.

For comparison: London

11 °C

, NYC

12 °C

, LA

17.9 °C

Warmest month:

January (

23.1 °C

)

Coldest month:

July (

13.1 °C

)

The maximum water temperature is

24 °C

. You can take a bath at these temperatures.

Months with water temperature of at least

17 °C

(Limited bathing is possible):

all months

Months with water temperature of at least

21 °C

(adequate for beach vacation):

January, February, March, April, May, November, and December

Precipitation

Overall annual precipitation:

48.13

inch

on

100 rainy days

For comparison: London

24.06 in

, NYC

41.57 in

, LA

12.01 in

There is no rainy season (months with more than

6.9 in

of precipitation).

You cannot expect snow in any month.

Sunshine

As our climate table shows,

November

is the sunniest month with an average of

8.2 hours of sunshine per day

. Over the year, there are

7.1 hours of sunshine

per day on average. For comparison: London has 4.1, NYC has 7 and LA has 8.9 hours of sunshine per day on average.
Highlights and Attractions
World-famous and one of Sydney's absolute highlights is the Sydney Opera House. Since 2007, the building designed by Danish architect Jorn Utzon has been on the UNESCO World Heritage List. The 495 metre long Harbour Bridge creates a traffic connection across the city harbour. It is run over by more than 150,000 cars every day. Several providers have guided tours over the steel arches of the bridge in their programme – an experience with a real adrenaline rush!
The Australian Museum is Australia's largest natural history museum, where, among other things, the history of the Aborigines is exhibited. Other attractions in Sydney include the cozy beach town of Manly, the Royal Botanic Gardens, the Paddy's Market stands and an excursion to the neighbouring Blue Mountains. If you want to turn night into day, there are numerous party hotspots in the Kings Cross nightlife district.
Popular Activities
Sydney: Opera House Guided Tour with Entrance Ticket
Tours
Discover the stories, history, and magic of Sydney Opera House with a guided tour. Step beneath the world-famous sails and explore the building that brings to life over 1800 performances each year.
From Sydney: Blue Mountains Full-Day Trip with Cruise
Tours
Discover the natural beauty of the Blue Mountains on a full-day tour that takes you to Featherdale Wildlife Park. See a variety of native Australian animals, stop at Echo Point for panoramic views and enjoy 3 different rides at Scenic World.
Sydney: Unlimited Skyfeast at Sydney Tower
Seasonal & Holiday Activities
Enjoy the spectacular 360-degree views at Sydney Tower's famous rotating restaurant, feasting on more than 30 international dishes from the open kitchen.
More attractions
Sydney: Taronga Zoo Tickets
|
From Sydney: Blue Mountains Guide Tour, Scenic World & Lunch
|
Sydney: Harbour Cruise, Taronga Zoo and Sky Safari
|
Sydney: Big Bus Open-Top Hop-on Hop-off Tour
|
Sydney: Airport Shuttle Transfer to and from CBD Hotels
|
From Sydney: Blue Mountains, Scenic World, Zoo, & Ferry Tour
|
Sydney: Harbour Dinner Cruise with 3, 4 or 6-Course Menu
|
Current Weather and Forecast
Current Weather in Sydney (Station Balmain)

broken clouds,
25.6 °C
Clouds: 75 % Wind: 16 mph OSO
Air Pressure: 1013 hPa Humidity: 70 %
Last updated: 8th Feb 2023, 06:30 am
The next days …
8th Feb 2023
9th Feb 2023
10th Feb 2023
11th Feb 2023
12th Feb 2023
13th Feb 2023

21 °C

to

24 °C

20 °C

to

25 °C

20 °C

to

26 °C

19 °C

to

27 °C

20 °C

to

28 °C

21 °C

to

22 °C

21 °C

to

24 °C

20 °C

to

25 °C

20 °C

to

26 °C

19 °C

to

27 °C

20 °C

to

28 °C

21 °C

to

22 °C

Clouds: 57 %
Clouds: 60 %
Clouds: 27 %
Clouds: 0 %
Clouds: 0 %
Clouds: 100 %
No Precipitation

0.65 in

of rain

0.13 in

of rain
No Precipitation

0.01 in

of rain

0.19 in

of rain
Weather information provided by OpenWeatherMap. (CC BY-SA)
Show temperatures in degree
Australia: Regions
Sydney is part of the holiday destination Australia. We analyzed the climate for additional regions, in order to provide you with information about the best time to visit and the expected holiday weather:
Share your Experience and Win
We want to know: how was the weather during your Sydney holiday?
You can win a travel coupon of 1000 $. The price will be raffled among all submissions.

Destinations in the Vicinity …